This week, the IV International Festival of Social Technologies in Defense of Family Values ​​"For Life-2013" took place in Moscow. As a member of the Trade Union of Citizens of Russia, the Party the Great Fatherland and the coordinator of our Russian Billion project, I was given the opportunity to participate in this important event, make a report and express support for the initiative to ban the killing of unborn citizens of our country.
Abortion is
weapon
mass destruction. Today, along with homosexuality, sexual promiscuity, drug addiction, alcoholism and other life-destroying vices, they are a legalized way for the total reduction of the population of Russia. It does not fit in the head - as you can consciously, in your right mind and solid memory, decide on this.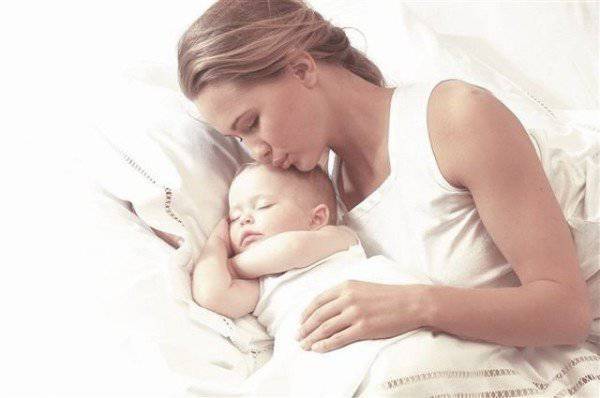 I do not want to condemn anyone, but when I have to be present when I talk about how to preserve a pregnancy or get rid of a baby, for example, to wait for a career advancement and go on maternity leave from a new, more prestigious position, it always seems to me that these women have gone crazy That the whole world has gone mad. And I, along with all too. Because I am witnessing the madness that I allow to happen. But what can I do? Of course, as a mother of many children, I sincerely try to improve, to appeal to the dictates of my heart. The look of the interlocutors becomes clear, brightens, the facial features soften ... But, as a rule, this happens only for some short moments. Alas, too often in such cases, the mind infected with the destruction bacillus wins. A weak voice, no, a barely audible squeak of an enchanted heart turns out to be powerless.
But all this is nothing more than a natural consequence of a long and persistent information war against us. I cannot fail to quote an excerpt from the Ost master plan: "By means of propaganda, we must constantly inspire the population to think that it is harmful to have many children ... At the same time, the widest propaganda of contraceptives must be developed. The distribution of these funds and abortion should in no way be limited. It is necessary to promote the expansion of the network of abortion clinics in every way ...
Are our women guilty? And, in general, are these unfortunate creatures with crippled souls Women? For those who, according to only the fact of birth, are destined to be continuers of life and keepers of the hearth. And how many of them there are! Abortions not only undermine women's health (we already have infertility before 25% (!) Of married couples), they also cripple the psyche, turning our compatriots into the killers of their own children, economically exploited by society. I have repeatedly heard that the murdered children then often dream of them. An acquaintance told me that for several years now her unborn son came to her in a dream and said: "Mom, I forgive you. Be happy, mommy! "But how can she, for the poor, forgive herself?
Burnout syndrome, a sense of emptiness, occurring after an artificial termination of pregnancy, often develop into a protracted, chronic depression, contributes to suicidal intent and deprive life of any meaning. Nature cannot be fooled, but it would be wrong to believe that in this way she will cruelly avenge these crimes against life. Nature cannot be cruel, but it is fair, everything in it is natural, and thus it only silently tries to defend itself, save itself, survive.
The statistics are terrifying. According to studies, 64% of women experienced forced abortion by their close environment, 84% were not informed about the child's development and the consequences of the abortion for themselves, 31% experienced physical health problems after an abortion, 65% acquired clinical depression and post-abortion syndrome. In 3,5, the risk of premature death from various causes increases, and the suicide rate among those who performed an abortion is 6 times (!) Higher than those who gave birth (data source: www.theunchoice.com).
Meanwhile, the discussion of the upcoming abortion occurs not only among unmarried women, but also in the so-called prosperous families. In order of importance, these conversations are held somewhere between talking about how to spend the next vacation and when to make repairs in the apartment. Personally, I find it hard to imagine how you can continue to live under one roof with your husband, who suddenly offered his wife a walk to the doctor to get rid of the upcoming unwanted troubles. How can one believe after what happened that this man loves, and is he capable of loving at all? But it is especially incomprehensible how a woman can become an accomplice, and even more so the organizer of such a terrible crime? What attitude on the part of her man, on the part of Life itself, can she even count on?
With these hard thoughts, I was returning to Kazan on a flight of a Russian airline. In order to switch a little, I decided to look through the company logbook. Attention attracted a strange advertisement that occupies a whole page in the July issue. The message promises to all seekers of one hundred percent happiness, and in addition (apparently, as an unobtrusive bonus) and one hundred percent love! And no less. "Do you want your morning awakening every day to become a reason for unspeakable joy?" - advertises philosophically? It turns out that for this you need only ... take the dog from the shelter. Everything is easy! Finally, the title of a dog shelter - "Call of the Ancestors" finished me off. As they say, insanity was strong. And why are we, the restless, still tormented by the perennial question, what is the meaning of life? I also had several other ideas about what secret signs my remote ancestors could send me from time immemorial ...
With this advertising photo, smiling broadly, a young woman looks friendly and sympathetic, full of strength and health. She keeps on a leash no less contented big dog. I am by no means against helping our smaller brothers and other manifestations of kindness. Frankly, I really love dogs. And I love cats, hamsters, birds, rats, mice and other winged and tailed animals. I speak only against the substitution of concepts and I can not be indifferent to all these systemic manifestations of the final brainwashing of my fellow citizens. I believe with full confidence and even insist that a normal woman of childbearing age is not enough to adopt a dog for one hundred percent happiness.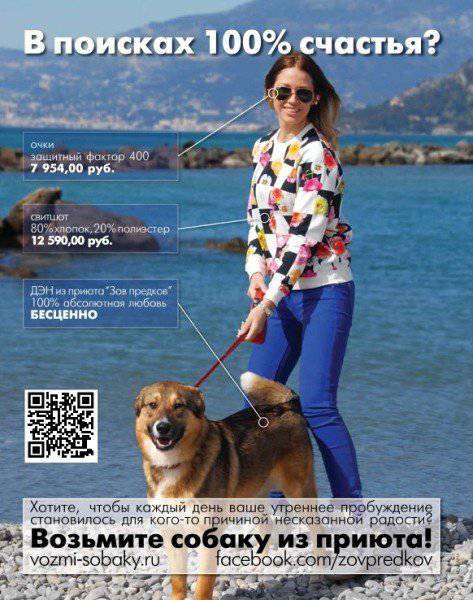 "Absolute Happiness" promised by everyone
Our world is turned upside down. And at this time we are proud and, perhaps, rightly, consider ourselves the crown of humanity. No wonder, now we can transmit thousands of kilometers and in a fraction of seconds of thought, fly over the weekend to the warm sea or to the north pole. All around civilized people, anyway. Do you want to give birth now? No problem! One pill is enough ... We can buy everything your heart desires. In a pinch, take out a loan. How will we pay? Here is the main question. Because the main essence and truth of life lies in the fact that just what your heart desires is not sold for any money. And Satan has his own interest rates on such loans.
By the way, about Satan. Until the twentieth century, the killing of a child, both before and after birth, was a particularly serious crime, a terrible sin in the whole world and cruelly punished. And in the twenty-first century, the Devil, distracting and entertaining humanity with all sorts of new temptations, almost convinced us of the absence of its existence. Or no longer? Is this terrible Old Testament prophecy destined to come true? So, now the pregnancy is interrupted by the will of the woman without any discussion is completely legitimate, in public medical institutions at the state expense. That is, at the expense of the whole nation. Thus, along with tacit consent, we all also pay taxes on these devilish rituals. We are all accomplices, panderers, child-murderers, if we do not make any attempt to counter it. And it must be admitted.
It is time, finally, for all of us to understand that talking about any human rights in a country where children are killed is nothing more than demagoguery. I wonder why the gentlemen liberals bashfully keep silent about the violation of the rights of millions of Russian babies being killed in the womb of their own mothers? Maybe because these forgetful and, apparently, not too attentive gentlemen, so ardently and unitedly protecting the interests of all sorts of perverts and freaks, are vitally interested in the same thing as the owners who feed them from the master's hand? And these "forgetfulness" and "inattention" are generously paid for by our dying future? Among us, we live in clover traitors, these servants of the Devil, and in their heads do not blow, and do not lead with a horn. They just do their simple demonic work. Maliciously introduce juvenile justice under the guise of protecting the rights of children. They introduce in our kindergartens and schools a sexual interrogation, in which they present the concept of abortion to immature baby souls as just an innocent method of contraception with the sauce of a tempting opportunity to live for yourself and enjoy the idleness of vicious life. Lobby other anti-people actions, buying up the sinful souls of Russian parliamentarians, seducing them with Satan's bloody chervonts. Fool us as they want, and we?
By agreeing with this bloody harvest, society loses any moral basis for opposing any other kind of killing a person with a person, other forms of lawlessness, violence and arbitrariness, undermines its fundamentals, kills its future and the meaning of existence, degrades and rushes like crazy for everyone pairs to the sure death. It is not by chance that Hitler initiated mass abortions (as well as sterilization) in the occupied territories, seeking the earliest extermination of the conquered peoples. And now the Nazi genocide programs have become our national "reproductive health" programs! Could our grandfathers of the front-line soldiers ever conceive, giving their lives for their Motherland, that they shed blood in order for their grandchildren to kill their great-grandchildren in cold blood?
History
it is repeated, it is difficult to come up with something new, and the current occupants use the old methods of influence. Today, abortions, which are jealously multiplying the law imposed on the occupied territories, are widely used by the world's puppeteers behind the scenes to implement the policy of neocolonialism, undermining the demographic potential of the peoples inhabiting their territories. The idea that infanticide is a social norm, is just a modern way of regulating life comfort, is methodically being introduced into the consciousness of the communities being exterminated.
From a religious point of view, abortions are a satanic sacrifice of children, depriving them of the possibility of holy baptism. Peoples who allow them are deprived of Divine grace, doomed to loss of sovereignty, military-political defeats and social upheavals threatening destruction in the absence of collective repentance and abandoning demonic rites: "... and sacrificed their sons and their daughters to demons; they shed innocent blood ... - and the land was defiled with blood ... And the Lord's anger burned against His people, and He abhorred His inheritance and delivered them into the hands of the pagans, and those who hate them began to possess them. Their enemies oppressed them, and they humbled themselves under their hand ... "(Ps.105: 34-42)
It becomes as clear as God's day that any programs protecting the rights of children are lies and hypocrisy, if they do not imply a ban on abortion. We are sadly aware that today many people lose a sense of awe before the mystery of human life and the higher laws of the existence of the Universe; they are not afraid, unlike their ancestors, of sin and the Lord's punishment. And at that time, when the various rights of all perverts from the human tribe and even the interests of animals are protected, only the infant in the womb of his mother remains unprotected, becoming the bloody victim of the consumer society.
Judge for yourself that it was with the legalization by Khrushchev of murder of babies (Khrushchev's resolution of abortions in the USSR in 1955 - this is his first crime after Stalin's death) all the problems of our life today began. The instability and disorder in which we have been wallowing in the last decades is a logical consequence of the deliberately losing bloody bargaining with deceiving demons. Is it any wonder after the accession of this satanic cult with its deadly rituals in our land that the number of traitors, murderers, sodomites and other perverts and geeks is growing in Russia?
The legalization of abortions was followed by new persecutions of the Orthodox Church, the second wave of collectivization, which finally destroyed the Russian village. The USSR and in terms of the legalization of abortions and in their number came out on top in the world. The country stood almost 40 years waist-deep in the blood of unborn children and fell limply under the onslaught of a sworn enemy, losing goals and a sense of its existence. Maybe we should still have the courage to see this simple causal relationship? Today, when from the once colossal country we inherited only a fairly truncated allotment named Russia. Maybe we should think about the fact that this is far from the limit of delimitation, and also about what will happen next ...
In this regard, it is worth recalling Stalin's family policy, which consisted in refusing to eliminate the family: returning criminal responsibility for homosexuality in the 1934 year, banning abortions and introducing state support measures for families with children in the 1936 year. Let's admit that today our fellow citizens refer to the material difficulties inherent in modern life as the main reason for the refusal to have children. With these arguments, as well as with the statement that women should give birth, not because they have no choice, but following an exceptionally light desire to give a new life, one could, of course, agree. If it were not for one significant "but." Most of us who celebrate Victory Day every year were born because their mothers, grandmothers and great-grandmothers did not have an abortion in those tragic and difficult years for all of our people 1930-40. And these great Soviet women not only gave birth, but also raised, raised, often alone, worthy citizens of their country. Do we today have the moral right to place our conformism at the forefront and thereby justify our own laziness?
The world is desperately balancing on the edge of the abyss of non-existence. The eyes of many people with hope and anxiety are turned to Russia as the last bulwark of morality, strength of mind and common sense. It is on her shoulders that the fateful role of the salvation of all mankind is entrusted. Our long-suffering, patient Motherland, with a heroic history, with deep, stable traditions, with a strong, but at the same time peaceful character, with its truly great Russian soul - is a country chosen by God. But any patience has a limit. The earth that does not have time to dry out of the shed blood of powerless innocent babies killed by their mothers and fathers cannot be happy.
But we, not only the participants of the conference, but all sensible Russian people, still believe that all is not lost for us, and therefore we call upon the healthy forces of society to promote a speedy legislative ban on abortions and the introduction of effective measures of state support for pregnant women and families with kids. We unite with this sacred intention, despite the fact and, possibly, despite the fact that our Ministry of Health and Social Development does not take this initiative. And also for some reason it does not warn us about the imminent danger of the degeneration of our nation. I wonder why this is happening and is it ours, is it a ministry?
To achieve the above goals, we decided to create a permanent center for coordinating joint projects, events and actions. We will be glad to any support, participation and everything that will contribute to the process of understanding the importance of the issue of abandoning abortion and voicing this topic in your environment. We believe that the quality of national consciousness depends on each of us. We must say our decisive no to the destruction of our souls. We must fight for our children, for the future, for life. Do it right now. Then it will be too late. Too late...