Discussing the new Russian tank "Armata", we focused on the question of how it would fit the conditions of the modern battlefield and combat operations of the foreseeable future. And at the same time - how relevant a weapon is today a tank in general. Let's talk about this.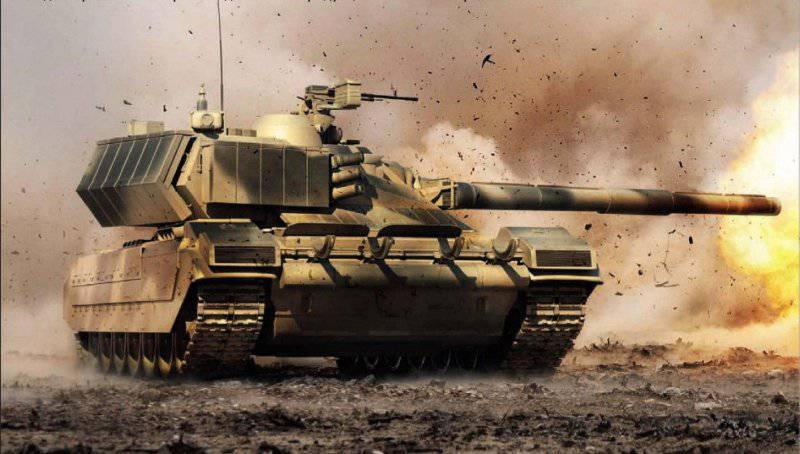 So: wouldn't a tank as a type of weapon an anachronism in modern warfare? Won't the use of rapidly developing anti-tank weapons put an end to his use in battle? After all, at one time the machine gun put an end to the cavalry, and now, perhaps, we are witnessing a revolution in military affairs?
Indeed, the NATO countries have so far refused to create new
tanks
and prefer to be content with that technique, which is only an improvement created at the end of the last century. So maybe they are right? And Russia (as well as Israel, Turkey, India, China, Japan, Korea, etc.) in vain improves this kind
weapons
?
Here we have to say that NATO countries in a certain period were captured by some erroneous theories of military art, which justified the "relief" of combined-arms units in favor of increasing their mobility (they were discussed in more detail here). These concepts did not find confirmation of their effectiveness in reality, although they significantly influenced the capabilities of the NATO forces and the promising armored vehicles, which did not receive their development.
But let us return to us and to the prerequisites for the appearance in our country of a fundamentally new combat vehicle.
To start again: what is a tank. First, it is a highly protected fighting machine. In terms of passive (armor) and active protection, the tank surpasses any other types of armored vehicles. Secondly, it is a combat vehicle with high mobility and maneuverability. A tank is capable of independently making long marches, actively moving in combat, and practically any terrain is available to it. Thirdly, it is a tool that has great firepower. Tank gun - the most powerful means of destruction on the line of sight, which have ground troops. From these fighting qualities follows the so-called tank formula - armor, fire, maneuver. The combination of these qualities in one combat vehicle is what distinguishes a tank from any other types of weapons.
However, we should not forget that the tank, above all, an assault weapon. This follows from the fact that its main armament — the tank gun — is a direct shot weapon. Of course, a tank can fire from closed positions (along a hinged trajectory). But this is not his purpose. For this there are cannon and rocket artillery. By the way, cannon artillery gradually becomes completely howitzer (leading fire only from closed positions), since tanks replaced it at direct shot distances. They are better protected from return fire and able to move during combat. So, comparing the tank with other types of weapons, it should not be confused with self-propelled artillery guns - they have different tasks and different uses in combat.
In addition, the tank fires on targets that it is able to identify independently. To do this, he has a perfect set of surveillance and target detection tools. But this does not mean that it can be confused with a means of intelligence. The advantage of the tank is that it is capable of independently destroying the identified target, and much faster than other reconnaissance equipment will be able to give target designation to the means of destruction. At the same time, he can and should both obtain external data about the enemy (since his means are limited by direct visibility) and issue data on reconnoitered targets to the units interacting with him. He does not conduct the battle separately from the rest of the troops, but clears for the infantry the fortified enemy defenses and enjoys the fire support of artillery (and assault
aviation
) where enemy defense is dangerous for the advancement of tanks to the firing position. This should also be remembered.
Now you can go to the fighting itself and assess how the tank remains in them useful and reliable. Let's start with the vulnerability. Since anti-tank weapons are developing rapidly (from aviation to manual weapons), will they put an end to the use of tanks in battle?
Here it is necessary first to distinguish between anti-tank weapons. There is the concept of "tank-dangerous targets." It does not include, for example, enemy aircraft and long-range precision weapons. Why? Yes, because a tank is an assault vehicle. He does not have to deal with such goals on his own. The safety of the movement of tanks and the unimpeded promotion of them to the firing position is a task for other forces interacting with them on the battlefield. Own aviation and air defense systems will fight with enemy aircraft. Do not forget that we are not a banana republic. And domestic air defense systems practically exclude the appearance of enemy aircraft over the battlefield. The enemy's artillery will not be destroyed by tanks, but by its long-range weapons. Work for the tank - in the zone of its weapons. That is why tank-dangerous targets are those targets with which a tank is capable of fighting independently. These should include enemy armored vehicles (including enemy tanks) and anti-tank infantry weapons.
In the fight against portable equipment and armored vehicles, including light ones (often carrying anti-tank missiles or automatic cannons, which are dangerous for tank observation / reconnaissance vehicles), the tank has two advantages.
First, it is his firepower. The tank is guaranteed to hit any armored vehicle that has a worse defense than itself. The time from detection to target destruction is significantly less than that of the missile systems.
Secondly, it is his security. In addition to passive protection (multi-layer combined armor and designs that provide resistance to means of destruction), the modern Russian tank has active protection. This and dynamic protection (DZ), in a simplified form representing the blocks containing an explosive substance and installed over the main armor. They explode towards a flying projectile or rocket, destroying them before entering the main armor or changing their trajectory. These are both active protection complexes (KAZ) and optical-electronic suppression complexes (CEP). The first shoot in the direction of the approaching means of destruction (the same projectile or missile) submunition or a bundle of striking elements, and detect the threat using small-sized millimeter-range radar stations. The latter are designed to counteract high-precision laser-guided weapons, including airborne, as well as weapons using laser rangefinders (without which, for example, it cannot fully calculate the shot of the FCS of modern tanks) and infrared self-guidance.
All this makes the tank a difficult goal to destroy, even for modern anti-tank weapons. That is why their development has led to the fact that most new systems tend to hit the tank from above, where it is least protected. And that is why, by the way, the new Russian tank "Armata" will have a new layout that will protect the crew from all sorts of ammunition hitting from above. This is a requirement of the time, which will allow the new tank to withstand a developed and modern adversary who has high-quality anti-tank weapons.
But besides a developed and modern enemy, there is a danger of encountering an armed gangster-terrorist international. It has recently been used in the struggle of the West with opponents possessing powerful armed forces. Such an adversary, being incapable of direct confrontation with the regular army, will conduct combat operations where it has the best defense. First of all, in urban areas.
And here again it will not work without tanks. In urban development, infantry just needs a powerful and highly secure assault weapon. Tank gun perfectly copes with fortified gun emplacements and manpower, sheltered in buildings. The need for tanks in the fight against irregular armed formations is evidenced by the experience of the war in Syria, the experience of Israel, which is constantly fighting terrorism, and our own experience. Suffice it to recall how long Chechen fighters sought from the federal forces a ban on the use of tanks in populated areas. However, before that, at a high price, they had to gain experience in the correct use of tanks in urban areas. Not easy this experience went to the Syrian army. Not just because tanks remain the basis of the combat power of the Israeli armed forces. This experience must be studied and developed, because it is invaluable.
... Thus, the relevance of tanks on today's battlefield and the battlefield of the foreseeable future remains very high. Perhaps, since the days of the Great Patriotic War, the main purpose of the tank has changed - the fight against the tanks belonging only to the enemy. Today, in the bulk of the likely fighting, tanks will have to face other tasks. Nevertheless, in battle, they simply have nothing to replace. There is no other means that has similar firepower combined with high security and mobility. And these fighting qualities should be developed and improved in the new armored technique.