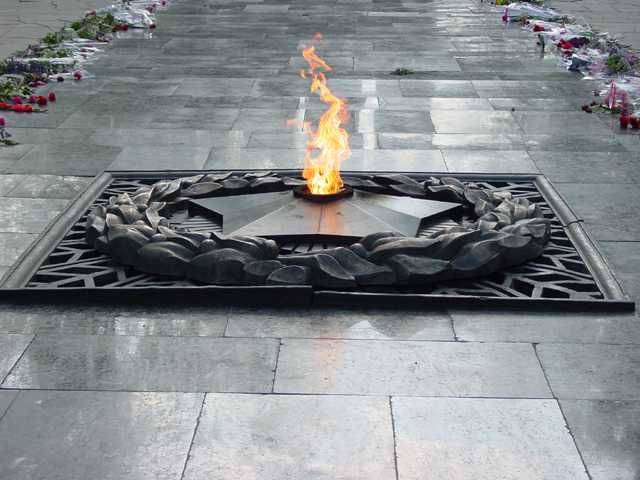 Once on Friday, raking up working affairs before the weekend, I climbed out of habit at the topwar - to see what the world is doing from the point of view of those who are not indifferent to military topics. Found the topic: "Folk cinema. On "28 Panfilov" citizens gave 10 times more than they asked. But this is only the beginning. " Read (remembered the military
history
). Smiled. Liked the idea. Found a project site. Thought it out.
While browsing the others
news
Military Survey, out of the corner of my eye on the 45-0 news site in the column "Popular" saw the topic "Twenty-eight. This is more than arithmetic. " With a fool came ... It turns out that around this were serious battles 10 July ... And I worked. I began to read ... I went deep into komenty. He was indignant, nodded his head in approval, boiled in indignation, quit smoking and read the comments again.
As a result, he explained to his colleagues that today I was not transportable and, no, no, I was pestering me with their pressing global problems at work.
We fell behind. Intelligible, because they are accustomed to my quirks, heh. Well done.
Nakatil a couple of glasses of tea, feel better. I could not resist and sat down to hammer out the clave with this opus.
That bish it was FOREWORD. The glasses of tea have already weathered.
...................................................................................................................................................
28 Panfilov ...
Two camps collapsed in comments:
- Nasr.t on all conventions, as EXPLOIT WAS !!!
- Yes, FEAT was, but not THOSE people !!!
Soul of the heart pleases at least the fact that people argue about
PERSONS OF EXPLOIT (THE FIGHTERS WITH LARGE LETTERS)
without questioning that
FEAT
it was.
The sincere sincerity of the comments was visible, there was no "dirt" in the discussion (probably the modders tried by that time) ... The fact is that this topic (28 Panfilov) has not only historical significance, it is a topic of deeper meaning.
First cut:
1. Let's imagine that the Great Patriotic War is going on, everything is fucking crumble right in front of your eyes, the whole world is crumble (try to imagine it, God forbid if you see THIS) ...
People are confused, depressed. In their heads, what ... in their heads was before the War. This means that the balls with the rollers of the brain do not converge in understanding what is happening.
The enemy is already near Moscow.
Все.
Alles
- Rusish Schwein, give up. Mleko, yayki, Zyuryuk ...
- That fuck you in the ass.
From all lands not devastated by fascists - Siberia, the Far East, Asia ... human mobilization resources flowed. They are dressed, shod and fed something, but they were. It can do. But with weapons - the trouble ... Gos.rezerv and the remnants of not destroyed enterprises issued "on the mountain" a miser for arming the mob. divisions.
In the battle, everything that had time to form and rushed ... and just move in concert on one team ... There was no other choice. Only the most terrible: "two doors" - die for your land, family or surrender.
Otherwise, we would now speak German in comments ... That's what the fuck is like ...
And this is the main thing
.
The fighters, and these are yesterday's civil men in 41 (and then adolescents), needed SHAKING. Well, do not know how the workers and peasants, masters of their craft to fight !!! The artisans know their business, but they do not know how !!! They need an example of that - well, how the fuck is this infection, fucking how to defeat these fascists, how to twist their throats, when there is nothing in their hands !!!
Needed was
FEAT
.
+ So there was a feat Gastello. Now everyone knows that he was not the first to commit a ram. But he DID IT, just his surnames (and not him) were lucky that the military officers learned about him caught in all the newspapers.
And young, inexperienced pilots began to be less afraid of their inexperience ... if I dared, I would kill the reptile, rammed, my mother in the ass .., the hell will go away from me, even though I am a "schoolboy" at the helm.
+ So the feat of Sani Matrosov appeared. Yes, and before him they did. Yes, he was broken. But…
DID
. And the infantrymen knew what to do when nothing was left in their hands.
+ So there were Lenya Golikov and Valya Kotik. They really were. Kids could too
FIGHT
.
+ So appeared and Panfilov.
Needed was
EXAMPLE
and the rule of action, when absolutely everything is bad.
If with feats of individuals it was a little easier (well, someone found in the military turmoil, and found that, sorry for cynicism), then with mass heroism more difficult -
WAS MASS HEROISM
amid chaos and suspense. And it was necessary to find the most
INCREDIBLE HEROISM
.
And what could be more incredible when one mobile division occupies the defense area (under
MOSCOW !!!
Where even further !!!) is three times more than the statute. When anti-tank guns total 4-6 pieces per battalion.
When THREE Wehrmacht divisions go to the location of this peasant division, among which TWO
tank
, and they are all accustomed to fighting and know how to kill ???
And here it turns out that the fascists' magnificently oiled war machine stalled ... Well, damn, well, it doesn't happen, but it doesn't happen !!! Because it is not possible !!! It happens. Therefore, the special corps rushed to the Panfilov division. Now try to imagine the turmoil going on there. Straight correspondents there and waited with open arms.
Yah! Products - waited. People - waited.
Weapon
- waited. Ammunition - waited. Soap - waited. Correspondents - ... I do not want to swear. There was a massive exploit of the entire division. Choose heroes - I do not want. About whom the correspondent heard, about that and wrote. It was almost impossible to make a mistake
ALL HEROES
. And it was difficult to make out between the cowards and the desperate, and these are always flickering.
FACT REMAINS FACT - PANFILIANS HEROES
.
And so the Legend of 28 Panfilov was born ...
What division did they belong to?
To the 1-th platoon or to the 2-th platoon or possibly to the 3-th platoon of this legendary 4 th company ... Or maybe not from this company? What's the difference.
THIS EXPLOIT CAN BE WRITTEN FROM ALL DIVISION
.
You can say so: 28 Panfilov such a platoon, such a company, substitute any numbers of division divisions - you will fall into the legend.
There are no living things left. Heroes died, but did not miss the scum. Survived only cowards and contused.
THEY ARE THE FASCIST GADINA STOPPING
.
All we can do is frantically try to understand - HOW they stopped her, because it is impossible ... to understand.
Second cut:
2. Substitution of concepts of patriotic education.
I remember myself as a child when I read a book about 28 Panfilov in the library of the House of Officers. It was winter, evening. In the reading room it was already empty, on the edge of the table there was a pile of books of my choice, which were waiting for them to be loaded into a string bag and carried to a warm dos. But break away from
THIS BOOK I CANNOT
...
There were still many factors when I, the son of an officer, who lived in vacations at training grounds, training centers, training camps and barracks ... became a hereditary officer. But this book has put its brick into this foundation.
Yes, then, fascinated by military history and military art, comparing the real possibilities of the Red Army platoon 1941 of the year (even reinforced by artillery), I realized that this was impossible. I learned that in the 4-oh company of more than a hundred only a couple of dozen fighters remained alive.
But it did not diminish that
THE MASS EXPLOIT THAT HAD A PLACE TO BE
.
I was sad that not all the names of the heroes are known. This was the first experience when not all of the PRESENT HEROES becomes known. Yes. Not all ... unfortunately. Then there were their own experiences ...
But this legend about 28 Panfilov left its mark on my worldview, my character, my pride in the affiliation of the Armed Forces of the USSR and the officer corps of the Russian Federation in the future, I WAS IN ONE BUILD. That's what matters.
Yes, not all names are known. Bitterly. Yes, not all heroes are honored. Shame on you Yes, the list of heroes who are really not ashamed to salute, get and ... shelupon. Well, no survivors ...
NO
. Simple, real guys are dying, but the "chmoshniki" and cowards remain. It always has been. But there is a fact - we are now writing and speaking Russian. Simple as oxygen for breathing, True. And I do not want the memory loss of 28 Panfilov. I grew up on them. I give my inner core to my children. Yes, you can tell the truth. Need to tell the truth. But only with
REPLACEMENT ON ALL PANFILOVTS
. At the age of 20, I was able to understand the truth and not lose faith in their exploits, including "28 Panfilovs". And I tell her children, I speak as a LEGEND that was. As is the Tomb of the Unknown Soldier.
DO NOT DECLINE THE STEEL WITHOUT HER REPLACEMENT
.
A piece of untruth causes you to tear down the pillar on which your confidence and vitality to live on ???
Well, carefully cut out this lie, without destroying (!!!) the whole pillar of your worldview, replace the damaged piece with a new one,
BUT DON'T BREAK THE ENTIRE COLUMNS OF YOUR WORLD-WAY, WHEN THERE HAS NO REPLACEMENT
. Do you understand what I mean ??? Yes, about patriotic education. About our younger generation, and not about us, who have already formed character. It is impossible to say that there was not, without explaining that MASS EXPLOIT WAS, but it was impossible to explain by surname "where-who-what" because ... almost all of them died.
Third cut:
3. I understand well when they say that "this is not their feat", this is "other feat" ... Do we judge where and who was really
Their exploit
...
... For the second year I am writing a story, how many years ago my mechanic died - Jamol, a Kazakh. He began to write just after the death of Dima, the gunner. Already in peacetime, he was piled up with the consequences of a concussion, which we received together, I do not write a diagnosis, it is superstitious. So I can not finish it ... When I hear when someone talks about the death of a tank crew - I want to break my own throat into pieces -
WHAT DO YOU KNOW ABOUT CREW DEATH
!!!
But these are emotions. Not only did I have -
CREW
. There were a lot of them. And there are plenty. And, God forbid, there will be as much as necessary for us.
For those who advocate that the names of the rest of the Panfilovs have surfaced in history alongside the 28s ... let them find the names of the entire payroll of the 4th company at least. And will achieve its publication.

Respect for them will be for this - for the fact that the names of forgotten heroes were brought to light. Here is the first IT, and only then the conversation that "not those heroes" or that "not all heroes are named". But not the other way around. DO NOT REVERSE ANYTHING.
......................................................................................................
And let the film be. I will even send money, not poorer of the cost of several bottles of beer, wrote on the forum. And I will send it not because of myself, but because of, and ... FOR children, let them feel the glory of our grandfathers. I will explain to them that from 120-140 almost unarmed fighters (these are true FIGHTERS and not reservists), only 20 remains, but they didn't miss dozens of tanks to Moscow. Nobody knows their names for sure, there were many of them in the whole division. AND IT IS TRUE.
But there is
LEGEND ABOUT 28 PANFILLERS
.
I hope that with these words the popular film will end. These are the three cuts.
The debaters understood. Did you understand each other? I don't call anyone by nicknames, believe me, we are not worth it, as I myself am. I hope that ALL talked about the same thing, only they did not understand each other. Try to understand each other. Our children live after us. What do we give them? The inner core of the soul. Strength of character and our continuity.
And True Panfilovtsev stayed with
WINNERS
who died for their families and their descendants, that is, for us.
Do not blame me for the text impromptu. Theme is from the inside of the soul.
Regards Aleks TV