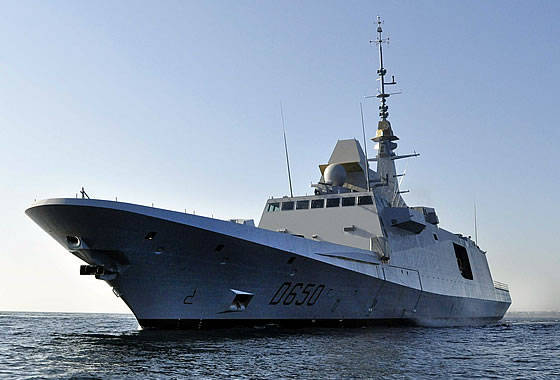 DCNS has announced the completion of the third stage of the sea tests of the multipurpose frigate "Mohammed VI" of the FREMM project, intended for the Moroccan Navy.
As TSAMTO has already reported, the contract for the construction of a frigate of the FREMM class for the Moroccan Navy was signed in April 2008. The laying of the ship took place in December 2008. The ship was named Mohammed VI in honor of the King of Morocco.
The launching ceremony of the Moroccan frigate of the FREMM class took place on September 14 on the shipyard in Lorient. After leaving the dock, the ship was moored at the pier of the shipyard, where its completion was carried out.
Sea trials began 17 April of this year. The first two stages of sea trials took place off the coast of Brittany. Upon their completion, the frigate returned to Lorient, where it received the necessary service. A few weeks later, the ship went to sea for testing combat systems (third stage), which ended in June.
Tests of the main combat systems included the testing of the components of the Aster missile defense system, the Exochet MMR-40, 76-mm guns, fire control systems and a multi-function radar.
The ship will be delivered to the Moroccan Navy at the end of this year strictly in accordance with the schedule provided for in the contract.
The FREMM frigate is able, independently and as part of a unit, to fight surface and submarine ships, an air enemy, hit targets on the coast, and also be used to patrol sea borders, escort convoys and control shipping.
The FREMM frigate has a length of 142,2 m, width - 20 m, full displacement - about 6040 t. The use of a combined main power plant, which includes one LM2500 + G4 gas turbine engine and two electric engines, allows you to reach maximum speed of 27 units and make transitions to a distance of 6000 nautical miles at 15 speed knots.
The FREMM frigate armament kit includes 76-mm artillery mounts developed by MBDA PKR MM-40 3 ExoSet block, Aster-15 SAM, and MU-90 Impact torpedoes. Unlike the French ships, the Moroccan frigate does not receive the KR "Scalp Naval".