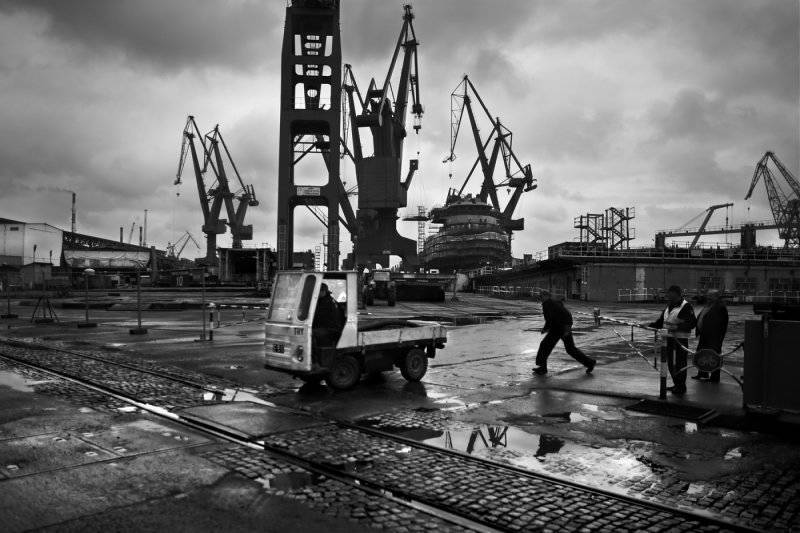 On May 27, the Polish and German defense ministers signed a protocol of intent to strengthen cooperation in the naval sphere. The text of the protocol was at the disposal of the French bulletin "TTU".
Under the protective shell of such neutral issues as cooperation in the field of training, logistics and joint implementation of various operations, this strategy is hidden, aimed at strengthening the military shipbuilding industry. The domestic German military equipment market is limited, export markets are unstable, therefore the Federal Republic of Germany has redoubled its efforts to promote its products for export by creating ambitious alliances with its immediate strategic environment (Benelux, Baltic, Central Europe).
The protocol refers to 28 areas of cooperation that cover the whole range of naval equipment, including system-forming programs, such as the joint development of the Joint Support Ship, a tanker, and a multipurpose ship based on the German multi-purpose frigate project MRCS180. The protocol also reveals "cooperation in the field of submarine shipbuilding," which implies the creation of a joint managing headquarters within the framework of the "submarine operation structure", especially in the Baltic Sea, as well as in the long term placing the Polish order with TKMS holding.
The protocol mentions the creation of joint working groups, joint operation and storage of RBS-15Mk3 rockets and MU90 torpedoes, as well as an increase in the level of compatibility in the field of air defense. If all these projects are implemented, they will lead to the "drying out" of the Polish market of naval armaments and the loss of the sales market for French and European manufacturers. France, through its Minister of Defense, has already made specific proposals to Poland, proposing in particular to strengthen the holding Weimar (formerly Weimar +), where the Poles have the same situation as the French and the Germans.
They also discussed the possible participation of DCNS and MBDA, while the former could participate in the modernization of Polish shipyards, place orders for the design of ship hulls in Poland, and also sell Gowind frigates and Scorpene submarines. Concern MBDA offered non-advertised cooperation in the field of missile defense (in partnership with the Polish holding Bumar).
But nothing followed. In this region, Paris has neither political influence nor the economic power of Berlin, which refuses to play the leading roles in military operations, but at the same time directs its efforts towards strengthening the national military industrial complex. That is, there is a strategy to increase its power, which will be implemented at the expense of French and European industry.
After successes in the export of land weapons systems, Germany, relying on the help of its eastern neighbor, expects to take a leading position in Europe and in the field of naval weapons, where there are already significant successes (last year's sale of frigates to Algeria). It remains somewhat surprising that Berlin limits itself only to Poland.