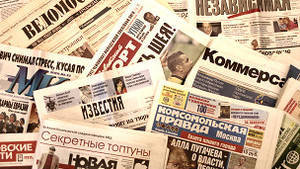 Information publications are increasingly exploring the Internet. Services for accounting volumes of subscription activity of print publications state that such activity is falling. If in the late 80s
news
newspapers and thematic magazines came out in millions of copies, today a rare print edition can boast a circulation of more than 100 thousand copies. At the same time, the level of expenses in the printing industry is quite high, and many newspapers are literally on the verge, or even beyond survival.
This trend dictates the need for logistical changes. The main direction of change is to translate printed publications into the space of the Global Network, where hundreds of thousands, or even millions of users will be acquainted with the information presented by the publications. In this regard, a special role is played by the development and promotion of news media sites.
To create high-quality Internet sites, some use unique systems, while others do not reinvent the wheel, preferring such a direction as
free CMS
: Joomla or WordPress. Such systems are extremely popular and quite easy to use.
Large information resources have long mastered the space of the Internet, having received tens of thousands of additional readers. The convenience of getting the latest information online is undeniable. If earlier the release of a fresh newspaper had to wait at least a day, and humanity was following events in the world as if after the fact, today everything has become much simpler. If a person needs to find out the latest news or their analytical review from journalists and political scientists, then he opens his favorite website of an information resource and receives the information that defines the picture of the current moment. You do not need to wait a day to get information, just go through the news feeds and catch the events that have occurred or are currently taking place in the world.
Getting information through the sites of various information publications has become so popular that users have already forgotten what a real newspaper is. Why wait for her to come to your inbox when you can subscribe to her electronic version. It is much more convenient and profitable. That is why online publications today replay publications of a printed nature, and this applies not only to news-type publications.