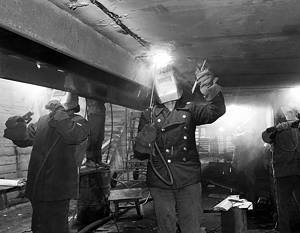 The chairman of the Sevastopol City Council, Yuri Doinikov, expressed regret over the current practice of repairing ships of the Black Sea
fleet
Russia in NATO countries.
"It is difficult for me to comment on the decisions of the Russian Federation, the naval leadership. The leadership of the city council and state administration has been repeated several times: historically, if there is a base, it cannot be maintained without a repair component, "Doinikov said, reports" New Region 2 ".
According to Doinikov, the established practice of repairing the Black Sea Fleet ships in the NATO countries is "incomprehensible and a little offensive."
"It is possible that it plays its part that there are pricing requirements for VAT. But we are interested in our ship repair enterprises being loaded with orders, including from the Black Sea Fleet, "Doinikov stressed.
Recall that earlier the City Council of Sevastopol called on the governments of Ukraine and Russia to agree on the resumption of repair and modernization of the Black Sea Fleet ships at the Sevmorzavod.
The last time the Black Sea Fleet ship was repaired in Sevastopol in 2003. It was the cruiser "Moscow". However, then ships of the Black Sea Fleet of the Russian Federation were sent for repairs to Bulgaria.
Strategic investor of the Sevmorzavod Petro Poroshenko recently held talks in Moscow with Russian Foreign Minister Sergei Lavrov and State Duma Speaker Sergei Naryshkin.
"Explain to me when we are upgrading the projects of the Russian Black Sea Fleet ships based in Sevastopol, we are not deploying at the Sevastopol factories where Russian citizens work, by the way, we are sending for modernization and repair to NATO countries - to Bulgaria, Romania. How do we explain this? Very often, decisions made in this way simply discredit the very idea of ​​our cooperation, "he said.
"The reaction was. They wrote down, said "we will figure it out" and "we believe that this is wrong," said Poroshenko said the outcome of the negotiations.
Poroshenko became a strategic investor at the end of the Sevmorzavod 2010 year. The shareholder fully repaid the old debts of the enterprise. Over the past four years, Sevmorzavod increased production seven times, sales volume - more than 5,5 times, from 11 to 61 million hryvnia, or 246 million rubles.