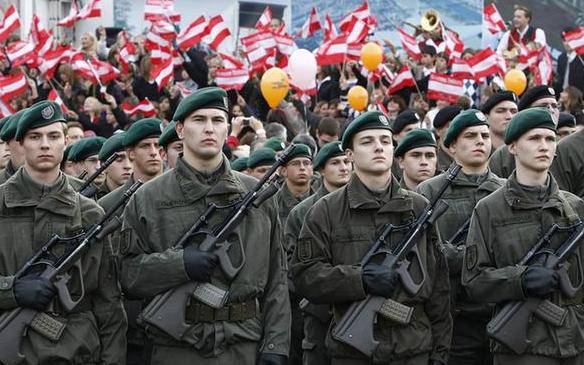 The document points out that in modern international politics the countries have not been guided by the principles of the Cold War times for a long time. Today, completely different threats to national security are coming to the fore. Among them are international terrorism, the spread
weapons
mass destruction, the consequences of regional conflicts, cyber attacks, illegal migration, drug trafficking, natural disasters and other problems that go far beyond state borders. The attack on Austria of third countries in modern realities is unlikely. That is why, the conclusion is made in the document, one should refuse to consider the security policy only through the prism of military activities. To ensure it, interaction of economic, financial, environmental, social and other institutions is also necessary.
According to the new strategy, the Austrian armed forces play a key role in ensuring national security. It is interesting that while the majority of the armies of Europe switched to a contract basis, the Austrian army retained military service (in January of this year, citizens pleaded for its preservation on a plebiscite). Young men are called to semi-annual service at the age of 17. The strength of the armed forces will be maintained at the level of 55.000 people.
The document also notes that complex security problems can be solved only in cooperation with other states. Austria is focused on crisis resolution and conflict prevention within the UN, the EU, the OSCE and the Council of Europe. Moreover, the document clearly states the importance of cooperation with Russia and the United States, as well as partnership with NATO. In other words, Austria, despite the status of a neutral state, wants to play a large role in the international arena, including using armed forces. Thus, as a member of the European Union, Austria intends to deepen cooperation in the framework of the Common Foreign and Security Policy. By this is meant participation in the so-called combat groups of the European Union, multinational military formations. Although it has not been possible to see them in action until today, some consider such groups as a prototype of the future unified EU army.
Austria intends to actively participate in UN peacekeeping operations and even increase the presence of its troops in the "hot spots". The military doctrine explicitly states that Eastern Europe and the Balkans, the Middle East, as well as North Africa and sub-Saharan Africa represent the interests of Austrian foreign policy. The armed forces are also planned to be used in the "peacekeeping" operations of the North Atlantic alliance throughout the world. At the same time, a reservation is made that Austria will not participate in hostilities on the side of NATO as an ally to repel aggression against one of the countries participating in the alliance.
The provisions of the new document relating to the actions of the Austrian army as part of international contingents, have caused the most harsh criticism from some politicians. So, the deputy Kurt Liszt drew the attention of his colleagues to the economic inconsistency of the new strategy. He added that the document avoids the main tasks of the armed forces, which, therefore, are at risk of degrading into "auxiliary troops."