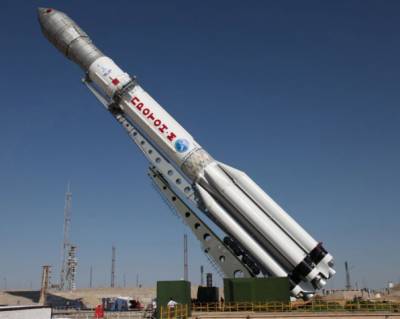 The cause of the crash of the Proton-M launch vehicle, which fell at the Baikonur 2 cosmodrome in July, has been established. This writes the "Moskovsky Komsomolets" with reference to a source close to the investigation.
According to him, the rocket exploded due to the human factor: when assembling the Proton, the angular velocity sensors were incorrectly connected - at the time of their connection the plus and minus poles were confused. Because of this, as explained by the source, the rocket control system immediately after the start began to receive incorrect data from its sensors and, as a result, lost its stable orientation.
Swing rocket from side to side immediately after launch confirms this version. "According to the logic of things, the wrong connection of the sensors should have been detected during a comprehensive verification of the launch vehicle at the factory and at Baikonur," said the source.
At the same time, another informed source in the space industry said that "there was no proper monitoring and verification before launching the rocket." "There is information that the state commission, which is traditionally held on the eve of the launch, has either not been conducted at all or has been reduced to pure formality," he stressed.
The Proton-M launch vehicle, which in the morning of 2 July was supposed to launch three Glonass-M navigation spacecraft into orbit, changed the trajectory at the tenth second of flight, caught fire, fell into the territory of the Baikonur cosmodrome and exploded. Hundreds of tons of extremely toxic fuel, heptyl, spilled on the site of the fall.
On the fact of the accident was a criminal case under Art. 216 of the Criminal Code ("Violation of safety rules in the conduct of mining, construction or other works").
The reasons for the fall of Proton are being investigated at once by two commissions - the state commission, which is under the authority of Roskosmos, and a government commission that conducts an external audit. In addition, as stated by Deputy Prime Minister Dmitry Rogozin, a technological inspection team will be created, which did not include specialists from the rocket manufacturer, the Khrunichev Center. Officially, the causes of the accident should be named before the end of the month.