In recent days, the press began to receive reports of data from the latest research on the topic of American medicine. It turns out that three decades ago, doctors, using loopholes of the public health system, oppressed minorities like blacks, but today, in times of economic crisis, doctors seriously took up the poor. It got to the point that the American Health Committee advised those who do not have enough money for medical insurance or medicines to go for healers or acupunctures. Very strange advice, considering that the needles are pricked is also not free. On the other hand, such a recommendation suggests: what for the sake of paying taxes to the state that finances the war in Syria and democracy in Egypt, and sending its citizens ... well, there?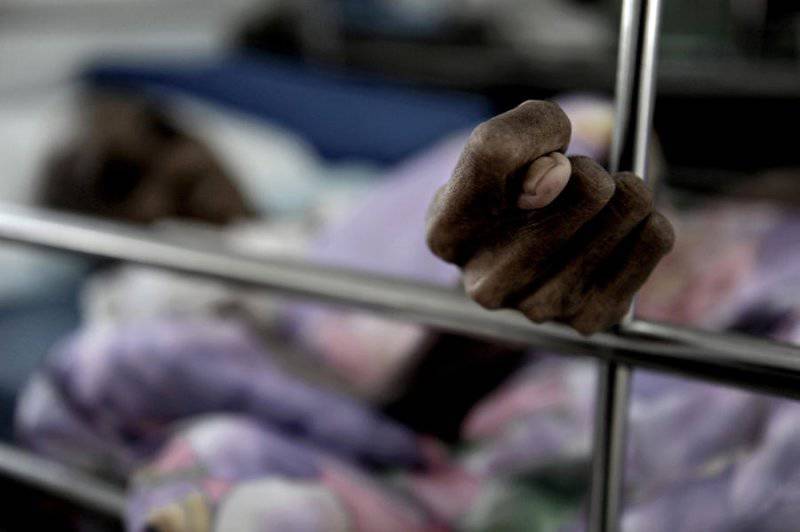 As noted by
"Medical Information Network"
referring to medicinform.net, employees of the University of Rochester (New York) found that if previous studies showed that African Americans get opioids for pain relief in the US less often than white citizens of the country, but now not only racial ones matter, but economic forces. The latest study showed that US citizens belonging to national minorities and citizens living below the poverty line, as well as both, are less likely to get a doctor's prescription for opioids in case of severe pain than rich whites.
Scientists analyzed the 1.400 data of hospital admissions in the United States for three years.
Opioids for a specified period there were prescribed more than 50 thousand people who were tormented by moderate or severe pain. 46% patients were white, 39% black. Among them English speakers were 45%, Hispanic - 40%. 47% of patients who received prescription were residents of rich urban areas, and only 41% received medication from poor areas.
Scientists have tried to treat the results objectively. For example, they expressed the idea that "very few doctors have a clearly negative attitude towards minorities or the poor." Drug imbalance is not talking about "deliberately causing harm", but about the factors that prevent doctors from correctly assessing the patient's need for painkillers. What prevents them? Language and cultural barriers are called.
The problem is much deeper than it might seem at first glance.
As noted in the channel material
"RT"
, while in 1980 in the United States, national minorities did not have the right to reimburse medical expenses, but now those who cannot pay for medical insurance remain without drugs and doctors' help. Incurable or seriously ill patients without money or insurance will not receive the simplest opioid for pain relief. The US Healthcare Committee has already advised the poor to turn to healers, herbalists, to be treated with acupuncture.
According to the Journal of General Internal Medicine, discrimination in the United States thrives based on income.
42 million Americans (not counting illegal migrants) have no insurance. With money from them, too, of course, bad. Opioids and anesthetics were often misused, and therefore they were withdrawn from free sale. To get a prescription, you need a consultation with a doctor and a certificate, and you can get it for money or with insurance. Vicious circle.
The poor cancer patients are dying today in agony: no one sells them elementary opioid drugs.
A group of American researchers has provided statistics on mortality among migrants and the poor to the Congressional Health Committee. Scientists emphasize that "it is necessary to create a system of control and classification of pain." They believe that it is also necessary to define "a differentiated rate of prescribed narcotic drugs, in particular morphine, regardless of the availability of insurance, money, age and social status of a person."
Those who have been or worked for a long time in the United States are unanimous in saying that it is better not to get sick in America.
В
Wikipedia
with links to different sources, you can get some medical figures that speak for themselves.
The US healthcare industry employs more than 10 million people today. In terms of medical expenses, the United States ranks first in the world - both in absolute terms (2,26 trillion dollars, or 7439 dollars per person), and as a percentage of GDP (16%). It is projected that by 2015, costs will rise to 4 trillions of dollars, or 12000 dollars per resident.
The question is who are these "inhabitants."
Health care in the United States is provided with the latest medical equipment and medicines. Most of the Nobel Prizes in medicine are representatives of the United States. Americans account for half of all medications created in the last twenty years. It is also known that in terms of income, American doctors are superior to colleagues from other countries. As a public health expert, NYU University professor Victor Rodvin noted, "doctors from other countries dream of coming to America and getting rich."
But with all this, the United States occupy the 37-th place in the level of medical care and 72-e on the overall level of health.
According to the CIA World Factbook, the United States is at 41-th place in the world in terms of child mortality (this is the worst indicator among developed countries) and at 45-m in terms of life expectancy.
The United States is the only industrialized state that does not guarantee citizens an all-inclusive health insurance system. Millions of Americans are unavailable for medical services due to their extremely high (and rising) costs. 16,7% of the population has no medical insurance, and for 30% of citizens medical care is provided in an incomplete amount. Lack of health insurance causes 44.800 to cause additional deaths annually (data from Harvard 2009 Research).
Very well, this medical capitalism, which in Yeltsin's time was instilled in Russia through the actions of pro-Western reformers, is characterized by words attributed to Mr. Chubais: "What are you worried about these people? Well, thirty million will die out. They do not fit into the market. Do not think about it - new ones will grow. "
They grow up. And in the United States and Russia. But for some reason, those who do not fit into the market always grow next to them ...
Observed and commented on Oleg Chuvakin
- especially for topwar.ru