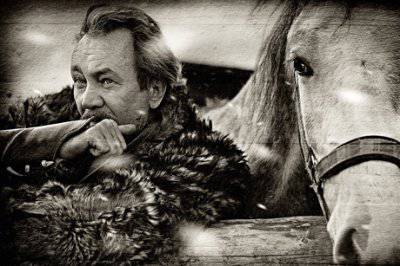 Heroes are needed at all times, otherwise we will not be able to build our own scale of moral values, we will not be able to talk about honor and dignity, we will not be able to admire the unique skills and knowledge that we should strive for. We do not want to be like anyone, so we do not have croc. Crocs — any tourist knows — are approximate sketches of the direction in which to go.
The absence of heroes creates a subculture of show business, superstars and glamor. It turns out that these are the only "heroes" on whom children look, children, youths. And when everyone resents and says: "Well, what are you playing some kind of nonsense that you worship something," and suggest other heroes. Where already there ... I'm not talking about brilliant commanders or fighters for justice, well, take at least the same geologists, captains of long-distance vessels, test pilots, whom I would like to be like.
To be a successful entrepreneur today requires no less knowledge than the commander in past centuries ...
Exactly. But I'm not talking about adults now. They do not take examples, but grasp concepts, algorithms, how to build a business, and not how to become a hero. Nobody wants to be heroes, they just want to be equal to them, no one wants to lie down on a bunker, no one wants to eat dead rats when there is nothing to eat, overcoming huge water spaces.
And just for this, is it worth being a hero?
You asked if you need heroes, and now you ask if you need to be a hero. This is another question, answer it. No, you don't have to be a hero. We must strive to do very important things, big things, because it's a pity to waste your life on trifles. Big goals are attractive because they are harder to miss. And their achievement requires the same effort and time, and sometimes even material costs.
Who is our hero today? Not a grandmother who has nothing to pay for the light, and she interrupts somehow and still saves money not only for her own funeral, but also for the maintenance of her grandson. Nobody declared her a hero. Right or wrong, that's another question. Who is our hero: the one who stitches in the mine for 15 kopecks from morning to night, risking to be littered? Of course, he is not a hero. Maybe we have heroes - citizens who fly on airplanes that have long passed the critical line related to their maintenance? We have the whole country heroic, most. If you stand with your back to Moscow, then we will have a country of heroes. And if you ask anyone on the Arbat or in a nightclub, who is such a hero, he will call the names of show performers, glamorous characters, etc.
I am now talking about the fact that we have not formed a cultural pattern of heroism, which can also come from the state. The tradition is forgotten and destroyed. In former times, the strong man was considered the one who helps the weak, stands up for them. It's not the one who has a lot of money that was considered rich, but the one who helps others, partly gives to others, therefore, he is a rich man, because he can share the benefits and does it. Rich - that is, "God daty." Consequently, your heroism, your wealth, your well-being, your worthlessness or glory are determined only by the society in which you exist. Subjective concept of heroism can not be.
What should be the "starting capital" for the hero?
The "starting capital" of the hero is the unwillingness and impossibility almost to reconcile on the physical level with the system of circumstances that surrounds him. What is a feat? It means "to move forward": the person has still moved, has still moved - this is, in fact, feats. There is such a problem in the world, the so-called "children of gods" - the offspring of rich, famous people and children of people, the power of "hold". I always say that, of course, these children are defective, because they have significantly reduced the motivation for independent achievements. As so, they have parents' money, power and fame, it is easier for them to fulfill any of their desires, goals, dreams. But no, it is much more difficult, because they have no motivation. If a person thinks that he will acquire everything else with the availability of material goods, this is a big mistake, one is not connected with the other, but an understanding of this will come later. Nevertheless, a person has at least some motivation: to see the world, to earn the respect of classmates or comrades, girlfriends from the crowd. And he seeks to achieve this at any cost, starting, as a rule, from the external design: what to dress up, how to decorate my own body, how to position myself, what slang to speak ... Then he suddenly begins to understand that the change of scenery is so often that he is not able to keep up with her, and you have to rely on something inside you, as the Taoists say: "Empty and solid being" - whatever you press, everything is empty.
About 20 years ago, you developed a special course for schoolchildren: the basics of life safety (OBZH), now those who were 20 years ago schoolchildren, you pass the test for Rambo - what is it? Why do young 20, 30, 40 men now need such an "exam"?
They do not even need the exam itself, they want to first learn, try to understand, overestimated or understated their self-esteem. Nobody asks what you are, what you dream about, what your qualities are, what you are never ready to put up with, what are you striving for? If a person starts answering these questions for himself, he suddenly realizes that in order to be a real person, and not invented, certain skills and knowledge are needed.
What can such a person do? If we begin to describe those qualities in which it differs from the animal, we suddenly find that they lie in the area of ​​the negative. He can kill his own kind without a reason - threats to his life or the lives of his relatives and friends, he may even devour his own kind; unreasonably, as a rule, in 90 percent, to deceive, mislead all others. It turns out on closer examination, even superficially, that he does not know how to do basic things, and vital ones: either to navigate, to get water or food, to build a temporary shelter, to provide first aid, or to resist the aggression of the outside world in any of its manifestations. The most that we have learned is to walk and run, still hold objects in your hands and bring them to your mouth. We are also unable to hold the thought for longer than a minute, we cannot hear the thoughts or guess the feelings of another person sitting nearby. We cannot help ourselves, much less other people. Another thing is when you assume responsibility for a loved one as a husband or wife, then a father or mother ... Especially if you are the head of a company, if you introduce a new product or service to the market; if you are already beginning to influence the economic, political or cultural space of your country.
That is to make a feat ...
The feat is an unnatural state: it is unnatural to lie down on a bunker, it is unnatural to sacrifice life, time, health, money for the good of other people. Everything that is unnatural is a feat for society. All that is unnatural, but positive. As a matter of fact, we have derived some formula for the feat.
Everything was mixed up in the Oblonskys' house. We often call the heroes of the so-called "stars". What hard work it is to be a "star" —it's hard, probably, to dance or sing for half an hour or an hour in a day. And only get something for 100 thousand dollars. And to give out autographs, and to play in a casino, and to glam and glamor. That's what we want to be like, here he is a hero, almost national, because he is always shown on all channels, his face in all magazines and newspapers. We are told that he likes to eat, on which toilet he sits, that he likes to drink and what to wear. I am ashamed of both those who write and those who read all this. People say - it should be. And the people used to ... he needs ... he does not see the other. That's what's sad.
How often, for example, do 20 - 30 years people ask themselves, "Who am I?" In relation to the times of 30 — 40 years ago. What am I? Why am I here? "
Much more often than now. The farther to the beginning, the more often they asked themselves this question, because today the average person is told what he should become and how cool it is. We broadcast about it from morning to evening one hundred channels, thousands of media. And before that, a person had to read books, think and choose a hero for himself, whom he would like to be like. For example, I read Fenimore Cooper, Jack London, Jules Verne, Dumas. I rescued beautiful ladies, wedged through the jungle, through the ice hummocks ...
Your students are deeply immersed in themselves. You help them find their own "I." Do you have any internal statistics and success criteria?
A good question that I haven't been looking for the answer to lately. Trends are very interesting. The people who took place are attracted by the trainings, which can be called the spiritual constructions of modernity, the art of becoming and being a person, and instructions for exploiting their own destiny. These are people who organized their own business in such a way that they have free time. In fact, one of the great businessmen and practical theoreticians said that one can assess the well-being of a person by having free time - the more his time, the greater his state. And the desire for acquiring the equivalent of material energy (that is, money) from any entrepreneur was initially connected with the goal of acquiring additional degrees of freedom: wherever I want - go, whatever I want - buy, where I want - I will live there. A rare number of such people manage to organize their lives in this way.
So these people got free time, and they go to find out ...
It began in Soviet times, I will give such an example: a man comes to me specifically in a crimson jacket, specifically with gold rings and chains and says: "In short, man, here I have been driven by such infu friends, that you need. I am already here with different popikas ... ", - I will not speak his slang -" I have already communicated with different people there. And so many have sent me to you. " "What is the matter?" - I wondered. "Here, you see, there is a god or not? In short, you wait just now to drive something. Here I have
история
, I now have loot, 10 tone (10 thousand dollars). And if you prove me now, they are yours specifically. But I don't need to read books, point with a finger ... somehow specifically, so that I understand whether he is or not. " I am surprised: "Why do you need this?" He says: "In, dude, but count it, what if he is ... and that something else is needed then."
This, at first glance, a primitive story seems ridiculous. But in fact there would be more such "idiots". This is the person who specifically brought the money, specifically interested in the answer to this question. Others can talk extensively about high matters, but they will not make a step towards knowing whether there is anything at all.
Returning to the question of heroes, what kind of hero do you think is needed now? What is the hero of society?
The society is "shawing" what is offered to it as a hero. How it will sound the media.
Mass media - the main culprits of what is happening?
Well, I would not say that the main ones. Journalists are the victims themselves, wallowing in the information flow. They are definitely to blame. And their parents are guilty, because not those books offered them to read ...
... there were no books ...
No, there were always books. In fact, there would be a desire, and the necessary books will always be found. I could try to answer the question, what kind of heroes are needed. But what kind of heroes society is waiting for ... society is not waiting for heroes, it is waiting for shows.
Proper education - it means to teach the child to eat properly with a knife and fork, or to prepare him for adequate behavior in any situation?
I have a good formula, all the time I derive formulas for internal use. One of them - the most successful one, in my opinion - sounds like this: it usually happens in everyone. There is such a tradition in Russia: each father is obliged to raise a warrior son, not a soldier, but a warrior. In the old days, there was such an adulthood test: in 12, the boy was taken away in the spring to the forest, and until next spring he had to organize there, that is, to build a dwelling place, to put snares, to go hunting. Knyazhy children first of all did it. The etymology of the word "education" - is food, feeding. This is not education. A person's education cannot be a one-time action. Sometimes, in spite of parents, a person becomes a person or, in spite of parents, becomes a scum. Obsessive upbringing just leads to a negative effect. The main thing is not to overdo it - this is when the process becomes a process with obvious attention. You can bring up, not paying attention to the child, it is also education. Spinelessness is one of the brightest characters. Lack of education is also a way of education. This is also a parenting system. Another thing, to which it will lead. There are different pedagogical systems. Well, about 28 explicit, this is how I tell the teacher. There are such complex models as the Japanese: until 5 is a child - God, he is allowed everything: stand up here, take him out, break, kick, sit on anyone's neck, pee into a corner - everything is possible - he is god. From 5 to 10 years he is a slave. He can not do anything. He is kept in terrible rigor. And after 10, he's a friend. To discuss whether such a system of upbringing is good or bad, we cannot, because it is not our tradition.
But your students do not need heroism, but above all self-awareness?
Differently, one needs heroism, others - self-awareness, third - instructions for the exploitation of fate. This is just psychology, philosophy, esoteric, tradition. This kind of systematization, inventory of their own lives, the ability to structure it. Anyone needs such testing for high self-esteem or low self-esteem, for the revision of the virtual relationship with the world.
Is sincerity the quality of a hero?
This quality, the norm. For example, we have to give life for loved ones - this is the norm, even among animals the norm. Can you imagine, we began to raise the floor to the rank of heroism. I will soon be writing a "man" on business cards. And we already have almost heroism - to be on television and at the same time remain in our field. There is even a saying: if you were hit on the right cheek, substitute the left one. Do you know how it is written in the original Vedic text? If you are hit on the right cheek - turn the left one for letting yourself be hit. Then it was castrated, and the saying acquired a different meaning. This is the norm - to stand up for themselves, for their relatives, not heroism. And we have already gone so far from the norm that any normal manifestation of a person is a feat.