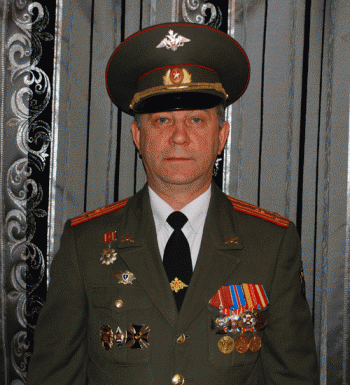 At all times, world peace rests on the shoulders of the military: soldiers, commanders, those whose profession is to defend their homeland. One of these officers was Sergey Egorovich Chuikov.
What does the boy dream about? Especially if someone from his family is engaged in a favorite thing in which there is romance? And he, the kid, being next to him, listens to these romantic conversations, feels a taste of the beauty of the profession, and his enthusiasm for the elders. This does not pass for him without a trace. And he sees his future in this profession. And so it happened to young Sergei Chuikov. He spent all his childhood among the military. His uncle served in
aviation
. And he often visited the airfield among the pilots, watched the flight of silver-winged birds.
So, after graduating from school, I took my documents to the Borisoglebsk Flight School. Passed exams. And already I felt like a future pilot, but I did not pass a medical commission. I took documents from the school. It was a shame. But life does not end there.
The guy was sent to the Cherepovets Higher Military Engineering School of Radio Electronics. Unlearn the allotted time. Received an appointment on his profile in a separate battalion, which was stationed just on the Don, in the village of Kovalevka, Aksai district.
He went from a platoon commander to a reconnaissance company commander. Then he was sent to the Trans-Baikal Military District. Here is the position of company commander, chief of staff, chief of service in the Guards
tank
divisions. The entire service is also in the profile of its training: electronic warfare.
Then, when riots broke out in the North Caucasus, a young officer was offered a transfer to the Caucasus. Chuikov agreed and in May 1995 of the year moved to a new duty station. In Vladikavkaz, he was assigned to the 58 Army as a Chief of the Electronic Intelligence and Combat Service of the 19 Motorized Rifle Division.
Here I will interrupt the story about Sergei Egorovich Chuikov, to tell about one more person. This is Nikolai Vladimirovich Shamanin. He, too, like Sergei Egorovich, a native of Kursk, also graduated from the Cherepovets School, only ten years earlier. At school, they even studied in the same department. And the unit commander was the same person. Only when Shamanin studied, this man had the rank of lieutenant, and ten years later, when he was studying Chuykov, he already had the rank of lieutenant colonel.
Countrymen after the school served in different shelves of the then immense of our country. In the Trans-Baikal Military District, their paths crossed, only at different times. In the North Caucasus region, in the Aksai district, where a unit of their service was stationed, their paths crossed again, but also at different times.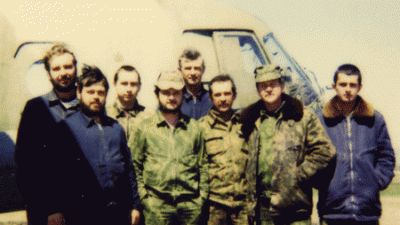 These two officers met only in 1995, in Chechnya. It happened during the first Chechen war. By that time, Shamanin had been in Chechnya for a year. Supervised the electronic intelligence, detection and warning service. As part of this service, there was also one of the units that Chuikov was to take under his command. It was then that they met. It happened in Khankala. Subordinate Chuikova was a significant group of forces and means.
Nikolai Vladimirovich Shamanin himself, an experienced, decent, observant officer who knows how to weigh the facts - I know him not for the first day, so I could be convinced of this - he tells about his subordinate: "By character, Sergei Egorovich is a smart, strong-willed, straightforward person. Belongs to the category of such people who do not like every boss, they are considered freethinkers. And free-thinking in Russia has never been encouraged. Let us recall Lermontov, Griboyedov, Pushkin ... For those of free-thinking we have been sent to serve somewhere far away, for example, to the Caucasus. Russian tradition, in one word.
"The job site Chuikov got a hard one. The military unit that he went to command, just before it was withdrawn from Hungary. People are different. But Chuikov managed to rally the personnel, organize the work properly and quickly gained credibility with his subordinates. His qualities were appreciated by both the division commander and the chief of staff. "In the course of hostilities it is always clear what a person is. Our specialists are always in sight of the big bosses: the group commander, the chief of the General Staff, various controllers, and the leadership of the Ministry of Defense. They often required immediate reports on the situation, forecasting, and such data often was not. And Sergey Egorovich was able to quickly organize the collection of such information.
In submission to him, I handed over the division of helicopters, which were designed to perform the tasks of conducting electronic reconnaissance and electronic suppression. He himself flew these machines in order to obtain more reliable information. In general, this commander never shied away from the task. "
"There was such an episode," recalls Nikolai Vladimirovich, "it took to go to an area where there was still active military action. And so it happened that we did not have time to get the machines. They took several grenades. Actually, the transport, providing to some extent security, was also not at hand. We got into the gas station and moved south-east of Chechnya. There are positions of militants around. We still managed to penetrate these barriers. We got to the mountains and organized a combat mission. In moments of danger, Sergei Egorovich behaved the way a real combat officer should have behaved. The main thing - to perform the task.
Nikolai Vladimirovich Shamanin recalls another such episode. "It was necessary to place means of radio intelligence, and the height at which this was supposed to be done was in the hands of the enemy. There is no time to wait. And our unit operates with the Marines unit. Early in the morning, the marines without fire training, without covering artillery and aviation, went on the attack and took enemy fire on themselves. But our experts went ahead. And Sergey Egorovich went along with his subordinates. "
"There is an expression - fighters of the invisible front. These include scouts, partisans, saboteurs. So they hold such a front. However, their actions are often associated with a clash with the enemy, which must be destroyed. Part of the electronic warfare does not include direct physical destruction of the enemy. The main task here is the sustainable management of our troops and the electronic protection of these troops from the means of destruction. There is no direct clash. But in this case, our specialists can also be called fighters of the invisible front, only using other means. And then in the Caucasus there was, one might say, a partisan war, when the enemy is not only in front of you, but behind your back, and to the right and to the left. Impact can be expected from any side and at any time. And the enemy does not care who to shoot: at the commander or at the private, he hits any target. So, our specialists also happened to die, and here much depended on the commander, on his attitude towards his people, and Chuikov always set an example.
- There would have been more commanders in our army like Sergei Egorovich: smart, competent, responsible and selfless! - says Nikolai Vladimirovich.
During a meeting with Sergei Yegorovich Chuikov himself, I gave him a listen to the recording, which I did during a conversation with his direct commander Nikolai Vladimirovich Shamanin. While he was listening to the recording, I was watching him. And, of course, drew attention to his reaction. His face showed surprise, excitement, and again surprise.
"Wow," after completing the audition, my interlocutor said, "I have never heard of such a thing about myself." Heard and confused him, and at the same time, such an assessment of his work in combat conditions was pleasant. And then we talk about his service, about performance. But his performance is also a kind. Received an order - it does not mean, rushed to run it to execute. He carefully weighs his actions, ponders the options, chooses the best solutions. "The fact is that you are not acting on your own. You need to complete the task, be sure to do it, because the failure to perform a combat mission can have dire consequences for many, not only for you personally. Therefore, it is impossible to relate formally, automatically to the execution of an order. You can kill people. Therefore, the decision needs to be made objective, deliberate. Although it is impossible to completely avoid losses.
There was a case: our car was shot from ambush. The driver, private Zhadan, and ensign Boyko were captured. It happened in 1995 year. Until the end of 1996, we took certain actions to find them. So they did not find the guys. There were other losses. War is war. "
I was interested in how helicopters committed to his service perform the mission. What he thinks about, escorting them to the sky, where he himself could not get up. But no, it happened, it turns out. On the one hand, it was his thrust into the sky. And on the other hand, the opportunity to thoroughly examine the situation in order to carry out the current work of high quality.
The helicopter pilots turned out to be young, but already fired, experienced. Chuikov told them that all his life he had dreamed of flying, and they told him: "Well, it means that we got here for the intended purpose." I went with them on one mission, flew out another time, the third, began to master the flight case. And they told him how to control the combat vehicle ... In a word, they became friends, flew. When calculated at the end of the campaign, 92 was already on his account for sorties - reconnaissance, target suppression, landing. This, to some extent, filled the youthful dream of flying.
In December 1996, hostilities ceased, and Sergei Egorovich led his task force to Vladikavkaz.
The Government highly appreciated the service of the veteran to the Motherland, awarding him the Order of Courage, the medals "For Military Valor", "For Distinction in Military Service".
In 2000, Chuykov resigned. They offered to stay in North Ossetia. I didn't want - it was pulled to Russia. We arrived with the family in Aksai.
Returning from the war, he, an army man, turned out to be in completely different conditions. "This is a completely different relationship in which a military man, and even a military officer, is not so easy to fit into. Thank you comrades in the army, who were close, helped, supported. I am very grateful to them for this. " And in his post-war service, Sergei Egorovich continued to work, now in the security service of Sberbank of Russia. And always kept in touch with comrades.
When this material was being prepared for publication, the news came that Sergei Egorovich had passed away. Suddenly, tragic. And I still remember our last conversation:
- Sergey Egorovich, you have experienced a lot, but do you believe in God?
- After the war you will believe. Soul somehow turned to life and to people. Revised some of his life principles. I really appreciate old friends, martial military fraternity and I think that life, whatever it may be, must be lived with dignity.
... More in our army such officers!