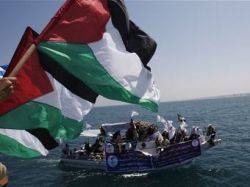 as a result of the detention of the Israeli Navy
flotilla
16 people died with humanitarian aid supplies to Gaza residents, Al-Jazeera said.
On Monday, the Israeli military aboard ships of the international flotilla, which carried hundreds of human rights activists and thousands of tons of humanitarian supplies to the Gaza Strip, RIA reports "
News
».
Meanwhile, the Israeli military censorship banned the dissemination of any information about the victims and wounded during the assault by Israeli border guards of the ships of the peace flotilla sent to the Gaza Strip, Israeli public radio reported on Monday, Interfax reports.
The figures for the dead vary from two to ten people. Wounded - at least 30.
A total of six ships of the "peace flotilla" were located around 700 people, including Nobel Peace Prize winner 1976 of the year, Meyrid Corrigan McGuire (Northern Ireland), as well as members of the European Parliament.
According to the newspaper VIEW, the website dealing with information on navigation, said "with reference to our lawyer (in the Israeli city) Haifa" about 10 killed during the operation. Turkish and Arab TV channels, whose employees were present on the ships of the "freedom flotilla", had previously spread information about the two wounded and 50 injured.
"The Israel Defense Forces comply with a government order banning unauthorized access to this zone," said a spokesman for the army.
"The Israeli commandos landed from a helicopter on the deck of a Turkish ship, immediately opening fire on unarmed civilians ... The fate of the remaining ships is unknown," said the short messages that were published by the website of the participants in the voyage.
The accompanying video frames showed motor boats and helicopters pursuing a human rights caravan, armed men who landed on board one of the ships.
The "flotilla of freedom" consists of six courts. They carried at least 600 human rights defenders and 10 thousand tons of humanitarian supplies into the blocked Palestinian enclave. Israel has previously banned the caravan from approaching the Gaza Strip, threatening to escort ships to one of its ports and deport participants to the voyage.