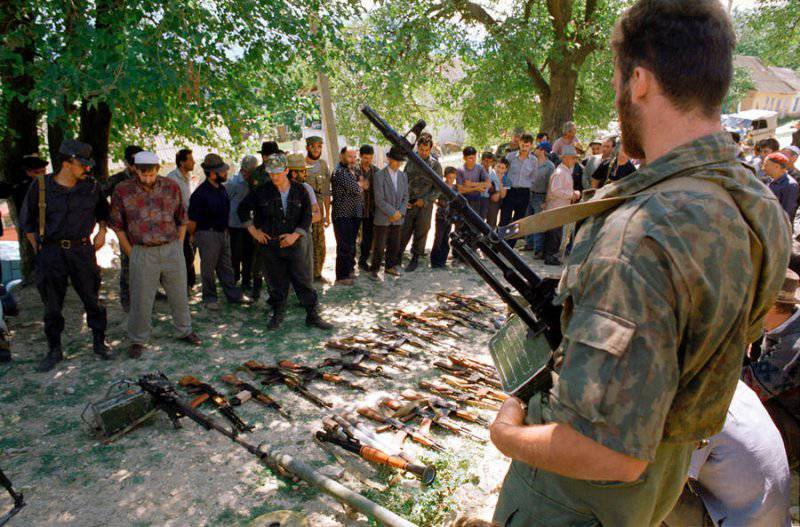 As a result of a special operation in the south of Chechnya, the head of the gang Rustam Saliev, nicknamed Abu Muslim, was killed. The security forces managed to conduct a special operation without loss. Earlier, the head of the Chechen Republic, Ramzan Kadyrov, said that he would not allow the leader of the Chechen militants, Doku Umarov, to disrupt the Olympics in Sochi and promised to destroy Umarov before the start of the 2014 Games.
The liquidation of Rustam Saliev as a result of the special operation was reported by the head of the Chechen Republic, Ramzan Kadyrov: "In the course of several days of operational search activities, the police and other services managed to destroy Saliyev. He was known as the so-called emir of the Achkhoi-Martan district. "
According to Kadyrov, Saliev was in the ranks of gangs for several years. The group, which he led, consisted from 15 to 20 people, reports "Interfax".
During today's clash, there are no casualties and casualties among the security forces, Kadyrov said, adding that the commander of the special forces regiment, Vakhit Usmayev, was in charge of the operation.
According to the Chechen Interior Ministry, Rustam Saliev was born in 1982 and participated in the ranks of illegal armed groups since 2007. He was on the federal wanted list for the manufacture of explosive devices and involvement in the encroachment on the lives of law enforcement officers.
Saliev was killed in a wooded area on the southern outskirts of the settlement of Kharsenoy of the Shatoy district "during the measures to prosecute, block and destroy members of illegal armed groups," the Interior Ministry said.
"Saliev was a person close to Doku Umarov, from 2008 to 2011, he served as a personal security guard for the leader of the North Caucasian gangsters," the National Anti-Terrorism Committee of the Russian Federation said.
"Neutralized in Shatoysky district of Chechnya leader so called Achhoj-Martan gang Rustam Saliev, according to available data, was approached to Dock Umarov with 2008 of 2011 years, it performs the functions of personal guard leader North bandit" - leads "Interfax" data National counterterrorism committee.
Last week, Ramzan Kadyrov, in response to the threats of Umarov, who called on his supporters to thwart the 2014 Olympics of the Year in Sochi, said that the "Shaitan Umarov" would probably be killed even before the start of the Games.
"He is a shaitan, we are before the Olympics, I think, I am sure that we will destroy him. We are looking for him every day, he does not appear anywhere, "said Kadyrov, adding that Umarov is only a tool in the hands of" Western, European "enemies of Russia who do not like the idea of ​​holding the Olympics in Sochi and who use the field commander for their own purposes. .
The commander of the militants, Umarov, was declared killed seven times, and a reward of $ 5 million was awarded for information about his whereabouts.