During the military parade in Minsk 3 July 2013, the promising MZKT-79291 wheeled chassis with the wheel formula 12х12, already developed by Minsk Wheel Tractor Plant OJSC (MZKT), was demonstrated for the first time. The MZKT-79291 chassis past at the parade was equipped with an overall prototypical body, apparently simulating a missile launcher.
According to known data, the chassis is intended primarily for use as the base of the self-propelled launcher Rubezh with a small-sized "light" intercontinental ballistic missile created by the Moskovsky Institute of Thermal Engineering Corporation (MIT) OJSC. 7929 (first in the 10x10 and 10x8 versions) for various missile systems designed in the USSR at that time was carried out in Minsk at MZKT with 1980s. In the future, the MZKT-79291 chassis project It was reported that in the 2008 year at MIT, the Minsk plant delivered a set of documentation (technical project) to the MZKT-79291 chassis in a modern version for the AAP of the promising PGRK, and MIT conducted the associated R & D with the MWTP.
It is known that the modern diesel version of the MZKT-79291 chassis should have a 854.10 diesel engine with 650 horsepower. special development of JSC "Tutaev Motor Plant".
In the evening of June 6, 2013, from the Kapustin Yar test site in the Astrakhan Region, a Rubezh test complex with an intercontinental ballistic missile was launched. According to the chief of the Main Operations Directorate of the General Staff of the Armed Forces of Russia, Colonel-General Vladimir Zarudnitsky, during the test, new combat equipment was tested. At the same time, the general clarified that this was already the fourth launch of the Frontier in the framework of the tests.
The launch of the rocket from the new complex was recognized as successful. This year, another launch will be made, which will be the last for "Boundary" in the framework of tests, Zarudnitsky said. Then the missile system will be adopted by the Strategic Missile Forces. The new Rubezh strategic missile system will be put on combat duty until the end of 2013, according to the general, and the first missile regiment on the new complex will be deployed in 2014. Currently, work is underway to create the necessary infrastructure, personnel are being trained and combat crews are being coordinated.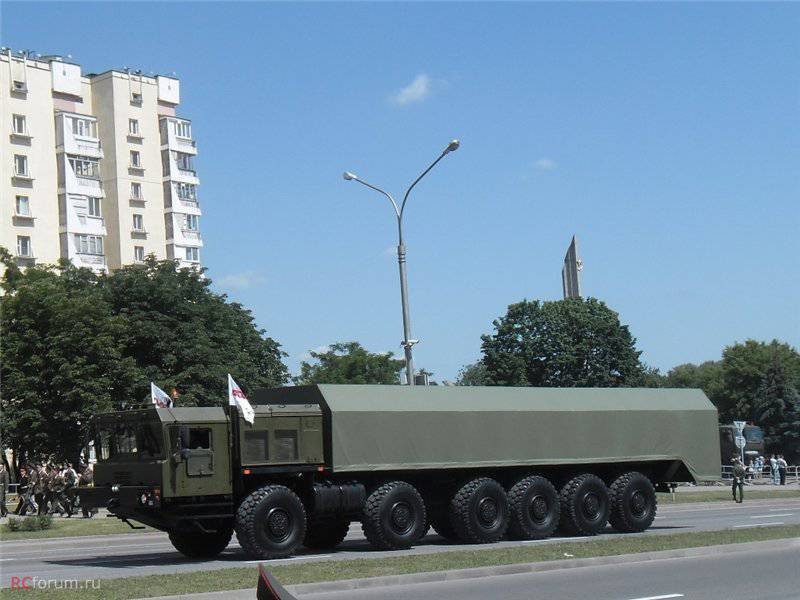 Prototype of the new wheel chassis MZKT-79291 with the wheel formula 12х12 developed by Minsk Wheel Tractor Plant OJSC at a military parade in Minsk