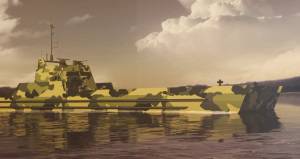 The 02320 project of the Kazak landing craft developed by the design and engineering bureau of ZNT-Engineering OJSC was first presented at IMDS-2013 in St. Petersburg. About this to the correspondent of the Central Naval Portal the chief designer of the project Andrei Chichagov.
The boat is a landing craft with a length of about 28 meters and a width of more than 7 meters, capable of speeds up to 11 nodes. The carrying capacity of the boat is 2 armored personnel carrier type BTR-80 or 100 man landing.
A distinctive feature of the Kazak boat is the ability to place a Mistral-type DVKD in the dock chamber: it houses the 4 boat, as well as an armament complex consisting of three remotely controlled modules — one 12,7-mm heavy machine gun and two 30-mm automatic grenade launchers.
The boat can be used as a multipurpose vessel for delivery of rescue equipment, diving complexes, diving operations at depths up to 60 meters. The project of the boat will be offered to the Russian Navy as a replacement and addition to the 1176, 1785 and other projects that are in service.