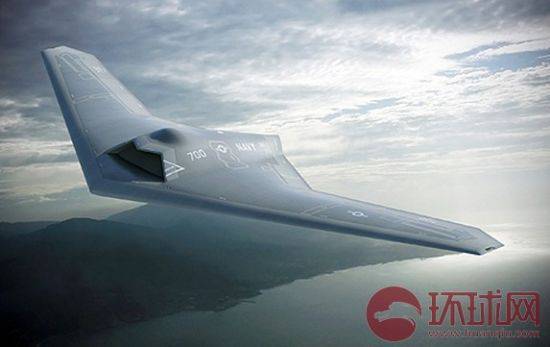 The US Navy announced plans to create a promising carrier-based UAVASS reconnaissance and impact UAV (Unmanned Carrier Launched Airborne Surveillance and Strike system), reports 5 July mil.news.sina.com.cn.
UAVs of this type (the figure shows the concept of Lockheed Martin - approx. "VP") will go into service by the 2020 year, with the minimum radius of flight 600 nautical miles (1111 km) the device must be in the air for 24 hours, when refueling in the air is the same flight duration must be maintained in nautical miles 1200 (2222 km).
Combat load will be 1360 kg, in the nomenclature appear such ammunition as UAB JDAM caliber 500 pounds.
Recently, the US Navy has been successfully testing the prototype of the X-47B drone UAV. The device first flew in 2011 year, 14 May took off from the deck of the aircraft carrier CVN-77 George HW Bush. This UAV will become the base for the creation of UCLASS.
The American website popsci.com reports that the US Navy does not have plans to adopt the X-47В, created under the program UCAS (Unmanned Combat Aerial System), this device will be used to test technologies, perhaps up to working out the internal compartment
weapons
. The new UCLASS will be as subtle as the X-47B, and its combat radius and flight duration will exceed the capabilities of the F / A-18 fighter. It is also reported that the new generation UAVs can be effective for countering the threat from the Chinese anti-ship ballistic missiles DF-21, since the large combat radius of the UAVs will allow aircraft carriers not to enter the defeat zone of the PCBR. The idea of ​​the project is also a combination of reconnaissance and shock functions in one UAV, which will eliminate the use of platforms for various purposes.