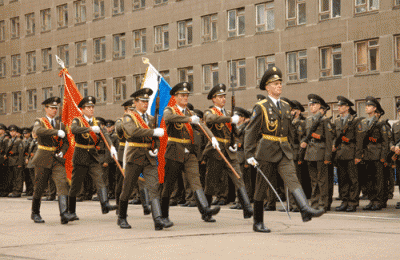 Almost a quarter of a century after writing the last essay at school, he decided to present his thoughts to a wide audience of the Military Review. So, if not very well, I apologize in advance. However, everything is in order.
My eldest daughter graduated from high school this year, and very well, received a gold medal. She showed a penchant for exact sciences, studied in the information and mathematics class of the Lyceum, became the winner and the winner of several regional and All-Russian Olympiads in physics, mathematics and computer science. Also engaged in sports. She is a candidate for master of sports (brown belt) in karate, a multiple winner of tournaments in the Central Federal District and Russia.
When there was a question of choosing a future profession, we considered that in law enforcement agencies we need technically competent, strong and enduring officers. Moreover, in recent times the situation with money allowances and social guarantees for people in uniform has certainly improved significantly. Not the last role was played by the fact that education can be obtained at the expense of the state, given that we have a large family, and younger children will follow school. The downside was female gender, but when we visited the websites of universities, we saw that many of them were girls too.
They decided to start with the ICSI (Institute of Cryptography) of the Academy of the FSB. There they immediately refused us, indicating that they take only girls with Moscow registration. Next was the FSO Academy. The documents had to be submitted through the local special communication agency, they also refused us there, without explaining anything. But we decided to send the documents by mail, strictly in accordance with the rules published on the Academy website. The answer did not come immediately, it is clear that personnel officers have long composed. But they wrote that for girls the other requirements set forth in some very secret departmental instructions, and it was necessary to declare their intentions strongly in advance, in about a year.
At this time on the "Military Review" I read
news
, that the Military Space Academy named after Mozhaisky this year dramatically increases the enrollment of cadets. After consulting through a personal with Ascetic, we decided to try.
In the district and regional military registration and enlistment offices, the medical commission, psychological tests and proficiency tests the daughter passed without any problems with the result "recommended for admission". True, having arrived in St. Petersburg on the open day, we were disappointed, they said that this year it was decided not to recruit the girls. After some time, we were notified that the Defense Ministry decided to recruit eighteen girls to Mozhayka.
This is where the fun began. No matter how many acting officers I would ask whether it was possible to enter honestly in a military college, the answer was one- it was useless. Moreover, the personal qualities of the candidate do not solve anything, the solution of the issue depends on the availability of connections or money. Interestingly, each of them offered to bring me down with the right person, saying, I don't need anything, you will agree with him about the money there. In other words, I am not like that, life is like that.
Considering that it was not good to start the service with bribes, we decided to try honestly. Once in the barracks, my daughter immediately got into outfits for two days, washed the floors, raked out the toilets, two nights without sleep on the nightstand. But all this is not terrible, ordinary army everyday life, for her it is not a burden, she is still the eldest child in a large family.
I was told from "reliable sources" that there are no chances, there are more than a hundred candidates for eighteen places, with many daughters, granddaughters, nieces of "comrades" with big stars on their shoulder straps. The task is to cut off "random" candidates. But I still have some hope of justice.
The Sources were right. On the first day of the medical examination, the daughter successfully passed all the doctors. Stayed the next day, sorry, the gynecologist. A woman doctor, without any examination, gave a conclusion about the presence of some kind of cyst, which, allegedly, on the two previous commissions was not found. Moreover, this cyst is cunning, it can suddenly appear and also suddenly disappear without a trace. That is, if the next day any honey. the institution will establish that there is no cyst, you can always fend off - well, that was yesterday. Thus, my daughter became temporarily unfit for military service. The same doctor established the same diagnosis in about fifteen other girls. As you might guess, they also did not have influential relatives. What a coincidence.
The next day, checked the level of physical training in girls. My daughter was not allowed, she just looked. The results are weak, many could not even run a kilometer. All hope that the Department of Physical Education knows its work and the students will catch up in the future.
That's so sad for us
история
... Someone will say, why are women in the army at all? I will not argue. But if they are not needed, then do not type, do not arrange a farce. All officials do not know how to master the money for the patriotic education of young people correctly. After such examples, all their chatter looks ridiculous. Don't you think that we have fewer and fewer fellow officers? They are in the past. Now more and more "gentlemen" officers. For them, the service has become not a service to the Fatherland, but a kind of business, a way to solve personal problems. The army and other law enforcement agencies become caste structures, which are closed to outsiders.
Someone recently wrote on the forum that the army has always been the beloved child of our people. And there is. But even a beloved child should be controlled by a parent, I say this as a father with many children. Recently they wrote that Shoigu ordered to find students from St. Petersburg programming champions and involve them in work at the Ministry of Defense. Or he can look under his nose and put things in order in their own universities. Mozhaika, by the way, is very close, at one metro station from that institute, and they train specialists there, including those in programming.
Our army is actively rearming, it is planned to spend three trillion rubles only on equipment for the EKR troops. Who will sit at the remote in a few years? Again we will wait for the fall of rockets and satellites? A year ago, I couldn't imagine that I would approve of Stalin's actions, but it looks like we just need a new 37 year, albeit without bloody consequences. Cardinal cleaning at the top is overdue and overripe. The world is restless, and with such an approach to personnel decisions, we don't have to wait for anything good.
My daughter is now hard, she is strong, fastened. She was accustomed to winning in school and in sports, but in a fair fight. Army life she liked, it would have made a great officer. She asks: "Why are they so with me?" What should I answer her, gentlemen officers?
PS My youngest boy, said, I will go to Mozhaika too. Will anything change in ten years?