In October, the Turkish government, forced to submit to its then-European allies, the French, declared war on its large neighbor, Russia, to 1768.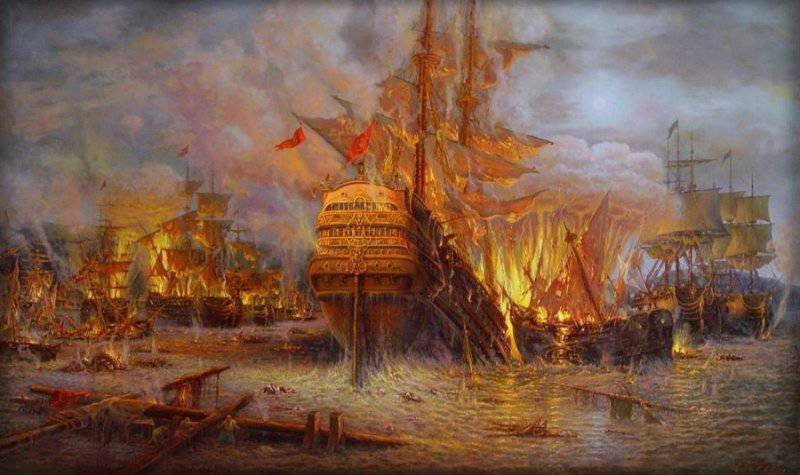 The Turkish aggression did not come as a surprise to our country, and at the beginning of 1770 from the Baltic Sea around the whole of Europe, an "Archipelago Expedition" was launched to attack Turkey from the Mediterranean, which entered the glorious
history
Russian
fleet
as one of the most wonderful events.
The transition took place in extremely difficult conditions. Since its inception, the Russian fleet has never left its native Baltic Sea and has not had the experience of long-distance expeditions. The task of the Russian squadron, upon reaching the limits of the Aegean Sea, was to search for and destroy the Turkish fleet there.
The enemy fleet was found on July 5 (June 24) in the Chios Strait of the Aegean Sea, near the coastal fortress of Chesma. The Turkish fleet had a double numerical superiority, but despite this the Russian squadron entered into a decisive battle with it.
The avant-garde of the Russian squadron was headed by Admiral Georgy Spiridov, Cordebatalius - Count Alexei Orlov, and the command of the rearguard was entrusted to Rear Admiral John Elphinstone, an Englishman, employed in the protection service.
The failure of the sea battle and the death of the flagship forced the Turkish fleet to retreat inside the Chesme Bay under the protection of coastal batteries. At the Admiral Council, it was decided to block the enemy fleet in the bay and burn it with the help of firefighters.
As a result of successful actions of the Russian squadron of 7 July (26 June), the Turks lost their entire fleet, losing 11 thousands of personnel.
During the perpetuation of the memory of Russian sailors who showed courage and heroism during the Russian-Turkish war 1768-1774, July 7 is celebrated as the day of Russia's military glory - the Victory Day of the Russian Navy in the Chesmen Battle.