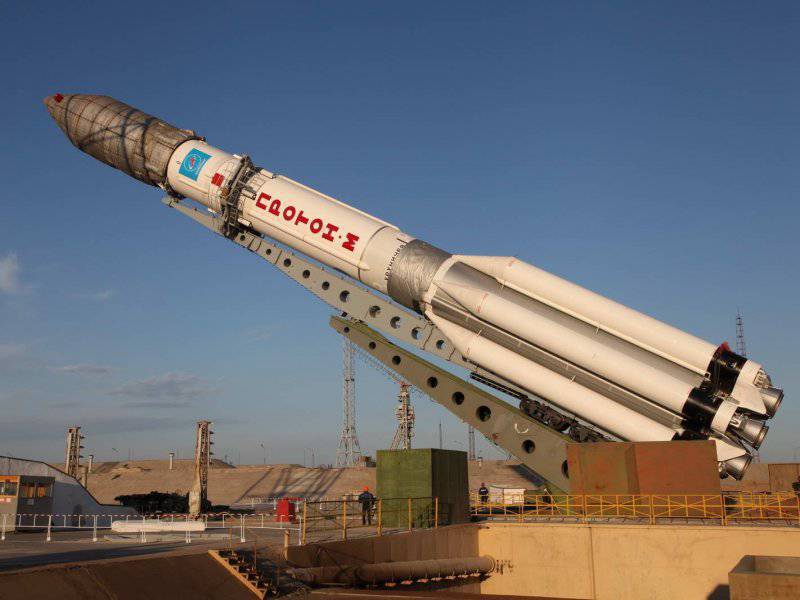 Experts are considering several versions of the July 2 crash of the Proton-M launch vehicle. "One of the versions is that there was an early launch of the rocket, for some unknown reason, as a result of which an accident could have happened," the RIA told. "
News
"a source in the space industry close to the investigation.
According to him, the control system took the early launch as an emergency situation and began to lead the missile to a safe distance from the launch complex. There are other versions, but this, as the agency interlocutor noted, is prevalent.
In order to establish the exact cause, the experts need to complete the decoding of the telemetric information. "Perhaps the decoding will take some more time - maybe a day, maybe two, and maybe more. While the specialists are working," said the source.
Among the possible causes of the crash are also called engine problems and a failure in the control system. "Most likely, some problems either in the control system or in the first-stage propulsion system. And the fact that some of the" experts "refer to the reason for the accelerating unit that exploded during the fall of the rocket was caused by that accident. which developed from the first step, "said Alexander Zheleznyakov, member of the Russian Academy of Cosmonautics, Kommersant-FM.
The Proton-M launch vehicle, which in the morning of 2 July was supposed to launch three Glonass-M navigation spacecraft into orbit, changed the trajectory at the tenth second of flight, caught fire, fell into the territory of the Baikonur cosmodrome and exploded. Hundreds of tons of extremely toxic fuel, heptyl, spilled on the site of the fall.
On the fact of the accident was a criminal case under Art. 216 of the Criminal Code of the Russian Federation ("Violation of safety rules in the conduct of mining, construction or other works"), the investigation is handled by the prosecutor's office of the Baikonur complex.