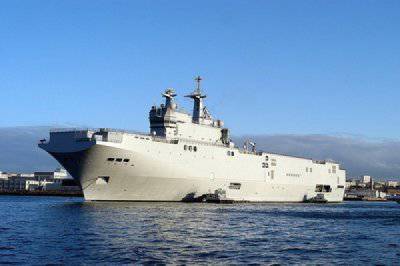 The act of transferring to the French side of the aft part of the first amphibious assault ship-docking ship (MFDD), built at the Baltic Shipyard, was signed on Thursday during the VI International Naval Salon (MBMC-2013).
The document was signed by representatives of the Russian "United Shipbuilding Corporation" and the customer - the French company STX-France. He was initialed by a representative of the manufacturer.
The aft part of the DVKD Vladivostok was launched on June 28. It is expected that it will be sent to France for the completion of July 8. The hull will be taken in tow and shipped to France, where it will be docked with the bow, built in Saint-Nazaire, and in the fall of 2014, the completely ready ship Vladivostok will become part of the Russian Navy.
According to Interfax-AVN, part of the hull, built at the Baltic Shipyard, reaches 94 meters in length, the trigger weight is 6,4 thousand tons. In addition to hull painting works, the plant has made the hull saturation with equipment: foundations for spin-and-go columns, aft and side ramps, lifting platforms for helicopters, an ammunition lifter, and a hangar gates have been installed. Equipped with ballast room space, mounted towing and mooring equipment for transporting the hull in Saint-Nazaire. All the hatches and doors provided by the project were installed, electrical equipment was installed (cable trays and foundations for electrical appliances). The hull was also saturated with ballast, waste and fire systems. The total length of the pipe is about 5 thousands of meters.
The Baltiysky Zavod is a construction plant of fodder units for two DVKD "Vladivostok" and "Sevastopol", ordered by the Russian military from France. FSUE Rosoboronexport and the French company DCNS signed a contract for the construction of the first two helicopter carriers in June 2011. United Shipbuilding Corporation is involved in this transaction as a subcontractor of the French shipyard STX France in Saint-Nazaire.
The total length of the hull of the ship "Mistral" is 199 meters. Width - 32 meter. The height of the board at the level of the flight deck - 27 meters. Draft at a displacement of 22,6 thousand tons - 6,42 meters.
The VI International Naval Salon, held every two years, will last until July 7. The exposition and exhibition section is located in four pavilions of the Lenexpo exhibition complex with a total area of ​​over 17 thousand square meters, in open spaces and the waters of the Gulf of Finland, as well as at the berths of the Naval Station.