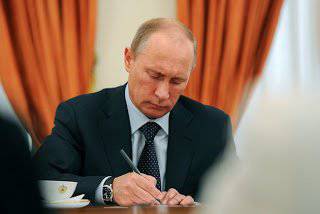 Russian President Vladimir Putin signed a law providing for compulsory insurance of military personnel and persons equivalent to them from the date of the start of their service until the day of its termination.
According to the new law, insurance claims include not only the death or death of the insured person, but also the determination of his disability during his military service, ITAR-TASS reports.
Also, an insured event is considered to be death or determination of disability for the insured person for a period up to one year after dismissal.
In these cases, the insurance benefit must be paid by the insurer by whom military personnel and persons equal to them in the compulsory state insurance were insured at the time of their injury or illness.
The law establishes additional requirements for insurers: a license applicant must comply with state secret legislation and have experience in the field of insurance for at least two years.
The law applies to military personnel, citizens called up for military training, individuals of the rank and file and commanding staff of the internal affairs agencies of Russia, the State Fire Service, drug and psychotropic substances control authorities, employees of institutions and bodies of the penitentiary system.