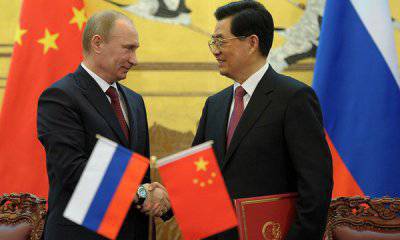 According to the economic institutions of Russia and China, the trade turnover between these countries in 2013 should reach a total value of about 90 billions of dollars. Today, China is the main trading partner of the Russian Federation in Asia, and in Asia it is at least. Russia supplies energy to China, wood,
weapon
, space technology, and in return literally everything else: from a needle to a truck
Howo
, from microelectronics to bulldozers and excavators.
Russia and China have a common ground in the geopolitical space. One of these points is the solution of the Syrian question. Today, the Russian Federation and the PRC are constantly checking their positions on the Syrian crisis, which is artificially fueled by the West and its allies. It is the Russian and Chinese positions in the Security Council that bring the same West to a white-hot, making it difficult for Bashar al-Assad to resolve the issue in the usual way for the main democrats. This path is known to many: first, to find a pretext for the invasion, and then the invasion to carry out, using the variant of the no-fly zone, which was tried on the long-suffering Libya. Livia still can not find himself after the overthrow by means of the brutal murder of Muammar Gaddafi.
In all likelihood, today the West is preoccupied with the search for options for further actions that will allow it to "persuade" Moscow and Beijing, which have similar points of view on solving the Syrian problem.
However, relations between Russia and China have their own difficulties. One of these difficulties is in violation of environmental agreements by the Chinese side. China is constantly dumping chemicals and waste production into the river bed of the Songhua River, which is a tributary of the Amur. Wastewater kills all life in its path, causing irreparable damage to both Amur himself and the territories adjacent to this river.
The problem of environmental nature really can not be solved in recent years. Today in Russia there is a special group that collects information on discharges of chemicals in Sungari. So far, the Chinese side is extremely reluctant to contact this group.
But this problem still sees solutions, especially since the two neighboring states will have to agree sooner or later. One of the solutions is the creation of joint ventures that will be able to work under multistage control from two sides of the business.