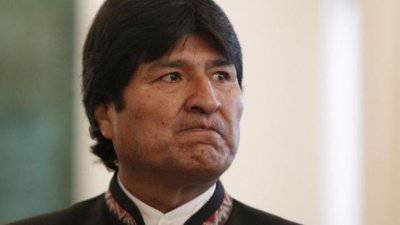 The plane of the President of Bolivia Evo Morales landed on the island of Gran Canaria. There, he must make refueling at Las Palmas airport, and then head to the Brazilian city of Fortaleza. In the afternoon, the plane of the President of Bolivia flew out of Vienna and headed home. Last night he made an emergency landing of the Austrian capital. The reason was the refusal of the authorities of France, Spain and Portugal to allow the passage over its territory.
From Moscow to Bolivia fly 17 hours. Evo Marales did not plan to transfer, and he did not intend to visit Austria, but had to. Heins Fisher, President of Austria: "On the way from Moscow to his homeland, the President of Bolivia, who, I note, is a great friend of our country, stayed in Vienna, or rather, was forced to do so. ".
The aircraft of the "big friend of the country" was still examined by the Austrian authorities in a friendly way. Snowden was not found. Ali Rodriguez, Secretary General of the South American Union of Nations UNASUR, called the decision of European countries "outrageous and absurd." Venezuelan Foreign Minister Elias Jaua on the television channel Venezolana de Television announced: "We call on all countries of Latin America and the Caribbean to speak out against this lawlessness." In his opinion, the French and Portuguese authorities, not knowing about the fuel reserve of the Morales aircraft, in fact, "made an attempt on the head of a sovereign state." In addition, the Foreign Minister noted that he is establishing contacts with his Latin American counterparts in order to give a collective response to a flagrant violation of international agreements. In turn, the Minister of Foreign Affairs of Ecuador, Ricardo Patiño, said that his country intends to convene an emergency meeting of the Union of South American Nations UNASUR in connection with the situation.
So, they wanted to catch Snowden, but they caught Evo Morales. The West, cursing for America, managed it in full! Most likely, there will be consequences and not only political ones. And Russia will have more allies and partners.