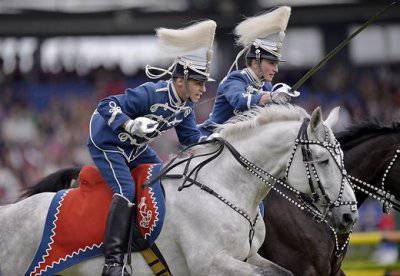 Hussars and lancers will appear in the Lithuanian army. This is just one of the innovations that are provided for in the adopted law on the structure and size of the Lithuanian armed forces from 2014 to 2019 a year.
As a result of the ongoing structural reform in the Lithuanian army, in addition to the previously existing dragoons, hussar and uhlan units will appear. The corresponding changes were adopted by the Lithuanian Parliament when discussing the principled structure of the armed forces for the period up to 2019. The document prepared by the Ministry of Defense, in particular, provides for the renaming of a land battalion named after King Mindaugas of the land forces to a hussar battalion. According to the same scheme, the infantry battalion of the name of Grand Duchess Birute of the land forces will be named Uhlan.
Moreover, previously assigned names that are associated with the medieval
history
Grand Duchy of Lithuania, are preserved. But the word "motorized infantry" is removed from the names, as is the case with the name of the dragoon motorized infantry battalion named after Prince Butigheidis. However, according to the authors of the project, this does not mean that soldiers of the twenty-first century will move from armored vehicles into the saddle and arm themselves with swords and spears. According to Defense Minister Juozas Olyakas, these innovations will serve "the preservation both in the armed forces and in the society as a whole of the traditions and historical heritage of Lithuania."
As noted in the explanatory note to the adopted law, the Lithuanian hussars, as a kind of light cavalry, appeared in the first half of the 16th century as part of the troops of the Grand Duchy of Lithuania and the Polish-Lithuanian Commonwealth. Soon the hussars went over to the category of heavy cavalry, the purpose of which in battle was to ram the ranks of the enemy and, if necessary, strike from the flanks. One of the main elements of their weapons were spears. The Ulans, in turn, were formed mainly from representatives of Tatar aristocratic families, who settled on the territory of the ancient principality, and in the army of the Lithuanian light cavalry, armed with pikes and sabers.
At the same time, the modern reform will not affect the total number of subunits and military personnel of the Lithuanian army. According to the law adopted in 2014, they can be from 14.140 to 17.360 people, taking into account representatives of professional and compulsory initial service, the militia and active reserve. Along with minor changes in the total number of the army over the next six years, the law provides for a reduction in the number of senior officers. Simultaneously with the increase in the number of ordinary soldiers, the limiting number of military servicemen of a professional military service will increase from the 7.700-8.400 indicator to 9.000-9.500 by 2019.