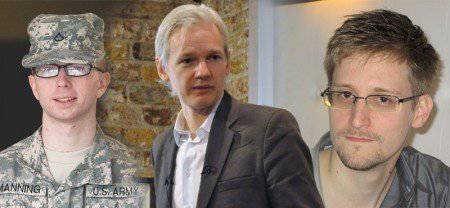 We greedily breathe when there is not enough air, we greedily believe when there is not enough truth. We trust Snowden, Assange and Manning and are ready to carry them in our arms for having been hit by an epidemic of heroism and honesty. But, alas, we were struck by the epidemic of faith.
Three is already a trend. A wave of dedication and love of truth? In the good old tale - perhaps. But in the real cruel world for these guys, everything would have ended very quickly and, most importantly, quietly. Very quiet. But we see a grand show, their faces on billboards and editorials of newspapers and the loud glory of Hollywood stars. This, you see, is well worth it. And why should they, for example, not roll on the edge of a deaf ghetto in a dirty sewage ditch or not decompose in a barrel of acid? At the slightest threat for themselves, the CIA deceivers would have worked this way. But - all the world's media, about the "independence" of which legends, today in the fighting position. Scribbling machine-gun queue: Snowden-Assange-Manning, Snowden-Assange-Manning. So that lays the ears.
Flying ducks
Says, just embroidered with satin stitch, - which is not a word, it is a perfect stitch. All the answers are ready in advance, and the Guardian correspondent needs only to submit questions in time. Snowden is not like a selfless madman with an atrophied sense of fear, his voice trembles a little from excitement. He is a typical "good guy", they usually inspire confidence.
Nobody doubts the authenticity of the data disclosed by Edward - the NSA and the CIA, with the help of large companies, are holding the whole world on the cannon. There is only one snag - they knew about it before, and the special services, of course, were familiar with the intricacies of the case. Snowden's colleague (who knows which workshop) Julian Assange talked about this. And again, something common can be traced between the "sensations" from Wikileaks and the fact that Mr. Snowden revealed to the world. This is usually called an open secret. Yes, now this is documented. So what? What changed? The image of the United States, and so shabby, hit. But Obama is unlikely to face Watergate, the CIA is interrupted by work, and the US government is at least one serious lawsuit. However, Snowden himself - he is still Mr. X.
Why did he reveal his name? He could just hand over the documents to the newspapers. Moreover, if you do not want media attention, as he says. Who is he - a suicide, a madman, who does not understand the meaninglessness of his victim, or just a very good actor who has completely different goals? He left work, his girlfriend and family, a house in Hawaii. Now, waiting every minute for reckoning, he builds himself up as a sacrificial lamb. But he gave his relatives to the slaughter. The Guardian correspondent notes that when you are thinking about loved ones that Edward endangered, his eyes fill with tears, and his voice begins to tremble even more. "This is the only thing that keeps me awake at night," he says. But conscience did not allow him to observe how the US government violated people's natural freedoms. How many lives has he saved? What war has stopped? Only proclaimed the well-known truth. No one in their right mind would go for it, and it's not about heroism, courage, and all the qualities that are unanimously attributed to him, note, the US government media. And who directed the light of all the spotlights on this unknown guy who suddenly became a star?
A small employee of the NSA and the CIA, system administrator Edward Snowden got a job only because of his talent, because he did not graduate from the institute or even from secondary school. But what is even more curious is that the ubiquitous journalists have so far not been able to find a single person who would remember him in his school years or in a short student period. Isn't it strange? However, he is far from his older brother in truth - Julian Assange, whose whole biography is one big dark spot. In a recent interview, Snowden said that he got a job at Booz Allen Hamilton office related to NSA and intelligence to get information about wiretaps. Previously, he talked about working for the special services as a career in the modeling business, a free opportunity to see the world.
He really happened to live in Japan and Hawaii. And then, one day, after three weeks of preparation, he threw off the terrible secrets of the United States on a USB flash drive, took a leave to heal from epilepsy, kissed a girlfriend and flew to Hong Kong. And then he became known to the whole world. If you think that the correspondents of The Guardian and The Washington Post found out about its existence shortly before you, then you are greatly mistaken. Back in January, Snowden wrote a letter to documentary director Laura Poitras, and Glen Greenwald from The Guardian had been receiving letters from him since February. Six months before the scandalous interview!
All of them showed unprecedented loyalty to professional duty and as if they had taken water into their mouths. Even the publicist Barton Gellman from the great and terrible The Washington Post, the mouthpiece of the United States, kept the secret. The communication, they said, was super-secret, but did the CIA and the NSA, filtering all the traffic and cracking such nuts, really failed to establish his identity during this period? And in Hong Kong, as we remember, both journalists and an employee of Wikileaks got to him, but not the cunning CIA-shniki. The answer is simple - we are dealing with a genius. After all, Snowden even theoretically did not have access to many published documents. It is believed that he got them, armed with talent and a wild thirst for justice. The sysadmin was not a blunder. Who would work at the CIA in higher positions ...
After an interview with The Guardian, Snowden spent a few more days in Hong Kong. He marked himself - literally across the road is the CIA rate. That is, for all this time, intelligence officers could not cross this very road and get Snowden from the hotel room? Could not trick him in the street, at the airport, on the plane, after all! Edward, if his name is Edward, tells in colors how he closed the doors with pillows and covered himself with a hood to enter the password on the laptop. It saved him. He apparently left the hotel with a pan on his head and a rolling pin in his hands.
In Hong Kong, he was joined by Wikileaks lawyer, a certain Sarah Harrison, and they flew to Moscow together. According to some information, it was she who helped Snowden with a canceled passport to buy a plane ticket. How this was done is still unclear, but neither the names of Snowden nor the names of Harrison are on the passenger lists of this flight. Aeroflot declined to comment, but obviously, fake documents were used. Who and how helped to arrange them is perhaps the main question.
Now Snowden lives in Sheremetyevo, and the authorities are in no hurry to act on his account. For special services, his revelations are not a sensation, it is only about image. But, I must say, the person is dark. Was it not his goal to gain a foothold in Russia, becoming a sort of "artificial irritant"? In this sense, he cleverly hooked China, noting in Hong Kong. He never flew to Havana, but whether he will fly to Ecuador is unknown.
There are two currents in this muddy water - China and Russia. Snowden prepared a sweet dessert for the Chinese in the form of data on US cyber attacks against the Middle Kingdom, earning the love of the Chinese authorities. Do you want to disarm the enemy - give him what he wants. After all, a good gambit is not just a concession in the small, but also in the most desirable for the opponent. And so, in today's hysteria around Snowden, we hear very curious notes. An anonymous source told The Washington Free Beacon that "China received everything Snowden had." This unknown who does not care about the evidence, but does not forget to hint that the NSA is concerned that Snowden could have access to the new US strategy in case of a nuclear war. And that means China - "received all." Is this a "stimulus"? Former US Vice President Dick Cheney suggested in a timely manner that Chinese intelligence services could have recruited Snowden.
Among the scattered things of Edward in the room of a Hong Kong hotel, The Guardian correspondent saw a curious book. It was the biography of former US Vice President Dick Cheney. The name is very symbolic - "Fisherman". Snowden obviously loves to read. Or catch fish.
Gorgeous liar
The more the media sculpted from Assange the statue of freedom of speech, the brighter the features of provocation in the Wikileaks project appeared. As in his main character - blond, selfless Julian. According to some data, natural blond (prematurely gray), according to others - painted (for the sake of impressiveness). In his biography, everything is so: dual and vague. And most importantly, it is absolutely chaotic, the eye has nothing to cling to.
The only source of information is the rare interviews of Assange and his mother, who has recently become a real public lady. In the sense of - always in sight. Their words paint a pastoral picture of cloudless childhood in the expanses of Australia, where the mother-heroine cuts pineapple thickets with a dull machete and shoots snakes on the bed of her sleeping son. Lifestyle - gypsy. Allegedly, since her youth, Christine Assange was a nonconformist and did not tolerate monotony. In her personal life reigned circus tent. Julian's father left behind only a hint of the origin of the surname - as if from a distant Chinese ancestor Sung. And lost somewhere in the boundless Australian taverns. According to other sources, little Assange was adopted by his stepfather, an actor in a stray theater, and presented him with a resounding "second name." The receiver again knocks for unclear reasons.
The wandering theater did not promise the benefits of a quiet life, and during his childhood years Assange wandered around Australia, changing his residence more than 30 times. Julian tried out different schools for 37. Of course, he is not remembered in any one, but after all, his mother's riotous lifestyle is to blame!
Meanwhile, Christine married again. But this time the chosen one let us down. The unknown musician (also a strayer) turned out to be a member of a terrible sect, whose head took away newborn children from their followers. Christine was unlucky - before finding out about this, she gave birth to a child from a musician. What was to do? Run again! Under the dashing Irish melody, the Assanjey family has traveled all over Australia, and at the same time our brains.
Sky-blue, cold eyes and red hair give Kristin Assange Scottish-Irish origin. This lady is less eloquent than her appearance: the answer to all is one, and wanders from one interview to another - she did not belong to parties and sects, she lived in intimacy with nature, my commitment to the truth, my son was chosen. Amen.
In 20 for years, the chosen Assange reached the pinnacle of hacking art: he was nominated for 10 years in prison for hacking into the server of Canadian central telecommunications company Nortel. By luck, I got off with a fine. But the most precious thing in life, after stupidity, is precisely happy accidents. Expert Igor Panarin expressed the opinion that this was not done without the hands of the special services. And in fact, why shouldn't they cash in on a talented but worthless guy? As the saying goes, your energy is yes to a peaceful course ...
In the 2006 year, after many years of preparation, Wikileaks was born. You can talk about him a lot, but the main question to this day remains: who "merges" documents there? Assange provided complete anonymity to his informants, thanks to a complex system of gateways and protocols. In addition, the site is designed in such a way that the materials from it can not be removed. Beneficiary - has a stable access to closed data and is interested in their regular disclosure.
Recall that the first and main goal of the project was proclaimed "exposing corruption in the countries of Central Asia, China and Russia". But the project earned fame as anti-American. Fame, image - the most valuable capital Wikileaks (sources of funding are as muddy as the biography of Assange). Without publishing, in fact, any compromising evidence on the United States, he was consistently strengthened in the role of "mouthpiece of truth and freedom." And over time, he will be able to form the image of evil, publishing not a "plum" any more, but a deliberate lie. But the thirsty for truth will be happy to be deceived.
Branded "sensation" from Wikileaks - the so-called "Iraqi dossier." It opened the eyes of the world to the number of civilian casualties of the Iraq war. According to the site, there were 110 thousands of them, while even supporters of the United States — the United Kingdom and Israel — were approaching a million victims. Not impressive? And how about this: North Korea and Iran have medium-range missiles, and Hillary Clinton ordered foreign diplomats to be monitored. Yes, old Hillary, definitely clutching her heart ...
Wikileaks close easily as twice two. But he is thriving, and what's more, he has not yet seen a single lawsuit in his address. Newspapers condemn the US authorities for apathy and lack of attention to the "dangerous resource." In the first row - The Guardian, we have already met somewhere ... Even easier is to arrest Assange, but he lives, not knowing grief, in the London embassy of Ecuador and waving a handle from the balcony, like an English princess. Glory, recognition and love of all the women of the world are provided for him. After all, this "noble liar" is damn charming. He would act in films, but he chose a different role. And about the liar, this is so, by the way, - he had once had such a nickname, the very first one: Mendax. In Latin, with an allusion to the oxymoron Horace "splendide mendax". As I knew, as I knew ...
Private can not save
But what about the poor man Bradley Manning? He is somewhat knocked out of the total number of elusive heroes. Now who had everything quickly and quietly, they blamed, punished and mocked them. They say he is close to suicide and has already slightly slid off the coils from the constant beatings and humiliations. When his sentence is pronounced, it will most likely be the highest measure - the death penalty, or, at best, a life sentence. But Bradley will gladly accept the first option, if only all this is finally over.
In May, Private Manning's 2010, without explanation, threw him behind bars. He served as an intelligence analyst for the Iraqi contingent. A certain Adrian Lamo said that it was Manning who gave Wikileaks a scandalous video in which American soldiers in Iraq shoot civilians and journalists from Reuters. There is no evidence of this, except for the words of Lamo, and there was no, but for some reason, public opinion is only concerned with one question: is Bradley a hero or a traitor? Instead of the obvious and more important: is he guilty?
At the preliminary hearings of the case at the headquarters of the NSA, Manning refused to answer whether he admits his guilt. This opens the veil of secrecy on why its process drags on for so long, and why it is kept in such inhuman conditions. Endless tortures and beatings are replaced by the oppressive emptiness of a solitary cell. Unreasonable inspections and regular morning inspections, in which Bradley should appear naked, can have only one rational explanation. From him knock recognition. And they try to isolate as much as possible from other people so that he does not inform them of the real facts of the case. His correspondence is carefully monitored, and he is continuously observed under the pretext of protection against suicide. Relatives fear for his mental health.
But who is Adrian Lamo, who allegedly hurried to confess Manning? Church worker? Close relative? No, no. This is a former hacker who has chosen the right path and turned into an exemplary lecturer and journalist. He came up with the case of eight years ago, when he invaded the NY Times network and got off with a fine and several months of house arrest. Instead of ten years in prison. Given the fact that earlier his victims fell Microsoft, Citigroup, Yahoo and Bank of America. In this sense, he is very reminiscent of Assange, who likewise bade farewell to teenage foolishness. Did the same iron fist give them the brains?
Manning is listed everywhere as "accused of involvement." And it is fair. Because no one today can prove whether he is involved. Only accuse and seek recognition. There is a possibility that this "plum" was intentional, but did not Adrian Lamo himself organized it by choosing Manning as the scapegoat and the main character of the "show trial"? Then it is easy to explain this obvious difference in the treatment of the "traitors to the USA" - Snowden, Assange and Manning. By the way, even according to Assange himself, "Manning's revelations" did not harm anyone. Except, perhaps, poor Bradley.
And how strikingly different is the image in the media: a pimply homosexual with a mental disorder, unworthy of the "proud title of an American." "Pervert" and "zudil", "black sheep", "goner freak", "were offended to the whole world and felt like a woman locked in a man's body" - those who sculpt images of ancient heroes from "freedom-loving Assange "and" selfless Snowden. " But Manning, by and large, wanted to spit what you think - he thinks about the head and neck, as before execution. And can not answer one simple question: for what? The next time you hear about the American presumption of innocence, know - before you the most blatant lie and chimera. Does anyone remember what "truth" is?
As in any good theater, the best roles go to those who are close to the director. Snowden - the role of a match, Assange - the role of the arsonist, well, and Manning - only the role of wood chips in a fire. "The show must go on" - it seems, says the inscription on the doors of the headquarters of the CIA in Langley. However, no, there was something about the search for truth.
Sources:
1) "Edward Snowden: the whistleblower behind the NSA surveillance revelations", Glenn Greenwald, Ewen MacAskill and Laura Poitras in Hong Kong, The Guardian, 10 June 2013
2) Barton Gellman, Aaron Blake and Greg Miller, 9 June 2013, The Washington Post.
3) "Under the electronic cap of US intelligence", Neil Nikandrov, Foundation for Strategic Culture, 24.06.2013
4) "The US looks at the world through PRISM", Boris Kazantsev, Foundation for Strategic Culture, 26.06.2013
5) "A hero of our time: Edward Snowden - a man who passed the NSA", Evgeny Zolotov, Computerra, 17.06.2013
6) "How and why do the CIA and the FBI remove witnesses," Evdokia Kunkin, Newsland, 28.05.2013
7) "Journalists, Snowden and the Empty Chair Blog", Alisa Sabitova, Arguments and Facts, 25.06.2013
8) "Why Edward Snowden chose freedom in the East", Ilya Milstein, Novaya Gazeta, 24.06.2013
9) "China and Russia Got Access to Edward Snowden's Secrets", Russia Today, 27.06.2013
10) "Snowden hid copies of stolen documents in different countries", Lenta.ru, 26.06.2013
11) "WikiLeaks: There is a possibility that Snowden will remain in Russia forever," Russia Today, 25.06.2013
12) "WikiLeaks: Russian FSB does not question Edward Snowden", Russia Today, 26.06.2013
13) "US threatens Russia and China in connection with the Snowden case", Russia Today, 26.06.2013
14) "Assange - agent of British intelligence MI-6", Igor Panarin, Newsland, 08.12.2010
15) "Caution - Wikileaks (Wikileaks)", Nikolai Starikov
16) "Edward Snowden settled in Booz Allen to get data on wiretaps," Russia Today, 25.06.2013
17) "Lavrov: Snowden did not cross the border of Russia", RIA News 25.06.2013
18) "Putin: Snowden in Russia, but we will not issue him", Lenta.ru, 25.06.2013
19) "Snowden will meet with Russian colleagues", Izvestia, 24.06.2013
20) "Snowden left the territory of Russia", Voice of Russia, 25.06.2013
21) "Run, Snowden, Run," Alexander Gasyuk, Russian Newspaper, 24.06.2013
22) "Edward Snowden made new disclosures", Maxim Makarychev, Russian Newspaper, 23.06.2013
23) "Edward Snowden: the man who stole the secrets of US intelligence", Voice of Russia, 10.06.2013
24) "Snowden, Manning, Assange: Robin Hoods of Our Time", Dmitry Babich, Voice of Russia, 10.06.2013
25) "From Snowden to Manning - one step: in the Russian Federation" spy "found both defenders and detractors", Vlad Shlepchenko, Arguments and Facts, 23.06.2013
26) "Machine idle at idle", Lisa Birger, Gazeta.ru, 17.08.2012
27) "The Snitch Is Not Needed: In the USA, the trial of the informant Bradley Manning has begun", Matt Tabby, Rolling Stone, 13.06.2013
28) "Christine Assange always considered her son to be elected", Ekaterina Zabrodina, Russian Newspaper, 15.09.2012
29) "True Private Bradley", Newsland
30) "Who are you, American Anat Kam?", Newsland, 31.07.2010
31) "Leaking American: The Adventures of Assange and Snowden", RBC