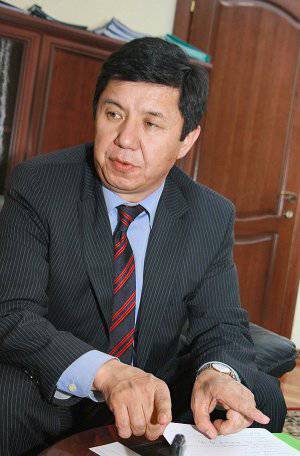 The Kyrgyz parliament has allowed the government to sell the Dastan torpedo plant, which Russia has shown interest in, the project is scheduled for autumn. The Kyrgyz government hopes that Moscow will appreciate not only this, but also other steps taken by Bishkek to expand the economic and military presence of the Russian Federation in the republic.
Russia has been negotiating the purchase of the Dastan plant for several years. Kyrgyzstan was ready to repay the debt of $ 180 million to transfer to the Russian Federation a trade mission building in Bishkek and 48% Dastan, producing torpedoes VA-111 Shkval, the rest of the Kyrgyz government's intention was to sell for all interested parties at a market price. But Moscow did not agree to these conditions, making it clear that negotiations can only be held on the purchase of a controlling stake in the plant.
"Until today, the government controlled only 48% of shares. The rest was owned by the son of ex-President Bakiyev Maxim and his associates. Now we have settled all disputed issues in court and can put up for sale 98% shares," said the Minister of Economy of Kyrgyzstan Temir Sariev, adding that Moscow insisted on such conditions. Mr Sariev said that now a commission will be created that will prepare all the documents for the investment competition. "The Dastan plant will be put up for open tenders in the fall, and Russian investors will receive the priority right to purchase it," the minister assured.
Before making a decision, Kyrgyz deputies held a retreat at Dastan. "Employees and shareholders asked us to speed up the sale of the plant," said Karganbek Samakov, head of the economic and fiscal policy committee. In his opinion, the estimated cost of the plant is $ 30 million, the territory of the military complex costs about $ 108 million.
However, Kyrgyz experts believe that the plant's equipment is morally and technically outdated. That is why now Dastan has no contracts for the manufacture of torpedoes with foreign countries. The plant signed a few years ago with India fulfilled a long time ago and has not received new orders since. According to specialists, military production, in fact, will have to be re-launched.
The Kyrgyz government hopes that Moscow will appreciate the last steps of Bishkek. Temir Sariev reminded "Kommersant" that Kyrgyz President Almazbek Atambayev recently signed a law denouncing an agreement with the United States on the Manas military base, and before that Bishkek had agreed to create a joint Russian military base in Kyrgyzstan. Other agreements are well under way. According to the general director of Kyrgyzgaz, Turgunbek Kulmurzayev, an agreement on the sale of a Kyrgyz gas monopoly to Gazprom is ready. According to a source in the government of the republic, RusHydro has begun work on the construction of four hydropower stations on the Naryn River, and next is the completion of a feasibility study on Kambarate-1.