Electronic warfare has long gone beyond the radio wave band originally allocated to it.
Electronics is the basis of high-tech products for domestic, industrial and defense purposes. Its share in the cost of the final product is close to 70 percent, and it is the electronic components that determine the capabilities and degree of perfection of these products. Thus, the level of radio electronics - consumer, professional and special purposes - largely determines the development potential of the state in the modern world, its ability to ensure the formation of a high-tech economy, improve the quality of life of the population and protect national interests. Figuratively speaking, the electromagnetic spectrum becomes the critical resource, the sustainability and safety of a country will directly depend on the ownership and freedom of disposal.
The fact that the electromagnetic spectrum is already completely saturated by consumers and the intensity of its use will only increase, no doubt (see table 1). Providing anyone and unrestricted access to the electromagnetic spectrum to their users in the interests of advancing military, diplomatic and economic goals and, accordingly, the complication, and even complete prohibition of this access to the users of the enemy, is the essence of electronic warfare (EW). Modern EW is no longer just a form of combat and operational support, as it was until recently, but also a kind of warfare, a form of operational-strategic action, the object of influence of which is the system of state and military control of the opposing side, its military and economic infrastructure. The electronic warfare is an integral part of the information warfare (IS) and the technical basis of one of the methods of conducting combat operations in the framework of information security - the fight against combat control systems (ASIS).
Essence EW
In highly developed countries, the concept of EW (Electronic warfare, EW) is more capacious, synthetic and, along with EW itself, in its narrow sense also includes electronic reconnaissance (DER) as an EW supply, whose task is to collect intelligence information optical and radio electromagnetic spectrum.
Table 1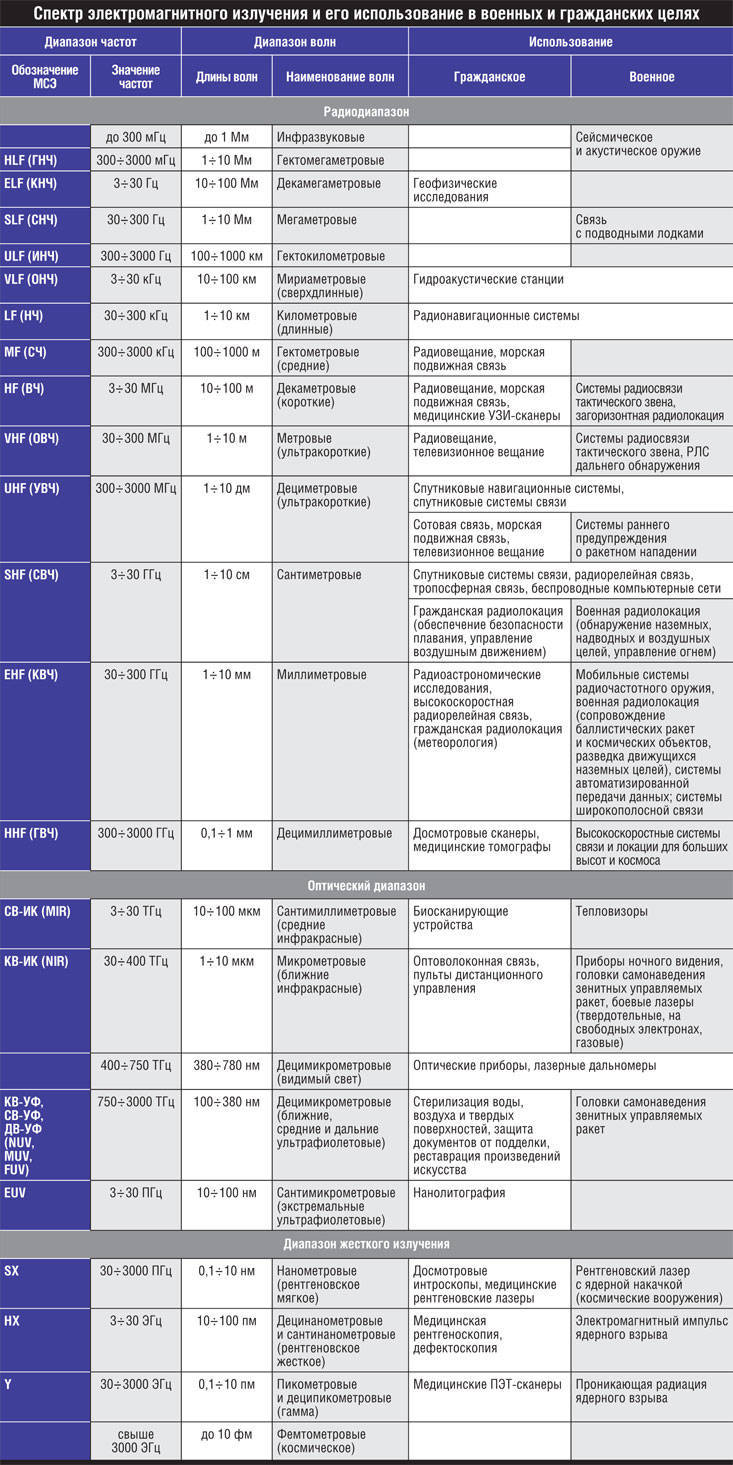 Essentially, electronic warfare involves the impact of fire and electronic damage on electronic equipment (RES) control systems, communications, reconnaissance and targeting, as well as the life support of the enemy in order to change the quality of information circulating in them or stop information exchange, while protecting their systems from similar types of effects, including changes in the conditions (properties of the medium) of the propagation of electromagnetic waves and streams of charged particles. The subject of the DER is the interception of communication channels between people and radio-electronic means, as well as signals from radar, hydro-acoustic and optical-electronic stations, other radiating devices, measurement of physical fields of various objects.
In accordance with the foregoing content of EW in advanced military powers are (see table 2) electronic loss (Electronic attack, ЕА, formerly used the term Electronic countermeasures, ECM), electronic protection (Electronic protection, ЕР, formerly Electronic counter-countermeasures, ECCM ) and electronic information support (Electronic warfare support, EWS, formerly Electronic support measures, ESM).
Table 2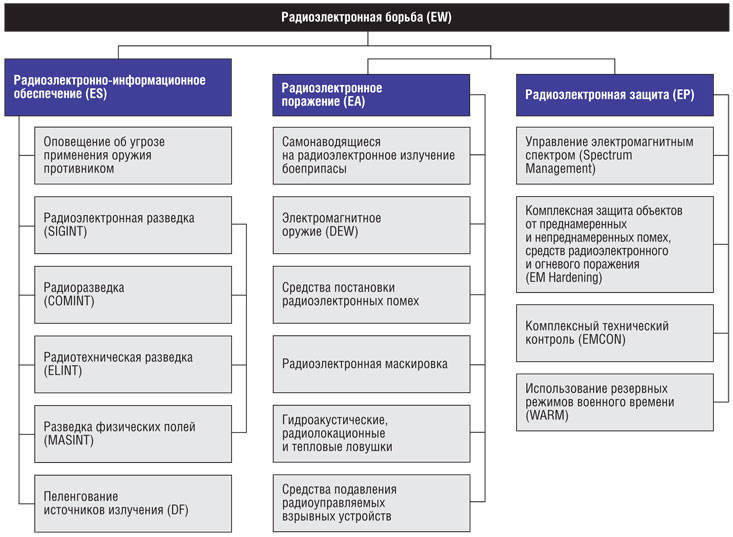 Electronic destruction (REPR) is a set of measures and actions of troops (forces) on the impact on the RES of the control systems of troops (forces), weapons and military equipment of the enemy by means of fire (self-guided radiation
weapon
), functional (electromagnetic weapons) and information (active and passive radio-electronic interference) damage, as well as changes in the conditions of propagation (reflection) of electromagnetic waves (radio-electronic masking).
Radioelectronic protection (REZ) is to reduce the effectiveness (eliminate or weaken) the impact of the enemy's enemy's RPEs on their REM, protect their REM from electromagnetic and ionizing radiation arising from the use of a nuclear weapon, from unintended (mutual) radio interference (ensuring electromagnetic compatibility) and from technical means of enemy intelligence.
Radio-electronic information support (RIO) consists of systematic measures and actions of troops (forces) to identify and control the functioning of the enemy's radio electronic equipment, to collect, analyze and summarize radio-electronic situation data necessary for organizing and maintaining an electronic warfare.
The content of EW differs in symmetric and asymmetrical conflicts. In symmetrical conflicts involving a collision with an enemy represented by regular armed forces, EW is fully present in all three elements - REPR, REZ and RIO. At the same time, EW ensures the success of the BSBU primarily through the RIO and its key element - the DER, including the whole variety of means for intercepting communication channels, receiving and analyzing electromagnetic radiation, and measuring the physical fields of various objects. Another important element of the RIO will be to alert its forces about the threat of use of weapons by the enemy, for which various radiation warning stations serve as means of detecting and controlling fire. The REPR facilities are used to solve the enemy air defense suppression tasks (active and passive jamming stations, as well as anti-radar missiles carried by airplanes and helicopters), disrupting the enemy's control system (active jamming systems, self-guiding radiation sources and electromagnetic ammunition), combat by means of air attack (ground forces equipment, ships and ships) during ground, air or sea combat, especially in dueling situations (for the sake of location, thermal and hydroacoustic traps), when moving on the territory left or disputed by the enemy (means of suppressing radio-controlled explosive devices). The REZ facilities, being combined with radar stations and communication systems, ensure their reliable operation in the conditions of electronic countermeasures of the enemy.
In asymmetrical conflicts involving a collision with irregular formations, EW is conducted on a limited scale. At the same time, in rural areas, emphasis will be placed on radio intelligence and the suppression of radio-controlled explosive devices, and in settlements, in addition to the above, also on the suppression of radio communications and wireless computer networks of the enemy, isolating him from the civilian population through blocking access to television and radio broadcasting facilities and social networks in cyberspace.
What's in the future
How do specialists see the future of EW? A person masters more and more new frequency sections of the electromagnetic spectrum, and the EW has long gone beyond the originally assigned radio wave band. Nevertheless, it is he who will remain in the foreseeable future as the main area of ​​operation of the RECs for various purposes. In this connection, the EW systems of the new generation will be mainly radio engineering. They will be complemented by specialized acoustic (hydroacoustic) and optical-electronic complexes. Distinctive features of these systems will be extended (minimum - 3 GHz, maximum - 10 GHz) operating frequency ranges and multivariate emissions, cognitiveness (presence of artificial intelligence elements, embedded expert logic subsystems of control) and adaptability (automatic control of radiation types and power depending on the characteristics , the number and priority of suppressed targets), spatial separation with the possibility of focusing electromagnetic energy on the detected object in real m-time through activation of network technology, modular design and hardware and open software architecture, increased protection from the effects of enemy electronic warfare. The technological base for this will be the use of ultra-precise oscillators, a heterogeneous processor architecture, two-way simultaneous exchange (STAR), electronic beam control in the radio frequency and optical bands, families of nitride (GaN / InN / AlN) transistors and a number of other innovative technologies.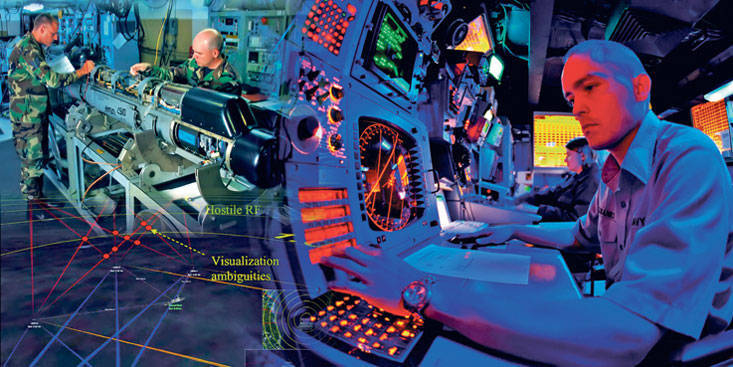 Electromagnetic weapons (EMO), both low-frequency (it has been used in a number of local conflicts since the 90-s of the last century), and high-frequency, currently existing at the level of prototypes (technology demonstrators), will become a reality. The elemental base of the XPS is very sensitive to energy overloads, and the flow of electromagnetic energy of sufficiently high density can burn out semiconductor junctions, completely or partially disrupting their normal functioning. Low-frequency electromagnetic radiation creates electromagnetic pulsed radiation at frequencies below 1 MHz, high-frequency electromagnetic radiation affects microwave radiation, both pulsed and continuous. Low-frequency EMO affects the object through interference with wired infrastructure, including telephone lines, cables for external power supply, information feed and retrieval. High-frequency electromagnetic radiation directly penetrates the electronic equipment of an object through its antenna system. In addition to the impact on the enemy's RES, high-frequency EMO can also affect the skin and internal organs of a person. Moreover, as a result of their heating in the body, chromosomal and genetic changes are possible, activation and deactivation of viruses, transformation of immunological and behavioral reactions.
The main technical means of obtaining powerful electromagnetic pulses that form the basis of a low-frequency electromagnetic pulse is a generator with explosive compression of a magnetic field. Another potential type of high-level low-frequency magnetic energy source could be a magnetodynamic generator driven by rocket fuel or an explosive. When implementing high-frequency EMO, electronic devices such as broadband magnetrons and millimeter-wave gyrotrons, virtual cathode generators (vircators) using the centimeter range, free-electron lasers and wide-band plasma-beam ones can be used as a generator of powerful microwave radiation. generators.
Cruise missiles planning to deliver low-frequency electromagnetic radiation
aviation
bombs and artillery ammunition. Due to the compactness of antenna systems, high-frequency electromagnetic radiation can be installed on military equipment of the ground forces, aircraft and ships. The use of phased antenna arrays allows you to simultaneously form several beams, quickly change their position and thereby ensure the simultaneous defeat of several targets.
In the optical range of the electromagnetic spectrum, the leading military powers of the world have come close to creating combat lasers, solid-state and free-electron. Land, air and sea-based laser installations (solid-state lasers up to 600 kW and range up to 10 km) or exclusively sea-based (free electron lasers up to 1 MW and range up to 20 km) will be mainly focused on anti-missile tasks , anti-aircraft and anti-barter defense, that is, to combat high-speed maneuvering objects. In addition, the selectivity of the striking effect of lasers will also allow them to be used to suppress optical-electronic devices of the enemy, to detect, identify, and reconnoiter various targets, including carriers of weapons of mass destruction.
Lead Developers
The development and production of high-tech EW and DER devices is a very specific and closed market sector with a high admission price: there are a dozen companies with a small number of companies in the world. World leaders are American Northrop Grumman, Lockheed Martin, Raytheon, ITT and the British BAe Systems. Russia is also included in this club of the elect: the leading Russian developer and manufacturer of electronic warfare and radio electronic equipment - Concern Radio-Electronic Technologies OJSC. Established in 2009, the holding united under its auspices 18 enterprises - research institutes, design bureaus and production plants specializing in the creation of EW and REV aviation (manned and unmanned aerial vehicles), sea (surface ships and vessels) and ground (separate types of military equipment on a wheeled or tracked base) based. As part of the implementation of the State Armaments Program for the period 2011 – 2020 (GWP-2020) and against the background of the growth of military-technical cooperation with foreign countries, the concern steadily increases its presence on the EW and DER market - the annual increase in sales in the current decade is expected to be 19 percent . In the current five-year period, the Armed Forces of the Russian Federation will receive up to 20 new types of products for individual and group protection from modern reconnaissance and high-precision weapons, including space-based systems, as well as man-portable air defense systems. Recently, state tests have been successfully passed and the EW Moscow-1, Krasuha-2, Krasuha-4, Mercury and a number of others have been put into serial production.
Concern's enterprises conduct research and development work on shaping the appearance of EW and REV systems of a new generation, including the following issues:
design of ultra-wideband, 2 – 18 GHz operating frequency band mirror antenna systems with frequency-stabilized radiation patterns (OCR "Sakhalin", head performer - All-Russian Research Institute "Gradient");

creation of spatially distributed EW systems, adaptive to the composition and characteristics of the operation of enemy radar control systems, with joint digital processing and the formation of distributed coherent interfering signals for 6 unmanned aerial vehicles (OCR "Himalayas", head performer - Kaluga Research radio engineering institute);

creating EW facilities with ultra-wideband (two or three octaves) solid-state transceiver modules and wideband digital processing of radio signals based on multipath (at least four simultaneously generated beams) antenna arrays for decimeter (1 – 6 GHz), centimeter (6 – XNXX) millimeter (18 – 32 GHz) wavelength ranges for 40 generation aircraft, including PAK FA, Su-5С (OCR Rikoshet and Rank, head performer - KNIRTI);

the introduction of industrial production technology of a unified series of microwave receiving devices with an expanded (from 60 dB and above) dynamic range of received signals, providing uninterrupted reception with a high probability of reception and highly accurate determination of the parameters of received signals under conditions of deliberate limitation of operation time and changes in the parameters of the enemy's EF emission ( OCD "Piston", the head performer - Taganrog Research Institute of Communications);

creating basic hardware and software modules for on-line monitoring and recognition of radio signals with a complex signal-code design (Staple, the head contractor is the Design Bureau for radio monitoring of control, navigation and communication systems);

design and manufacture of high-precision digital RTR equipment, including, among other things, the possibility of using high-precision weapons for radio emission sources (ROC Rynda, head contractor - Design Bureau for Radio Monitoring of Control, Navigation and Communication Systems);

creation of spatially distributed systems of covert radar air and ground targets on the basis of active phased arrays and passive radar systems in the meter and decameter ranges (OCR "Bullet", "Perturbation-1", "Arc-1", "Leader-SV", head Executive - Design Bureau for Radio Monitoring of Control, Navigation and Communication Systems).


Domestic and foreign military thought is unanimous in the opinion of the relatively limited capacity and the dubious expediency of further enhancing the characteristics of fire weapons using kinetic energy. In the foreseeable future, a qualitative leap in capacity building of the Armed Forces is possible due to the further intellectualization of control systems, communications, reconnaissance and target designation, as well as the use of countermeasures that use unconventional, primarily electromagnetic methods of influence on the enemy.