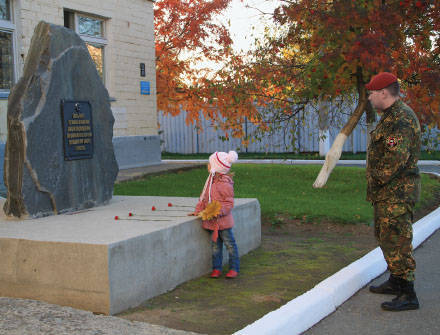 At the monument, located on the territory of the Chelyabinsk special forces detachment, there were two - a young major in a krapovoi beret and a little girl of four or five years old, pressing a bouquet of carnations to a bright jacket.
- Dad, who is this monument to? She asked, sprinkling clear blue eyes on her father.
- Daddy comrades.
- Why is it a monument to them? - the child continued to be curious.
- They, baby, have not returned from a business trip.
"Why didn't you come back?" - In the voice of the little girl sounded restless notes.
- Continue to perform the task.
- Did you come back?
- And I came back.
The major stroked his daughter's light-brown hair and tilted his head slightly toward the monument. She nodded in agreement, slowly walked to the monument, put flowers to its base. Then she hurried back to her father and, embarrassed by the attention of adults, ran into camouflage from father's run.
The officer swallowed the lump that had risen to his throat, put his arm around his shoulders and walked slowly along with her to the fellow soldiers who were waiting a little to the side ...
And in special forces, and in intelligence
"And you know, when I arrived in the summer of 2004 as a young lieutenant after graduating from the Novosibirsk Military Institute to the Urals District Department of Internal Forces, they first wanted to send them to the VGO guard," begins major Alexander Oleksandr. - I then, remember, made a scandal to personnel officers. "Either in special forces," I say, "or dismiss right today." They grumbled, scolded me for such statements, but the order was issued to the Chelyabinsk detachment.
Upon arrival, I, as expected, introduced myself to the commander, Colonel Viktor Alekseevich Fomchenko. During the conversation, he constantly glanced at my passport. Well, I'm sitting, I'm not particularly worried: although I graduated from the institute with a blue diploma, there are more fives in the certificate than fours. Finally, the commander says: "What about you, lieutenant, by communication? Five. So you go to the post of commander of a platoon of electronic intelligence. I heard about this? All, no longer delay, go, take the case and position.
All, I think, have come! I wanted to get into the battle group, so that I could immediately get down to serious business, but here ... But you can't argue with the squad leader. I went to the reconnaissance group to report on the assignment received and to find out from the guys what kind of animal it is - electronic intelligence.
They gave me smart equipment and literature on its operation and maintenance, told me to get acquainted and learn. And how to master, if it is all in English? Fortunately for me, the youngsters were brought to the study group. I began to study their personal affairs, I look, and one of the fighters is an English teacher! I ran to the commander so that this guy after the training would be distributed to me in the platoon, but for the time being they were allowed to use special literature for translation.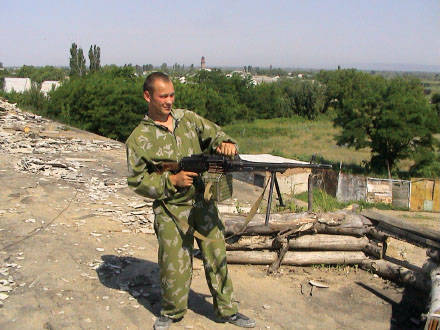 So slowly and became a new specialty to learn. And on my first mission trip, which started in April 2005, I went with the guys as a radio intelligence officer. The detachment was then based in Kurchaloy, well, it was necessary to work throughout the territory of Chechnya. There were operations that were planned and according to information obtained after radio interceptions on our militants 'equipment.
It was possible, of course, to participate in combat groups and in ambushes, and to go out to reconnaissance and search activities. In general, some combat experience appeared. And at the end of the year also passed the exam for the right to wear a green beret.
The commander approached this issue thoroughly: invited as special instructors from the Nizhny Tagil special forces detachment. Well, we, the scouts, for our part, prepared seriously and did not let us down. Together with me then, several more fighters from our reconnaissance group were given the berets. By the way, right on my birthday, December 2.
A good gift to himself did what to say. But when the Nizhny Tagil instructors congratulated us, they said as a parting note that the green beret is, of course, good, but every member of the Special Forces should strive to get a Krapovi beret.
And I realized that I had a new, concrete goal in my life ...
Hard year
Alexander met the new 2006 year not only in the green beret, but also in the new position: in the middle of December a young officer was appointed deputy commander of the reconnaissance team for work with personnel.
In the spring, the detachment departed for another trip to the North Caucasus. Sanya did not go with the first batch: he was at the base, calmly doing daily official tasks and waiting for the time to replace the guys.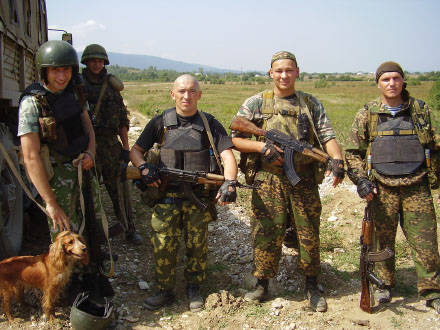 23 May search group Chelyabinsk entered with a clash with the militants. The gang was defeated, but it got a very expensive price: four special forces were killed, several people were injured. Therefore, for Senior Lieutenant Uhatkin, the business trip began earlier than planned.
- The commander of the reconnaissance group then seriously wounded us, and some of the other guys were hooked. Here we are with the general deputy urgently in the LDPE and flew in to restore the number of officers. - Alexander sighs heavily and continues the story of those days that forever divided his life into "before" and "after". - To be honest, many of our fighters looked very depressed then. Still, in one fight such losses! Therefore, we began by raising the morale of the children. And there is nothing better and more effective than a personal example of a commander. Therefore, the order was received - you are going and going to search with subordinates. No other way ...
Exits to the fighting then occurred frequently. The whole summer was active. Somehow we left the base for a few days. Prosherstili large area, staged several ambushes, artillery implanted, she hollowed from the heart. 29 August returned to the location of the detachment already in the deep evening. Only the bathhouse was flooded, they sat down to drink a seagull, as they call to the district commandant. He says: "Everything, special forces, the rest is set aside, there is fresh information on such a square. Tomorrow in the morning again in the search for the day. Go get ready. "
And why should we prepare? Daily output - a common thing, no food, no sleeping bags do not need. Water, suhpay yes more ammunition - that's all the preparation. We are always ready for this.
Returned, notified their scouts. We lay down to rest. In the morning we woke up, began to gather. And here you want - believe, you want - no, but something strange in my head began to happen. At first put on a zero camouflage. Then I think: "Why am I dressed up? After all, just soiled in something. " He changed into old, well-worn. Then sneakers brand new pulled. And again the thought slipped: "Am I going to play football? I will tear the same as drinking to tear! "He took them off, pereobulsya in the downtrodden berets.
The original came out without incident and on schedule. Komendach and operational units of internal troops had already been blocked by that time. And we went inside - three groups of our squad and two more veveshnyh special forces then worked.
They went, probably, for about three hours. I was moving along the ravine with my group. The head patrol, having noticed something suspicious, gave a sign to stop. Everyone froze, and I turned to see how my fighters, that in the core of the group moved, worked this team: who watches where, who sent the barrels to where? He turned on his toes, only lowered his left heel to the ground, as he immediately and under it exploded.
Slightly such a clap, as if the gopeshka worked. I, while still not turning off the consciousness, managed to think that they had run into an ambush and the shelling from the grenade launchers began. Then - the smoke around, ringing in the ears, I see nothing. After another moment, the sight returned, looked down - standing on one leg, right. Yes, and that all in blood. And the left shoe is torn to shreds.
After this video signal entered the brain, it began to work, to perceive reality. And then there was pain. Yes, so terrible that under her pressure, I collapsed on the ground and screamed a good mat. Already the ensigns from my group and the medical instructor Max Atkonov are conjuring around: the fighters took a roundabout, and they put a burn on me, they injected painkillers, they began to apply bandages.
Well, even though I was conscious, I was a little unconscious: I was eager to see what was wrong with my legs. The guys do not show the left, they say: "Here, if you want, admire the right." She, of course, also got - and the fragments cut off, and the burn - but still did not look so scary.
When they finished with first aid, they began to evacuate. Where we were searching, the helicopter could not sit down - the mountains, the slopes are covered with forest, not a single glade. They gave the group the coordinates of the clearing where I should have been carried out in order to load into the sanitary board. Guys stretchers built, suffered.
Only the movement started - a new explosion! At first I thought that the fighter who was holding the stretcher in front was blown up: he just fell on one knee. Then I look - no, the guy is getting up, he was simply knocked over by the feet with his feet. Oru: "Who else ?!"
Imagine, our medical technician, Maxim Atkonov, who tied me up a few minutes ago, also stepped on the mine. And also lost his legs! That is, now we already have two heavy ones who should be urgently evacuated ...
They pulled us out for about four hours. First, on their own, then another search group of our squad approached. Already on the radio, they were notified of our troubles, so the little brothers purposefully, interrupting the search, went to help us. Well this is a special forces, he does not throw his!
"Do not try to cut it off!"
The helicopter brought the wounded to Khankala. From there, Alexander and Maxim were immediately transferred to the location of the 46-th brigade of the internal troops, where doctors and tables in the operating rooms were already waiting for them.
- To the fact that you can seriously hurt, psychologically ready, probably, every special forces. But when it happens to you, it always happens unexpectedly, - Alexander sighs. Then, after a short silence, he continues: "My heel vomited completely." The front part of the foot was, the fingers remained, I remember that for sure, I was still trying to move them in the helicopter. And it seems that they even obeyed ... Although, maybe it all just seemed to me: the consciousness gradually disappeared, I lost a lot of blood, and the anesthetic act.
And when they began to prepare for the operation, a surge of energy happened. Oh, and then I fought with the doctors! They cut my pants from the maskkhalat, and I shout that I will take it off so that they will not throw it out, that I will sew them after the operation. And how am I going to the detachment without pants? Then they started for a T-shirt. I again howl, so as not to cut, this is a gift!
In general, we fought for a long time. In the end, the orderlies pinned me to the couch, they injected me with something. And I started to disconnect. The last thing I remember: I gathered my strength, I caught the doctor by the sleeve, I looked into his eyes. "Doctor," I say, "do not even think to cut off a leg. I fall on the net take. How can I run without a leg? .. ". And passed out.
Recovered in the morning on the bed in the intensive care unit. I haven't moved away from anesthesia, so I think slowly. But still thinking. The first thing I decided to examine myself. He threw back the edge of the sheet and almost howled: the right leg is covered in bandages, it lies like a deck, the feet are not visible. "Here are bastards," I think, "why the right one was chopped off!" Then I look: the knee seems to be whole. The shin hurts, means, too on a place. Yes, and fingers peeking out from under the bandages. Calmed down a little. I decided to look at the second one. Pushed the sheet further away.
There was no left leg below the knee ...
When you see yourself for the first time like this, of course, you are first in a state of shock. Then you fall into prostration. In the head there is a hurricane of thoughts, but their essence boils down to one thing: "And what next? How to live something?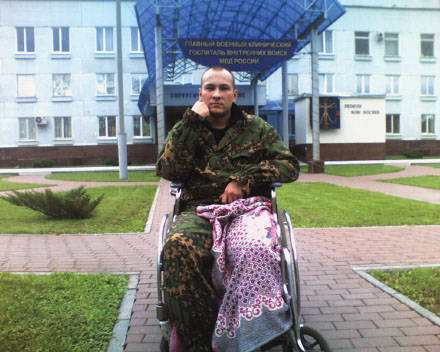 So here we have with Maksikom at first it was. We lie, we look at our stumps. Either we are silent, or we're limping to talk about what to do, when we are fired from the troops, where to get money for medications and look for a prosthesis, how to go back to learn, what to do next?
Doctors from us began to deduce us. We explained that we were given free medicines, we would go through treatment and preparation for prosthetics in a military hospital in the Moscow region, and would also make prostheses for free. And that in general the troops will not leave us. The examples have been sufficiently reassured, in general, more or less reassured.
After some time, General Roman Aleksandrovich Shadrin came to us. He was then deputy commander for emergencies in the Urals District of the Internal Troops, and held some high positions in the grouping. Things we brought from the squad, gifts from the guys, fruit. The doctors complained to us about him: they say, the special forces are depressed, they refuse to eat, they don't want to go to the amendment. The general cleared our brains in a paternal way, and asked us about our future plans.
And what plans can I have if I have spent all my life only in the military and seen ?! Of course, he said he would like to serve further. And, if possible, stay in special forces. The general replied that he understood my position, approves, will bring it to the command of the internal troops and will try to help in every possible way.
I like a stone fell from the soul. The goal appeared again, now it was for the sake of which to recover and live on.
But there was still an explanation with my wife ...
Zhenotherapy
- I found myself in Balashikha, in the main military hospital. - For the first time during our conversation, Alexander smiled at the thoughts. - About my wife for some time, I didn't really think at all, but behind all the worries she somehow faded into the background. Then they gave me a wheelchair, in which I felt very uncomfortable, and demanded crutches. I thought that I myself could move with their help.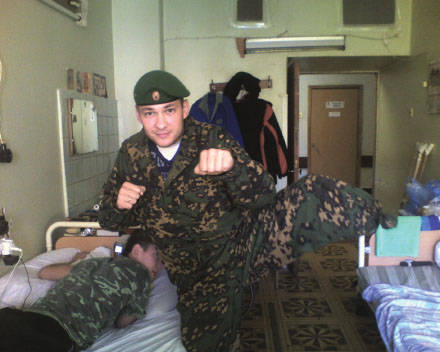 But as soon as he rose, the outflow of blood began to heal wounds, they began to ache terribly and bleed in places where they did not fully heal. The dressings were very painful. I had to get into the stroller again. I figured out how much to endure, so long as I learn to walk normally. Mood - to hell, again became withdrawn, no appetite, I do not want to live.
And then I roll around the hospital corridor on my own business, I hear that a nurse behind the back of the visitors asks who they came to. And my name sounds! I turn around - Olya stands with my cousin.
She approaches me, smiles. And again, all the blood in my head has flowed. While driving along the corridor, I was still holding back. But how did they find themselves in the ward, then immediately into a cry: "What, yelling, did I bring the documents for divorce? Let's show where to put the signature. Now we will solve everything! "
Olya looked around the chamber like a commander before the battle. Calmly asked everyone to go out. And the conversation began between us ...
I tell her about the fact that life with a disabled person is hard. She tells me that people live normally without two legs. I - that I don't want to be a burden on her neck. She is waiting for me in the detachment, ready to meet after being wounded and to find a place for further service. I - that now the cripple, and she how beautiful. She - that she loves and knew that this could happen ... And so in a circle several times.
I admit, I was in the heat of the moment, I often resorted to non-print expressions. Olya, when she gets going, doesn't go into her pocket after the word ... And at the very peak of our family conversation, Alexander Sergeevich Kovalev enters the chamber. This is a military surgeon, very famous, he pulled out more than one hundred wounded children from the dead and brought them back to life. He takes Olga by the elbow, and between them there is such a dialogue:
- Woman, for what reason and by what right are we making a noise?
She, looking at Kovalev:
- And who are you?
- I'm actually the head of the department and the doctor in charge of this patient.
- And I am his wife.
- So what?
- Why, I divorced divorced.
- And you?
- And I love him.
Alexander Sergeevich smiled.
- Ukhatkin, I, as a doctor, prescribe you another half hour of female therapy. Take it as a medicine.
And he left the chamber. And we stayed with Olga. They talked for a long time. But already about how we will live on and together to cope with everything that falls to our lot. In general, the brains on my place that day finally stood up.
Olya stayed in Balashikha for two weeks. We saw each day, and not only in the hospital: the guys from the "Vityaz" detachment helped to rent an apartment in the military camp, and with their help I "ran away" to AWOL to my wife ... And a month after returning home, Olya called and said that she was pregnant .
And then I finally realized that it was necessary to quickly recover and return - to the line, to the service, to the family.
In short, to normal life ...
Return
- They wrote me off 26 December. - Alexander G., puffing on a cigarette, moved on to the final part of his story. "So I met 2007 for a year at home, with my family — with Olya and our baby, which she already carried in herself. And after the New Year holidays, he announced to the detachment. "Everything," I say, "is enough, I've got tired, take it." And he began to go to the service every day, although it was still possible to "cheer." First with a crutch, then with a cane, well, and a little later I learned how to do without it.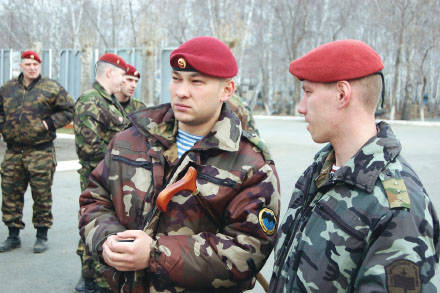 The guys at first treated me with some pity. They will see - the first thing they will ask about health, they try to support them on the steps, they are sure to offer a chair at meetings. Then I explained to them that from such signs of attention it only gets worse - why should I remind once again that I am disabled? The guys understood everything correctly, began to treat me as an equal, and the commanders - to ask on a par with everyone. And the matter went!
I served in the reconnaissance group for a couple of months, then I spent some time as an investigator, and then I was offered the position of senior assistant to the head of the legal support group. This is what I do now.
23 February 2007, I was awarded the Order of Courage and the maroon beret. That is, another of my dreams came true ...
Once I planned to rise to the battalion commander, ideally - to become the commander of a special forces detachment or operational regiment. Now I understand that this is already unattainable. But I do not regret. Firstly, because I soberly assess my current position, which doesn't bother me at all. And secondly, I have new dreams, new plans.
They are connected, of course, with the family. 16 August 2007 year, just on the anniversary of the wedding, we had a Dasha. It was such a happiness - after everything that I had survived, to hold a daughter in my arms, to see how she grows, to teach her to speak, to take the first steps ... And only I began to get used to the role of my father, as Olya announced that she was pregnant again. They waited for the guy, they even managed to pick up a name - Artem. But Arinka was born. Although they are sisters with Dashutka, they are very different: the eldest is calm, affectionate, feminine, and the younger is a fire-girl, any boy will be given a head start, turned away a little - right away! .. But the son still remains in the plans. But what about the special forces without a son ?!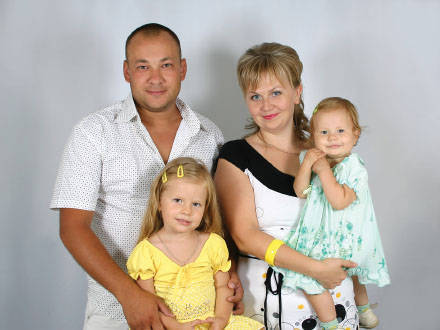 Now I have everything a person needs for happiness: a home, a favorite thing, a great family. We like to go out with friends on the nature, we often go fishing. I ride a bike, play football, although I don't run as a field player - I don't steal for healthy people anyway - but I stand securely at the gate, the guys don't complain. I like swimming, I swim well, as before, before being injured. In general, I live a full life.
I'm thirty-three now.
And I intend to live two more times for the same amount!