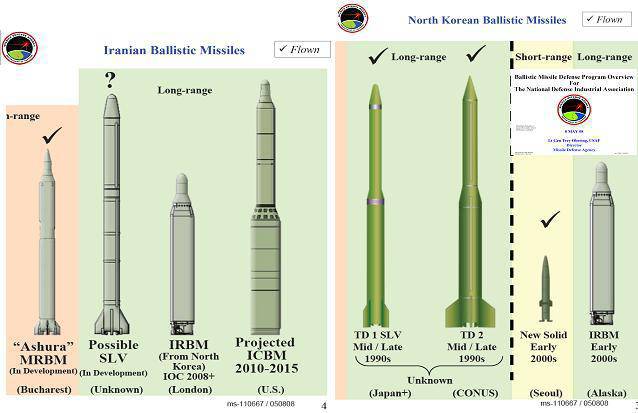 The US intelligence agencies recently discovered that Iran was conducting ground tests of a large rocket engine that can be installed on an intercontinental ballistic missile (ICBM), freebeacon.com reports on June 28. Congress is pushing the administration of President Barack Obama (Barack Obama) to decide on the creation of a third area of ​​anti-missile missile on the US East Coast.
Iran also continues to produce missiles capable of delivering strikes against Israel and eastern Europe. The Pentagon report says that "Iran can test ICBMs by 2015 year." It is also reported that Iran's development of multi-stage launch vehicles for spacecraft, which began from the 2008 year, can accelerate the creation of ICBMs. It is reported that during the launch of the RN, Iran is mastering the technology of separation of long-range missile stages. In a recent report by the International Atomic Energy Agency, the IAEA stated that "there are questions" to this country that Iran could build a nuclear warhead for a strategic missile.
The eastern missile defense area can be deployed at Fort Drum (New York) ground base, Griffis Air Force (New York) or Caribou (Maine) base, and can be complementary to the two existing position areas in Fort Greely (Alaska) and Vandenberg ( California). However, the Pentagon is not considering the allocation of funds for the creation of a new missile defense base, the cost of which could be 210,6 million.
However, the Pentagon recently canceled the so-called. The 4 phase, according to which it was planned to deploy in Europe a new modification of the SM-3 IIB interceptors capable of striking Iranian ICBMs flying in the direction of the US territory. This plan was canceled against the backdrop of pressure from Moscow, seeking to limit the US missile defense system in Europe. Lawmakers noted that the abolition of this plan creates a "big gap" for the US defense against Iranian missiles.
In a report last year, the National Research Council of the United States announced that the Iranian ICBM with a liquid-propellant rocket engine (LRE) will have a launching site of 250 seconds, equipped with a solid propellant rocket engine (RDTT) - 180 seconds, total flight time will be about 40 minutes .
Also, US intelligence agencies believe that North Korea and Iran can cooperate in the development of ICBMs.