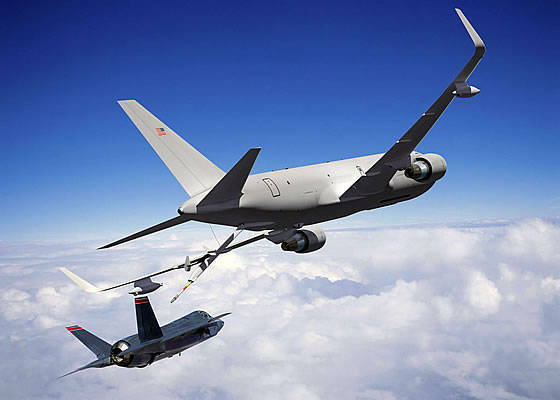 Boeing announced the start of assembly at the plant in Everett (Washington units), the first next-generation KC-46A tanker aircraft, intended for delivery to the United States Air Force.
The first 25-meter wing spar for the aircraft was placed on the mounting device.
The US Air Force announced the company Boeing, which proposed the KC-767 transport vehicle project, the winner of the tender for the supply of 179 transport vehicles in February to 2011 in February. The company has a contract worth 3,9 billion euros for the design, testing and construction of the first four KC-X tankers.
Upon completion of the test phase, they will be restored and returned to the US Air Force as part of a general order. According to the terms of the initial agreement for development work, Boeing must deliver the first batch of 18 transports KC-46A to 2017 by the US Air Force. All aircraft will be delivered to the customer by 2027 year. The new aircraft will replace the outdated KC-135 and KC-10 in service.
The development of a new transport tanker is carried out by Boeing on the basis of the Boeing-767-200ER airliner. The draft outline of the aircraft was approved at the beginning of 2012. The next important milestone of the program is to protect the working draft, which will begin next month.
Currently, Boeing experts are preparing an assembly line for mounting the tail and nose of the aircraft fuselage.
As expected, the first aircraft will be assembled in November of this year, and its rollout is scheduled for January next year.
Next June, Boeing will begin installing military systems on the aircraft at its Seattle facility, and will also begin testing it. The first flight of a fully stocked tanker is scheduled for the start of the 2015 of the year, and the delivery of the USAF to the 2016 of the year. As planned, the Boeing will supply the US Air Force 15 KC-46A aircraft annually at the mass production stage.