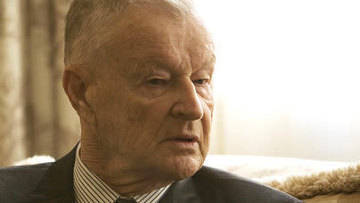 From the editor. The following is an interview with The National Interest with Zbigniew Brzezinski, past presidential adviser Jimmy Carter on national security, and now a consultant and board member of the Center for Strategic and International Studies and senior professor at the School for Advanced International Studies at John Hopkins University. The interview was taken by Jacob Heilbrunn, the lead editor of The National Interest.
Heilbrunn: Historically, we often helped the rebel movements - as an example, Nicaragua, Afghanistan and Angola. If you are a neocon or a liberal hawk, you will say that it actually comes down to helping the forces overthrow the dictator. Then what's wrong with intervention for humanitarian reasons?
Zbigniew Brzezinski: In principle, there is nothing wrong with intervening on this basis. However, I believe that before acting, all the risks involved should be assessed. In Nicaragua, the risks were relatively small, given the dominant position of the United States in Central America and the absence of any serious access to this country from outside rivals. As for Afghanistan, I think we knew that problems could arise from Pakistan, but we had to do this because of the events of September 11. But, speaking about me personally, I gave the relevant advice to the then Secretary of Defense Donald Rumsfeld, when, together with some other experts, they consulted with us about the decision to go to Afghanistan. My advice was as follows: go there, "knock out" the Taliban, and then leave. I believe that the problem with Syria is that it can potentially have a destabilizing effect with far-reaching consequences - in particular, we must bear in mind the vulnerability of Jordan, Lebanon, the possibility that Iraq will indeed become part of a wider conflict between Sunnis and Shiites and that there could be a serious clash between us and the Iranians. I believe that the stakes are higher and the situation is much less predictable and, of course, not very amenable to effective retention only within Syria with the help of American power.
"For five years now, the Obama administration has been in power in the United States, and today you declare that the West has engaged in" mass propaganda. " Did Obama get involved in the Syrian conflict because of his excessive weakness and inability to defend the status quo? What happened to President Obama and why are we in this position?
- I can not do any psychoanalysis or revision
stories
in whatever form. Of course, he faces a difficult problem, but there is a dark side to this whole story. Just think about choosing the moment. At the end of 2011, uprisings began in Syria, caused by drought and instigated by two autocratic powers well known in the Middle East - Qatar and Saudi Arabia. The President of the United States immediately made a statement that Assad must go, obviously not having done anything concrete in order to bring it to life. Later, in the spring of 2012 of the year - by the way, in the election year - in one expose article in The New York Times of 24 in March 2012 of the year it was said that the CIA under the leadership of General Petraeus is launching a large-scale campaign designed to support Qatar and Saudi Arabia and somehow "tie" »Them to Turkey in connection with the activities undertaken. Was it a strategic calculation? Why did we all suddenly decide that Syria should be destabilized and its government overthrown? Has it ever been clarified by the American people? Then in the second half of 2012, especially after the elections, the wave of conflict turns to some extent against the rebels. And it becomes obvious that not all of these rebels are so "democratic." And as a result begins the revision of the entire policy. I believe that these things should be clarified so that we can have a deeper understanding of what exactly the goal of US policy is.
"Are we, in fact, witnesses of a slow chain reaction?" The neocons' dream, when they entered Iraq, was to create a domino effect in the Middle East, under which we could overthrow one regime after another. This is essentially the grim scenario for realizing this aspiration?
- Yes, this is possible. They hope that, in a sense, Syria could compensate for what originally happened in Iraq. However, in my opinion, we should take into account the fact that in this particular case the regional situation as a whole is more volatile than at the time of the invasion of Iraq, and perhaps those who made this decision were influenced by the idea shared by some rights in Israel, that Israel's strategic plans are best met by destabilization of the situation in all countries - its closest neighbors. I think this idea is a long-term formula for the catastrophic development of the situation for Israel, since its by-product, if it is realized, will become America's loss of influence in the region, and Israel would eventually be left to itself. This is hardly good for Israel and - which I think is even more important because I look at problems from the point of view of American national interests - this is not so good for us.
- In one of your interviews, in my opinion, the MSNBC channel, you mentioned the possibility of holding an international conference. Do you still think this is a reasonable approach that America should promote more persistently in order to involve China, Russia and other powers in efforts to achieve some kind of peaceful end to this civil war?
"I think that if this issue is resolved in private with the Russians (which, in my opinion, we are forced to do because they are partially involved in this situation) and if we do it, relying mainly on the former colonial powers of the region - France and Great Britain, which is truly hated in the region, the chances of success are not as high as if we somehow involved China, India and Japan, who are interested in a more stable Middle East. This is to some extent related to the previous question you raised. Together, these countries could help achieve a compromise in which, at least outwardly, there will be no winner, but which could give us what I have been offering in different expressions for over a year, namely, that in Syria it should, with the support international community to hold elections in which everyone could participate. This will, to a certain extent, allow Assad to save his face, but may lead de facto to an agreement that he will remain in power until the end of his term in office next year, but will not stand again.
- How slippery is this path? Obama is definitely not enthusiastic about sending
weapons
to the Syrian rebels, he instructed Ben Rhodes to officially report this. What do you think, how slippery this way? Do you think we are moving towards even more American intervention?
"I'm afraid we are moving in the direction of ineffective American intervention, and this is even worse." There are circumstances in which intervention seems to be not the best, but not the worst way out. However, what we are talking about means that we will increase the volume of our assistance to the least effective forces among those who oppose Assad. So at best, it will simply damage our credibility. At worst, it will bring groups closer to victory that are much more hostile towards us than Assad. I still do not understand why — and this applies to my first answer — why we decided once in the 2011 or 2012 year (by coincidence it was an election year) that Assad had to leave.
- The answer you gave about Israel was rather curious. Do you think that if even more serious unrest begins in the region, accompanied by a decrease in American influence, Israel will see this as an opportunity to consolidate the progress achieved or even aim at more radical tasks, especially if Jordan is ignited?
- Yes, I know what you are driving at. I think that, possibly, in the near future this will lead to the strengthening of the "impregnable fortress of Israel", because no one will stand in the way, so to speak. But, above all, it will be a bloody massacre (which will affect different people differently), and Israel will also suffer significant losses. Despite this, the right will believe that it is necessary for survival.
But ultimately, a region with such a level of tension cannot be controlled, even if it tries to do Israel with its nuclear weapons. It will only turn for Israel in the way that some of our wars have turned around for us, only on a larger scale. Such a desire will lead to losses, to fatigue, apathy, demoralization, to emigration of the best and most progressive representatives of society, and then provoke a certain cataclysm, the essence of which we cannot now predict, because we do not know who, when and what opportunities will be. In addition, Iran is very close. Perhaps he has a certain nuclear potential. Suppose Israel ends this problem. What about Pakistan and other countries? The idea that even a very strong and motivated country, but with a population of only six million people, can control the whole region is no more than a crazy dream.
- I think my last question is if you think you can talk on this topic. You seem to be on the opposition bench now. Among representatives of the intelligentsia and in the media, we hear, it seems, the predominance of the voices of liberal "hawks" and neoconservative popular enthusiasm, a moralistic call to action in Syria, based on emotions. Why do you think, even after the fiasco of the war in Iraq, the discussions on foreign policy remain fairly one-sided in America?
- (Laughs) I think you know the answer better than me, but if I can express the theory: America is a highly motivated, good country. She is guided by good intentions. But it is also a country with an extremely simplistic understanding of the affairs in the world, with still great confidence in its ability to dominate, if necessary with the help of force. I believe that in a difficult situation, simplified solutions proposed either by demagogues or by people who are smart only when they give advice on certain aspects of the situation are what people can buy into. Assuming that a few more or other military campaigns have achieved the desired result and that this will be a victory for the sake of a just cause, but not having a full understanding of the hidden difficulties that will suck us deeper and deeper, ultimately we will be drawn into a major regional war , and this region will be even more hostile to us compared to the current attitude of many Arabs towards us. It would be a disaster for us. But the average American, who in fact has little interest in world affairs, will not understand these risks. Our country is a country with good intentions, but with poor knowledge and at the same time little experienced in world affairs.
- Thank you. Totally agree with you.