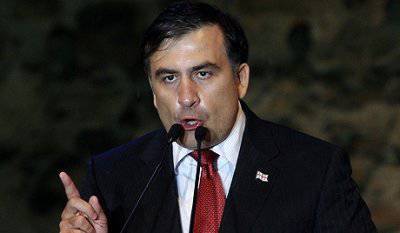 Mikheil Saakashvili will no longer engage in pure politics
[I]
In the studio of the program works browser Michael Sheinkman. [
/I]
Before NATO Secretary General Rasmussen - as in confession. Is that not on your knees. But nothing but the truth. Mikheil Saakashvili stated that he would no longer engage in pure politics. "I'll do everything to work on education and awareness, and not on pure politics," he told the public about future plans.
Saakashvili, by and large, has never been engaged in pure politics. These have always been dirty methods. And in this sense, he will not need to step on the throat of his own song. Another thing is that it will be good to perform it if not on the chamber stage.
Although in order, perhaps, he said under Rasmussen about leaving in October not only from the authorities, but also from politics, so that he should be left alone. Indeed, what can harm a person who wants to share his sad experience with the audience?
He himself, by the way, calls this "an increase in the political culture of civil society." This is his Saakashvili wants to educate. Believes that all the troubles in the state - from poor awareness and ignorance. It is enough to eliminate them in order for life to improve. "I don't know yet how I'll do this, but our problem is the lack of basic education," the president made his diagnosis.
The fact that the problem was in the presence of him, modestly lost sight of. Correctly done - now it is irrelevant. Another question, what else can Saakashvili teach the country, which itself has already taught him a lesson. He 9 years engaged in the formation of Georgia: stripped her
history
, trained in English, crippled geography. Basically, he was always a teacher. Only the letter "M".
But politics is not football. Here in 45 years it is still early to go to coaching. Unless, of course, there is no desire to return playing coach. Therefore, the application of this figure does not seem so harmless. "Teaching from Saakashvili" is a claim to some kind of political sectarianism with the guru at the head. He wants to remain a ruler, if not countries, then thoughts.
It is curious that Saakashvili announced his concern for the political education of the population a couple of days after the Prime Minister said about the same words. Ivanishvili, we recall, said that he could leave his post immediately after the presidential election and start building the very civil society that his counterpart considers illiterate.
If such a sequence of revelations is not accidental, then it can be assumed that Saakashvili intends to open a civil front against his opponent and impose a struggle on him there. It could have been presented by the clash of two political schools, since we are talking about education.
If this is true, then it would be better for Saakashvili not to risk it. Still, too late, he decided to take up the mind. And then, unfortunately, not for your own. And, if so, then no matter how he had to engage in self-education. Say, in some prison library. In Georgia, they say more and more insistently: the court will determine what and for how long Saakashvili will be busy after his resignation.