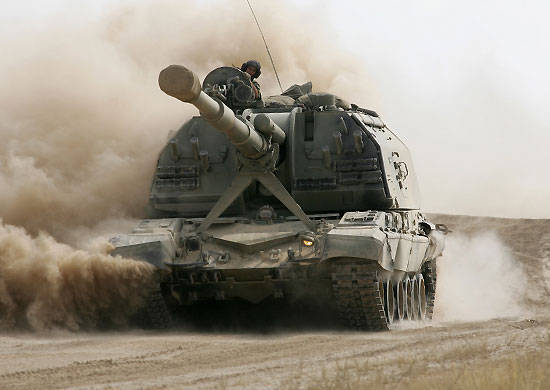 More than 35 modernized 152-mm self-propelled howitzers 2С19М2 "Msta-S" were the first to receive the gunners of the motorized rifle brigade of the Southern Military District (SOR), stationed in the Stavropol Territory.
According to the Press Service of the Southern Military District, all commanders of howitzer self-propelled artillery batteries of the compound in order to improve their skills and professional training were retrained to this artillery system at the factory.
New artillery system 2C19М2 "Msta-S" has significant design differences from the previous modification. The upgraded self-propelled howitzers installed a new automated fire control system, increased target rate of fire, and also has the ability to use digital electronic maps, which significantly speeds up the orientation of the terrain in difficult physiographic conditions and allows you to perform fire tasks more quickly and more efficiently.
Also, to reduce the visibility of self-propelled artillery on the battlefield, the Cape kit is used, which, in combination with heat shields, allows you to simultaneously increase protection from radar, thermal and optical detection by more than 1,5 times, resulting in a decrease in the effectiveness of high-precision
weapons
.
The MSTA-S highly mobile armored self-propelled artillery installation is designed to destroy openly located and protected targets (manpower, armored and unarmored combat equipment, field fortifications, anti-aircraft and anti-missile defenses, enemy control points and rear facilities).