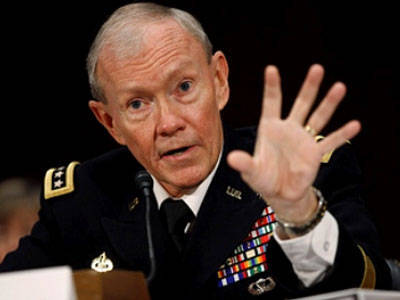 General Martin Dempsey, chairman of the Joint Chiefs of Staff (USCS) of the US Armed Forces, said he recommended helping to strengthen the Lebanese army by sending military instructors and speeding up supplies.
weapons
.
"We made recommendations on the challenges facing the Lebanese Armed Forces, Iraqi security forces dealing with a resurgent al-Qaida in Iraq, and Jordanians. We will work with them to help create additional opportunities," Dempsey told reporters. at the Pentagon, reports Reuters.
A Pentagon spokesman said recommendations were made in recent weeks as part of a discussion with the US Central Command of a possible response to growing instability in the region. He also answered the question about the possibility of sending the American military to Lebanon. "When you talk about sending the United States Army to Lebanon, I mean a group of instructors, as well as accelerating the supply of military equipment to them," Dempsey said. "This is about developing their combat capabilities, not ours."
A Pentagon press secretary said that these efforts will come out on top in the framework of American military support provided to Iraq and Lebanon.
Dempsey also commented on the possibility of establishing a no-fly zone over Syria. He noted that the no-fly zone will contribute little to stopping the bloodshed, stressing that the Assad air force is responsible only for a small number of victims. "If we want to introduce a no-fly zone, and this is essentially an act of war, I would like to know a plan for achieving peace before we start a war," said Dempsey.
He also noted that any decision by the United States to introduce a no-fly zone in Syria would require tough decisions regarding America's military priorities in the face of budget cuts and other commitments, including the ongoing war in Afghanistan. "We are already experiencing some lack of readiness," said Dempsey. "We have forces that are on high alert in the Korean Peninsula region, in the Persian Gulf due to potential provocations from Iran. We are still actively involved in the fighting actions in Afghanistan. "