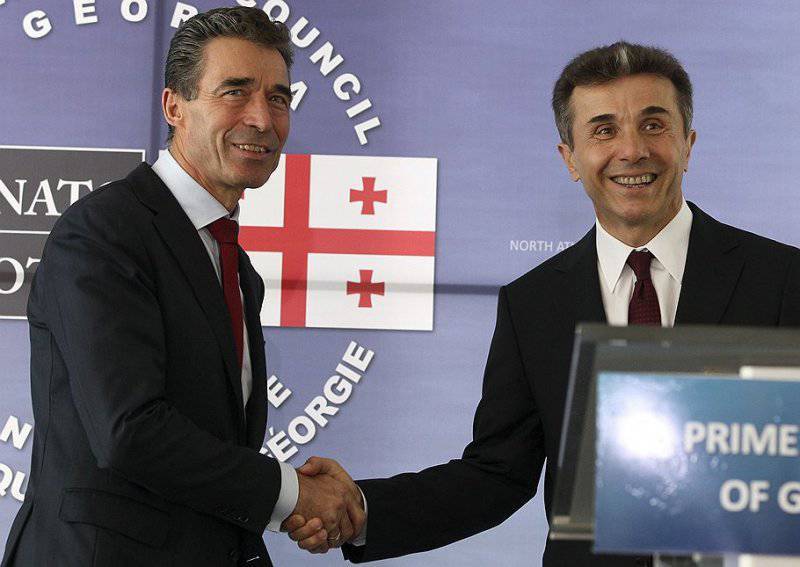 A visiting session of the Georgia-NATO Council was held in Georgia under the chairmanship of the Alliance Secretary General Anders Fogh Rasmussen. Before his visit to Tbilisi, Mr. Rasmussen made it clear that the Georgian authorities should not expect to join NATO soon, but he promised political support in containing Russia in Abkhazia and South Ossetia. In response, Bidzina Ivanishvili confirmed that his country will continue to support the West in Afghanistan and is ready to "provide the railway infrastructure" for the withdrawal of the NATO contingent next year.
The meeting of the Georgia-NATO Council at the ambassadorial level was supposed to be held in Tbilisi at the end of last year, but was postponed due to the arrest of the Chief of General Staff Georgy Kalandadze on charges of beating military personnel.
The Georgian authorities attached particular importance to the current visit, hoping to hear from Anders Fogh Rasmussen and the ambassadors of the member states of the alliance long-awaited words about Georgia's approaching NATO standards. "This visit will be a clear message for the Georgian public, the world community and the countries of the region that Georgia will necessarily join NATO," said Alexy Petriashvili, State Minister for European and Euro-Atlantic Integration, on the eve of the visit.
At the same time, the team of Prime Minister Ivanishvili places particular hopes on active participation in the ISAF operation in Afghanistan. However, Rasmussen said in an interview that "participation in the Afghan operation is not a ticket to NATO" and in order to achieve full membership or at least obtain a road map for joining the alliance (MAP) "Georgia must deepen military reforms and meet certain criteria.
However, Mr. Rasmussen immediately made it clear: the Georgian authorities can count on NATO's "measured political support" in the situation on the border with Abkhazia and South Ossetia, which Georgia considers to be "occupied territories". Including in disputes about the legality of the demarcation of the Georgian-South Ossetian border with barbed wire. "This is contrary to the cease-fire agreement 2008 of the year and is absolutely unacceptable for us," said Mr. Rasmussen. "We demand full respect for the sovereignty and territorial integrity of Georgia." At the same time, the Secretary General made it clear that the arrest of former Prime Minister Vano Merabishvili does not bring Georgia closer to NATO criteria. "It is important that such cases do not look politically motivated," the Secretary General said.
During a joint press conference with Prime Minister Ivanishvili, he said that the transport infrastructure of Georgia, if necessary, can be used in the withdrawal of NATO troops from Afghanistan next year. "To this end, we decided to accelerate the construction of our railway section," the prime minister said, referring to the Baku-Tbilisi-Istanbul highway.