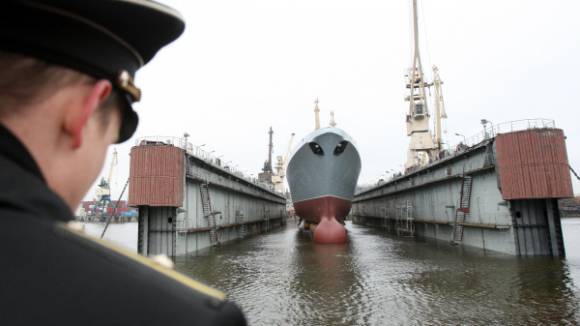 The main frigate of the 22350 project "Admiral Gorshkov", which is being completed in St. Petersburg at the shipyard "Severnaya Verf", will be equipped with the newest air defense system "Poliment-Redut" before the factory trials, the Navy representative told Interfax.
"The first release of" Admiral Gorshkov "on factory running tests is scheduled in early October. In the waters of the Gulf of Finland, the frigate will test the main power plant, navigation equipment and communications complex. Then the ship will go to Baltiysk. In the Barents Sea, the Gorshkov will work out launches from their anti-ship, anti-submarine and anti-aircraft complexes, "the agency's source said.
According to the representative of the Navy, before running trials on the ship, they must install vertical launch cells of the Poliment-Redut air defense system with 128-th anti-aircraft missiles 9М96Е.
A representative of the Navy recalled that the ship was occupied by the crew in April, the mooring trials of the ship began in May, and state tests should take place before the end of December. In addition, the Admiral Gorshkov 3 July will be presented at the International Naval Show in St. Petersburg.
The multipurpose frigate of the 22350 project is designed to conduct combat operations in the far and near sea zones, as well as to participate in solving problems in the ocean zone. The ship's displacement is about 4500 t, the maximum length is about 130 m, the maximum width is more than 16m. Sailing distance - more than 4000 miles, seaworthiness - without restrictions. The ships of the project are armed with 16 missiles with the Onix anti-ship complex of the Caliber-NKE family. On the frigates of the project, the 4 module of the "Polyment-Redut" system will be installed with 8 cells in each (total 32 cells).
The frigate is designed in the Northern Design Bureau. It costs up to 400 million dollars.
In accordance with the concluded contracts, Severnaya Verf should, before 2020, build and transfer to the Navy 6 frigates of the 22350 project.