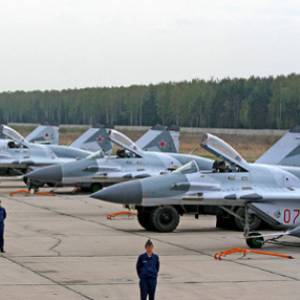 The most important news came recently from Belarus. Now in this state, with which Russia has been building the union state for several years in a row, a Russian military airbase will be located. And they also managed to find a place for this airbase. This is a relatively small city Lida, which is located in the West of the republic. Representatives of several nationalities live in the city: Belarusians (about half of the population), Poles (one third of the population), Russians (up to 15%).
Russian representatives of the Ministry of Defense tried
to advertise
placing the air base in Belarus about a month ago. But then President of the Republic of Belarus Alexander Lukashenko said that with such an advertisement it would be necessary to wait, because the issue of the deployment of Russian pilots in Belarus has not yet been resolved. Now, apparently, the issue was resolved, and before the onset of 2014, not only the military commandant's office of the base, but also several modernized Su-27CM3 fighters would be placed in Lida.
Lieutenant-General Bondarev, Commander-in-Chief of the Air Force, said that the issue of a military base in Belarus had been resolved. At the same time, Viktor Bondarev, commenting on the deployment of the base in Belarus, noted that the base would be considered exclusively Russian, but "this is for now". Apparently, over time, it can be transformed either into the base of the CSTO or into the base of the Union State of the Republic of Belarus and Russia.
In any case,
news
about the deployment of Russian fighters in Belarus speaks of the strengthening of the western borders of Russia, and Belarus definitely gains from such an arrangement.
Representatives of the Russian and Belarusian opposition also had time to speak out on this issue, saying that Russian fighters in Belarus are a cover for two authoritarian regimes at once. Such a reaction, in principle, was predictable, because the opposition exists to try to convey its point of view, even if this point of view is of a very specific nature.
If we add to the news about the deployment of the Russian airbase, information that the Russian Black Sea Fleet remains in the Crimea after 2017, since the Ukrainian opposition failed to push the treaty denunciation, then we can talk about the victory of reason and sober diplomacy between the three fraternal countries, which by the will of fate were separated by artificial borders.