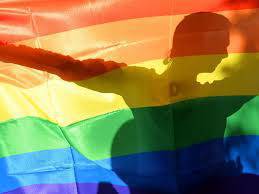 Continuing global hysteria about all that is connected with same-sex "love." It would seem that just a year or two ago there was no such hype around the LGBT community in the world, and now you will receive it, sign it. Some say that it is better not to say anything about this topic at all, others argue that it can and should be raised. What is the reason for such a hype? May be
2013 Movies
Hollywood is being heated by interest with show business stars, or is it something else?
The psychology of the state and society will help to answer this question. According to all the laws of the genre, if a baited fishing rod is thrown into society in the form of a very bright and specific topic, which not everyone is eager to discuss, then there may be an attempt to divert people from more significant problems that they may encounter.
Generally speaking, this is quite likely. If we take into account that the global economy, as the leading world economic experts say, can not withstand the next blow of the crisis, then the people should be distracted from this by offering them a kind of "cat fantik." In this case, the theme of gay marriage, gay parades and other things appears in the form of a candy wrapper, which involuntarily pushes people to the most diverse reaction, distracting from real cases and problems.
If we analyze the situation that is developing in Europe and the USA, then this system works in full. At a time when the authorities need to take measures to save economies, these authorities are looking for a reason to get additional rating points. At this pace, they will soon begin to talk about the need to protect the rights of cannibals, stating that cannibalism is
historical
the essence of human civilization: what tens of thousands of years ago was natural, it is not ugly even now. After all, it is in this vein that today is the justification of same-sex relationships.
At this very time, global things are happening in the geopolitical and economic arenas that can change the world beyond recognition. And some unknown forces are using LGBT topics to ensure that a modern person leaves the discussion about the real economy and politics, and is lost in thoughts about whether it is good to legalize same-sex marriages or not. A kind of screen was built, which covers much more important acts or attempts of these acts from the public.