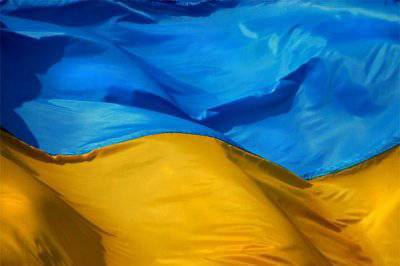 When I hear the heartbreaking lamentations of the Ukrainian patriots about the gas transmission system of Ukraine as a kind of sacral rod on which independence rests, I remember
history
about an old woman whose only nurse was a goat ... God forbid a bleating girlfriend die, or her foes take away, and the existence of an unhappy grandmother will lose all meaning and even physical ability. Similarly, Ukraine has built its entire statehood around the GTS and supposedly expensive Russian gas, and the authorities have made the struggle for energy independence from Russia one of the factors that consolidate society.
At first, the unfortunate independent investors fight for the conclusion of contracts for the supply of gas from Russia, and after a very short time - for their revision. At first, half of Ukraine shouts about an enchanting victory over Russia, considers the contract extremely beneficial for the country, and then it starts crying that the Russians have deceived them. However, I would like to ask one rhetorical question: did Ukraine really experience a boom in economic development several years ago with fabulously low gas prices? Well, today gas costs more than 400 dollars per thousand cubic meters. m., but still in 2005, its price was only 50 dollars !!! Maybe then new factories were built, was the modernization of old enterprises, the infrastructure was updated? Of course not...
It is completely obvious that the gas issue that has been blown up in recent years is a noise curtain that distracts society from all other Ukrainian problems. The authorities, as well as the opposition, benefit from talking about Russian gas, so as not to talk about the main thing: how has Ukraine reached Ruins, and who is to blame for this? Why do Ukrainians live not in "Second France", as planned in 1991, but in "Second Somalia"? Well, okay, with Somalia, it is still too early to compare us, but just with Mongolia and Albania.
Today, Ukraine is one of the poorest countries in Europe. Gross domestic product per capita at purchasing power parity is 7 374 US dollar (IMF data). Such countries as Albania, Guyana, Namibia, Tonga, Algeria, El Salvador, Micronesia, Kosovo, Iraq, Bhutan, Egypt, Angola, Samoa are located next to Ukraine. Impressive? Belarus is significantly higher than Ukraine with 15 653 and Russia with 17 709 dollars per capita. Our former "brothers" came very close to the European level of GDP. Russia is adjacent to Croatia, Latvia, Hungary, Poland, Estonia, Portugal. Well, let's say Russia's achievements are connected with energy resources, but Belarus does not have oil and gas, and the situation there is radically different from the situation in Ukraine. At the same time, until recently, the prices for Russian gas for Ukrainians and Belarusians were approximately equal. What is the problem? The answer is simple - the problem is the insanity of the Ukrainian leadership and the viciousness of the pro-Western policy pursued.
The GDP of 45 million Ukraine is only 345 billion dollars. GDP 143 million Russia 2 513 billion. At the same time, there is no doubt that the tendency of Ukraine to slide to the African level will continue, as will the tendency of Russia to approach the level of developed European countries, because there is every reason for this.
At the moment I absolutely do not want to talk about the gas suffering of Ukraine, believe me, they are not worth it. The main problem is not in gas, but in the fact that for two decades, the desired investments that would make an "East European tiger" have not come to Ukraine. But there were such conversations. We immediately note Svidomo nonsense about the fact that investment comes in democratic countries. Investments came to South Korea, China and other countries of Southeast Asia, when there did not smell of democracy. Well, it may not be correct to compare Ukraine with some South Korea, but why do investments come to Russia? Here, a skeptic Svidomo will fight hysterically and shout that there is no investment, and I will calmly send it to the site "Made by Us", where information about the opening of new productions in Russia is regularly published, including with the participation of foreign capital. Alas, Ukraine cannot boast of anything like this. Independent authorities have succeeded only in the construction of grandiose plans, and they do not reach out to their actual implementation. In Russia, everything is somewhat different; if they say something there, they do it. And I don't care at all what they are doing and how much they steal in Russia, about what, having read this far, my opponents will want to tell me. I am just stating the fact of opening new productions in Russia and a significant lag in this indicator of Ukraine.
The thing is that investments come to those countries in which the appropriate conditions have been created for them. And Russia created such conditions, protecting its market from import of finished products by customs barriers and motivating manufacturers to transfer production to their territory. The Ukrainian authorities did not think about anything like that, and why was it to think? Ukraine went to Europe, and everything is there. Foreign partners supported Ukraine in this integration impulse, because they did not want to spend extra money on the creation of industries and think about the employment of local Aborigines. It was easier for them to import finished products to Ukraine from already operating factories, thereby ensuring the employment of their population. Ukrainians with some kind of foolishness were madly glad that cheap and high-quality products were imported to them, forgetting that the price of this import was the destruction of their own production.
To feel the difference between Ukraine and Russia, briefly consider the situation in the automotive industry. Today, the Russian car market is the second largest car market in Europe after Germany. In 2012 alone, about 2 million cars and 210 thousands of trucks were produced. All these cars are made by all the same Russians. And how does the production of cars in Ukraine feel? For 2012, the 70 thousand cars and 3 thousand trucks were already assembled. Ponder 2 000 000 vs 70 000 passenger car units! It is from here that Russia's GDP is forming per capita, and not just thanks to the oil and gas trade. The government of the Russian Federation pursues a policy of protecting the domestic market, forcing global auto giants to shift production to its territory with obligations to produce auto components in Russia. By the way, the sales market for the Russian car industry is still the same Ukraine.
In Ukraine, only now they attended to the protection of the domestic market, imposed protective duties on the import of imported cars, which to some extent affected the growth of domestic production. However, the trouble is that these fees, judging by the statements of some experts, contradict the obligations assumed by Ukraine upon joining the WTO. That is, it was necessary to save the automaker before entering the WTO.
I would like to draw attention to one more point, which some Ukrainians want not to think about as a achievement of Square. They are proud to say that prices in the Ukrainian market are lower than in Russia. Alas, there is nothing to be proud of, because this is another obstacle that holds back the flow of investment. Any business is looking for a solvent market in order to recover the costs of organizing production. But what investments can there be in a country where the population is barely making ends meet? Moreover, there can be no talk about any investments during a crisis, when manufacturers are forced to reduce production volumes and close already operating enterprises. I remember the recent joke of Viktor Yanukovych that "The full-fledged integration of Ukraine into the EU is still untapped potential for economic growth for Europe." Golden words, and for this, Ukraine is being drawn into the FTA, in order to ensure that Western manufacturers, although not large, but the market for their products. Creating a Free Trade Zone with the European Union will kill the already weak Ukrainian manufacturer.
Watching everything that happens around me, sometimes it seems to me that Ukraine is a country with suicidal tendencies. Everything that is done here, ultimately leads to the destruction of the existing state. Here, it is as if they are deliberately killing the economy and splitting the people, so that one fine day people will say: why do we need this state? What does it give us? Personally, I no longer understand this. This is not a state, but some kind of experimental platform where people are tested for survival.