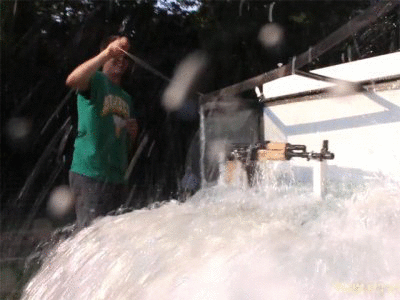 A young researcher and author of the channel on YouTube set up a curious experiment with a Kalashnikov assault rifle, surprising even himself with the results. The young man, who introduced himself as Dustin, placed the machine gun in an aquarium full of water, and fired one shot, wanting to make sure that the liquid slowed down the work of the famous
weapons
. It turned out that quite the opposite.
For the experience, Dustin and his assistant needed papin's automatic machine, video cameras, a rather large aquarium and some time to make a special mount for the AK-47. Immediately before the experiment, Dustin tells viewers about the structure of the machine gun and how the AK-47 is recharging after the shot.
The author of the experience says that the speed of reloading the machine depends on the speed of movement of the shutter. And to make it easier to follow the shutter, Dustin hangs on it a white cap and removes the process on a high-speed camera.
Dustin was sure that the water would interfere with the operation of the machine: he had no doubt that the Kalashnikov would fire, but he believed that the reload speed would certainly interfere with the water. What was his surprise when it turned out that actually sending the cartridge to the chamber in the water takes place even faster than on land, because H2O does not need to be compressed.
Note that the "water procedures" did not disable the AK-47: as soon as the bullet smashed the aquarium, watering the experimenter with water, Dustin fired again to make sure that the father's machine was intact.