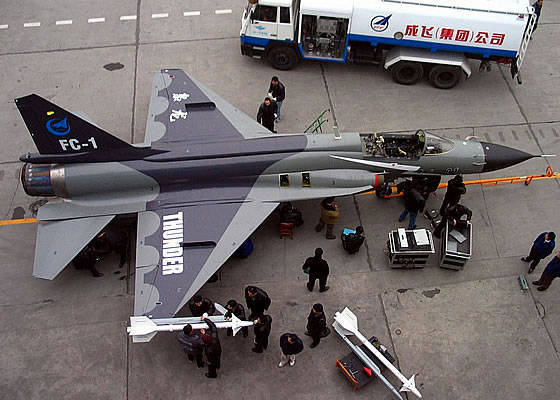 Representatives of the Argentine aircraft manufacturer FAdeA (Fabrica Argentina de Aviones) held a series of talks about the possibility of organizing joint production of FC-1 / JF-17 "Tander" aircraft with "Chengdu".
According to Janes Defense Weekly, negotiations on this program are still at an early stage.
According to FAdeA, the main issue is the issue of technology transfer. However, it should be noted that these are the first negotiations that could lead to the joint production of Chinese fighters in Latin America. If successful, the co-produced FC-1 may be designated Pulqui-III.
FAdeA representatives also said that they would negotiate directly with China, not Pakistan, which is China's main partner in the design and manufacture of FC-1 / JF-17.
According to experts, the two-seater FC-1, shown at the Paris Air Show 2013 air show in Le Bourget, attracted attention, also thanks to the declared ability to control unmanned aerial vehicles (UAVs).
FAdeA is already implementing a joint production program with the Chinese AVIC light helicopters CZ-11 "Pampero", which is a modified version of AS-350 "Eurey" company "Eurocopter". The first jointly produced sample is being tested. Mass production is scheduled to begin in 2014. Previously, FAdeA planned to produce CZ-11 for civilian and military customers.
Despite the ongoing negotiations with China, representatives of FAdeA noted that the Argentine government is also considering the possibility of acquiring combat aircraft from the Air Force of a number of countries, which should replace the Mirage-3EA / DA. The main candidate is the "Mirage" F.1M from the Spanish Air Force.
The FC-1 fighter can use a wide range of weapons, including SD-10A (PL-12) air-to-air missiles with 100 km radius and CASIC SM-400AKG high-speed missile designed to hit ships at ranges up to 180-250 km
In case of successful completion of the negotiations, the partnership with China will allow Argentina to implement a program to restore the country's aircraft industry.
In addition to the production of helicopters CZ-11, FAdeA is working on a project for the 6-ton helicopter, upgrading the PTS-IA-63 Pamp-3, developing new unmanned aerial vehicles. In the framework of a joint project of South American states, the company will develop an IA-73 UNASUR-1 TCB.