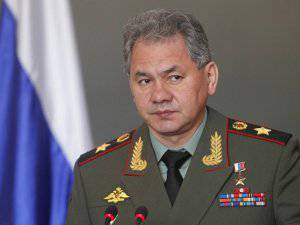 Russia from next year will begin to supply
weapon
and the military equipment of the Kyrgyz Armed Forces, Russian Defense Minister General of the Army Sergei Shoigu said on Tuesday during a meeting with Kyrgyz President Almazbek Atambayev.
"On your instructions and on behalf of the President of our country, we are considering a program to support the equipping of the Armed Forces of the Kyrgyz Republic, and we have almost everything ready. I think we will finish the final formalities in the near future. Inside our country, at our bilateral level, we have already completed everything and from 2014 onwards we will begin deliveries of weapons and military equipment, "Shoigu said, RIA"
News
».
The Russian minister also conveyed to Atambayev best wishes from Russian President Vladimir Putin. He clarified that shortly before the trip to Kyrgyzstan, he met with the head of state and discussed issues that will be raised by the participants of the meeting of defense ministers of the SCO member countries (will be held on Wednesday).
"Many questions were discussed with Vladimir Vladimirovich, I brought answers to many questions. I think I can, if not all of the questions, then most of it, especially regarding our military cooperation, be answered, "the head of the RF Ministry of Defense noted.
What exactly Russia will supply to this Central Asian republic is not specified, but in November 2012, the Kommersant newspaper wrote that Moscow promised Bishkek to give 1 billion 100 million dollars to re-equip the army. According to the publication, it was not about the loan, but about military support.
On Monday, Russian President Vladimir Putin said that since the beginning of 2013, Russia has increased its arms exports by 15% compared to the same period of 2012.
Prior to this, the head of the state corporation Rostec, Sergey Chemezov, said that since the beginning of the year Russia had exported weapons worth 6 billion 500 million dollars over the border. On the whole, Rosoboronexport's defense orders portfolio at the beginning of May 2013 amounted to more than 38 billion dollars.