Letter of Youth 2017 of the Year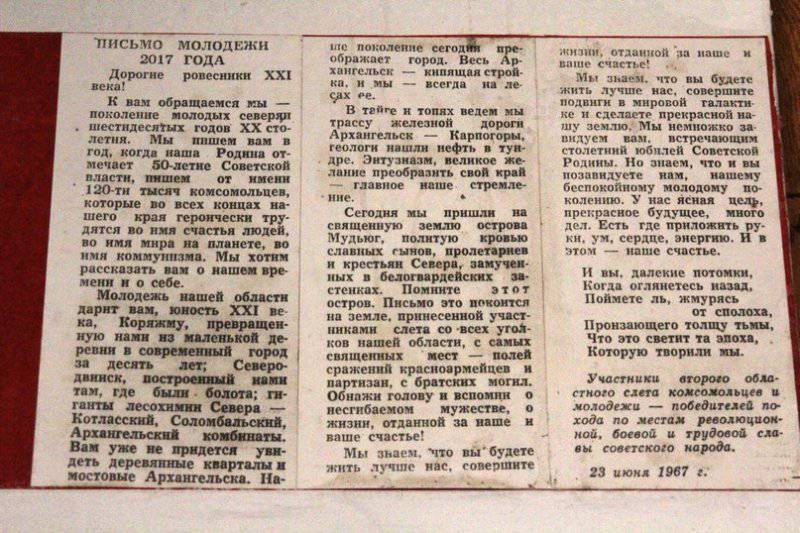 Dear peers of the XXI century!
We appeal to you - the generation of young northerners of the sixties of the XX century. We write to you in the year when our Motherland celebrates 50-years of Soviet power, we write on behalf of 120-ty thousands of Komsomol members who in all parts of our region work heroically in the name of the happiness of people, in the name of world peace, in the name of communism. We want to tell you about our time about us.
The youth of our region gives you, the youth of the 21st century, Koryazhma, which we have transformed in a small village into a modern city in ten years; Severodvinsk, built by us where there were swamps; giants of forest chemistry of the North - Kotlas, Solombalsky, Arkhangelsk combines. You no longer have to see the wooden quarters and bridges of Arkhangelsk. Our generation today transforms the city. All of Arkhangelsk is a boiling construction site, and we are always in its forests.
In the taiga and swamps we lead the Arkhangelsk-Karpogory railway line, geologists have found oil in the tundra. Enthusiasm, a great desire to transform their land - our main desire.
Today we have come to the holy land of the island of Mudyug, watered with the blood of the glorious sons, proletarians and peasants of the North, tortured in whiteguard dungeons. Remember this island. This letter rests on the ground brought by the participants of the rally from all corners of our region, from the most sacred places - the battlefields of the Red Army soldiers and partisans, from the mass graves. Expose your head and think about the unbending courage, the life given for our and your happiness!
We know that you will live better than us, make a life given for our and your happiness!
We know that you will live better than us, accomplish feats in the world galaxy and make our earth beautiful. We are a little jealous of you, meeting the centenary of the Soviet Motherland. But we know that you envy us, our troubled young generation. We have a clear goal, a beautiful future, a lot of things. There is where to put your hands, mind, heart, energy. And this is our happiness.
And you, distant descendants,
When you look back,
Catch it, squinting
from the rush,
Piercing the thick of darkness
What does this era shine
Which we were doing.
The participants of the second regional rally of Komsomol and youth - the winners of the campaign in places of revolutionary, military and labor glory of the Soviet people.
23th of June 1967
The answer from today's Russia:
Hello, dear ancestors. In the first lines of my answer, I hasten to inform you that you have never guessed at all, even though you had a fig. Here we have, in 2013, there is no Soviet power - all the more so, with a capital letter. No anniversaries of Soviet power. Communism was abolished, happiness is a utopia, and those who work heroically are now called "suckers".
With horror, we read how terrible were the horrors of your time. Work on the marshes, the construction of some cities and railroads ... Apparently, we were told the truth: there are innumerable crimes of the Soviet government, and there is no forgiveness for it. But you are doing what you envy us. We really live much better than you.
What you have built there has been transferred to the management of efficient owners who, not like proletarians who drive tea at work, treat property with respect. Property must make money. Therefore, we sold the machines from these plants for scrap, and the premises were handed over for offices.
Now, instead of exhausting ourselves in the swamps, we sit in warm offices and drink tea there. We are better than you. Production for scam, trade - the choice of craftsmen. You won, produced something there, but they themselves had no sausage or foreign cars. But we are still grateful to you: if you had not built everything, then we would have nothing to trade with now. The only complaint - our children, they say, is no longer enough. Therefore, it is not clear that they will sell there in their offices. However, let them understand, we need something.
We, as you correctly noted, already have where to put hands, energy and all that. Moscow is now full of nightclubs, rzhak is shown on TV, sex is no longer prohibited, you can go to Turkey to the resort, in general, modernity gives young people a lot of various activities.
And although I personally was not in the "Galaxy" cafe (and did not even know what it is), I will definitely go there if you advise. Love you know
history
.
By the way, about the story you argued garbage. The White Guards did not torture anyone, they were gentlemen, they loved junkers and French buns, and Stalin actually built the torture chambers when the Jews, led by Lenin and the proletarians, seized power. After that, the proletarians did not take off their galoshes, mocked Professor Preobrazhensky with a dog's heart and wanted to conquer the whole world. Meanwhile, Stalin destroyed the Russian people and churches. But in general, I am not mad at you - you did not have Wikipedia then, so you might not know.
Oh yeah, I want to apologize that I was somewhat ahead of the events and answered from 2013. The fact is that the hell knows what will be there in this 2017. Here and about tomorrow it is not always clear - everything is so dynamic.
I read that this Stalin of yours still has a lot of fans. And that some people think that your idealistic goals are still better than our lack of them. They are strange. Do they really want to crawl and build something in the swamps? Although, FIG knows what kind of energy you used there, maybe I want.
In general, I answered you just in case, but in 2017 you, perhaps, will be some Komsomol members, too. Here rzhaka will be - again combines, the Communist Party, the scoop and communism. The goal in life, man to man brother, the path to distant happiness and letters to descendants.