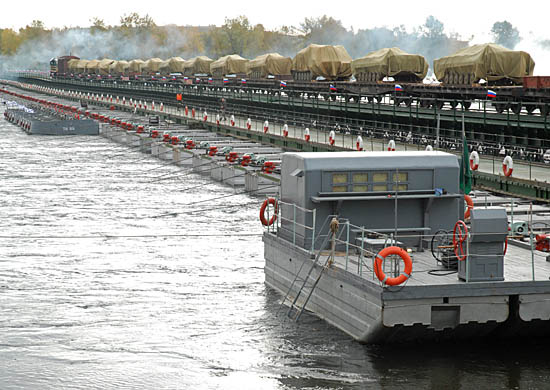 Modern floating self-propelled koper KPS 2х500 is being mastered by cadets of the training center of the railway troops of the Southern Military District (SKR), which entered service in the framework of the state defense order in the current year.
Now, thanks to the new special equipment, it became possible to drive up to 2 piles at the same time under bridge supports from the water surface weighing up to 600 kg, maximum length up to 8 m. For several hours, the PSC can provide the crossing of troops and military equipment through a water barrier up to 30 m wide.
Due to the high cross-country ability, the pile driver can work on swampy and relief terrain with a gradient up to 30 °, overcome ditches up to 3 m wide.
In the course of training, servicemen study the tactical and technical characteristics, as well as master the skills of driving special equipment over rough terrain and natural reservoirs. Upon completion of training in the course of a special tactical exercise, the servicemen will have to build their own pillars under the bridge over the r. Carpovka in the Volgograd region.
The training center for junior specialists of the Southern Military District Military Forces, stationed in the Volgograd Region, also trains commanders of departments for assembling and installing bridges made of metal structures, transfer means, carpentry-bridge and engineering-sapper works, and machinists for collapsible cantilever cranes.
More than 40 units of military equipment and special equipment are used to train cadets.