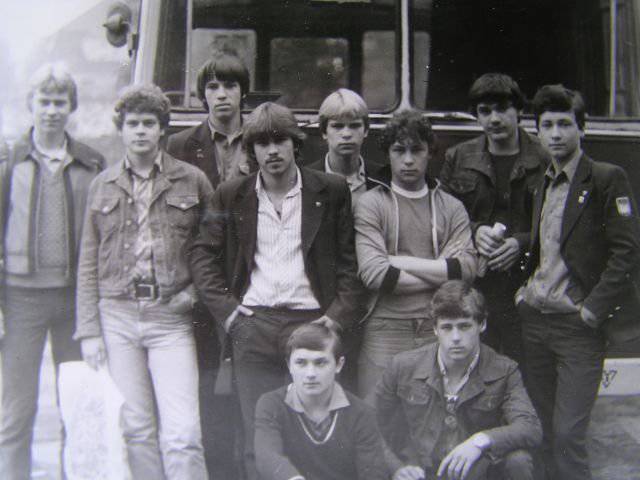 "Guys from our yard!" the USSR
This short note is in its essence and form, - "reactionary" and is a response to the address of the forum member Alexei, who is known by his nickname: "experienced"
Dear guests and friends of the site "
Military Review
"! We all have different views with you on these or other
news
this great resource. I think that I will not be mistaken if I say that this site today is not just a resource about military technologies and achievements of Russia and the world as a whole, but it is a resource of both patriots of Russia and patriots of the former USSR, and even, oddly enough, its patriots countries of residence. Of course, it is correct that Alexei expressed his indignation at the overly frequent news about such a phenomenon as LGBT. I understand him. Frequently, where necessary and not necessary with this topic. But he too must understand the current processes in the world. Imagine for a second that if there were Internet in the USSR (for example, a closed type), and if there was the same resource, there would be a "Alexei" who would urge not to discuss the penetration of chewing gum and jeans into the country, the sexual revolution. Like, let's oh
tanks
We will talk about airplanes, but Gorbachev's humanitarian policy, "cultural" teleconferences with the United States and media culture from the West - we will not categorically discuss! We have an army to stop this! Yeah, did everyone see how they stopped in 1991?
I do not understand, for example, how not to discuss on the resource "
Military Review
"event 25 May 2013 of the year in Kiev. When
the internal troops in the number of 1000 fighters, for the first time did not disperse, but guarded the gay parade led by the mayor of Munich !?
If this is not an ideological invasion, if this is not a political action with a demonstration that they do not care about the majority and our traditions, then what is it? Occupation of immorality? And when fighters of internal troops are being evicted from the office of Western "human rights defenders" in the Russian Federation, then we light up !? Although in essence, those and others are enemies of statehood. It's just that everyone works on his ideological front. People often talk about the 21 wars of the century, about information wars, but for some reason they don't see the fruits of these wars under their nose. The Ukrainian Parliament already has a bill on the protection of LGBT rights under the number number XXUMX. What does this mean? That people who live in Ukraine and share their views "
experienced
"whether they want it or not, they will soon begin to encounter lesbians and gays in real life. At work and even in kindergarten, when they take their child home. The law allows not to hide their orientation in public places and hire them "Moreover, the law will punish those who will resist such views and trends. Read, get acquainted with him. Thank God his promotion on the committees of the Verkhovna Rada has been suspended. But for how long? Until the next round of negotiations on the ratification of trade agreements sheniya Ukraine and the EU?
That article, which did not like Alex, opened and other nuances. With one colleague in the forum, I counted three registered members of the forum with experience and shoulder straps who openly defended the LGBT movement. Well, that is their moral right and choice. They have a clock on the hand go faster than me. It is a pity that Alex did not read. This is all sad, gentlemen and comrades.
We are changing. We become consumers. Today in the school of my district, where I grew up and studied (the outskirts of the city), where I was defeated on 1 on September, just because I was from the city center and dressed like a dude, there are already guys in spirit and clothing almost like girls, there are no fights and fights! Everyone grows in a greenhouse, well, almost everything. Are these objective processes related to consumer society? - Yes. Do they need to be discussed and alarmed? I think it is necessary. Best of all, my words from this song will convey my thoughts, which is lower on 2: 04 minute. The bottom line:
soft consumers are coming
, the time of tough kids goes away, who will we call to the army ?:
After the West, the turn of epochs for the post-Soviet society began. Who will pull the rope? In the world, 13 countries have already legalized same-sex marriages, two countries have entered a passport for an indefinite (third) sex, in the Netherlands there is a batch of pedophiles. At international film festivals, lesbian films win. In scientific circles, a new gender theory about the inconstancy of the sexes is being imposed. If these topics are not a threat to national security for Russia and the CIS countries, then comments are superfluous. We pretend that nothing happens, we have a different mentality. But this could be done when there was an iron curtain, and there was a state ideology in the country.
PS: Do not think that our society will stand on one enthusiasm of denial, the post-Soviet education dissolves. One of my friends is trying to show Soviet cartoons to a child on DVD, there is really high morality and culture, but then the child comes from kindergarten and demands an American cartoon: "Spongebob-square pants." His majesty society in action. Even in Turkey, there are LGBT flags in the ranks of the opposition. As a result, this is a worldview blow to the stability of traditional secular Islam. Anyway, humanitarian themes on the Military Review are needed for discussion and analysis, and just for information. A society somewhere has to check the hours of its cultural and mental state, and preferably on conservative resources.