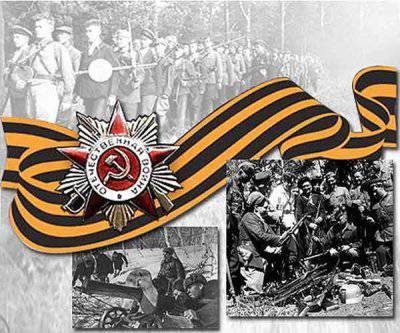 The day of partisans and underground fighters appeared in the calendar of memorable dates relatively recently. This year, the partisans and underground fighters who defended the Fatherland during the Great Patriotic War will be remembered separately only for the fourth time *.
* In accordance with the amendments made by the President of the Russian Federation to Article 11 of the Federal Law "On Days of Military Glory and Memorable Dates of Russia" 11 on April 2009, the Day of Partisans and Underground Workers was included in the list of memorable dates and received official status.
Guerrillas and underground fighters of WWII remember 29 June because it was on this day of the tragic 1941-th Council of People's Commissars of the USSR and the Central Committee of the CPSU (b) that it issued a directive addressed to party and Soviet organizations operating in the front-line areas of the country partisan resistance. The directive prescribed: "to create guerrilla groups and sabotage groups to fight enemy units in the areas they occupied ..., to create intolerable conditions for the enemy and all his accomplices, to pursue them at every turn and destroy, to disrupt any of their activities."
The contribution of the partisan detachments, "fighters of the invisible front," operating in the underground, literally under the nose of a cunning and bloodthirsty enemy, to the victory won by our people cannot be overestimated. Thanks to the selfless actions of the Soviet partisans, the Nazis literally burned the ground beneath their feet. From the very beginning of the war against our country, the invader, unpunished and insolent from his European successes, could not feel safe, day or night. Neither in the forest, nor in the field, nor in the occupied large city, nor in a small village deep in the rear — everywhere the nazis' complacent complacency was disturbed by the noble revenge of the Soviet partisans, instilling fear and awe in them in front of the inflexible Russian spirit. The colossal material damage inflicted on the enemy by the actions of the Soviet partisans, coupled with the strongest moral pressure exerted on the rear of the enemy, approximated the day of the Great Victory.
All of Belarus, Bryansk, Smolensk and Oryol region, many regions of Ukraine, the Crimea and the southern regions of the RSFSR were covered by a well-organized partisan struggle. Grateful descendants will forever remember the names of the twice heroes of the Soviet Union partisan movement leaders Sidor Artemievich Kovpak and Alexei Fedorovich Fedorov, hundreds of heroes who died in battle and torn to pieces in fascist dungeons, thousands of brothers, sons, husbands and fathers who laid down their heads for the Fatherland and for their friends in the forests and marshes of Belarus, in the Kuban estuaries, the Donetsk steppes and on the hills of the Crimea.
Eternal memory to the fallen partisan heroes! Good health and good spirits to the living participants of the heroic struggle!