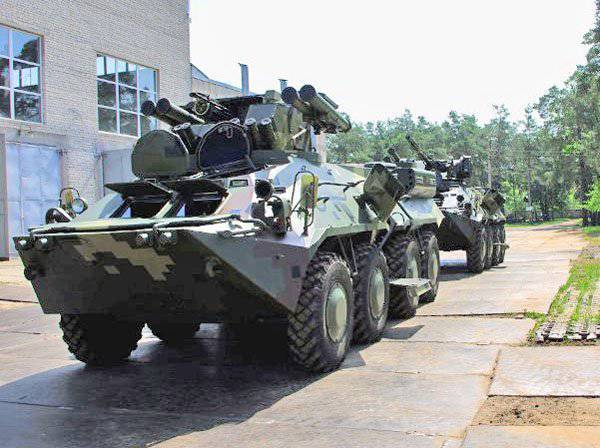 A photo of a new version of the BTR-3 created for the Thai armed forces has appeared on the website of the Ukrspetsexport Group of Companies.
The presented version of the BTR-3 is equipped with a new module with 4 anti-tank missiles on the sides, the combat module looks similar to
naval
the "Flurry" version, which is installed on the korabi.
21 May 2013, the official military delegation of the Kingdom of Thailand, led by the Chief of the General Staff General Tanasak PATIMAPRAGORN, visited a number of enterprises that are part of the Ukroboronprom Group of Companies.
The Thai military leaders, in particular the commanders of the Royal Thai Navy, Admiral Surasak ROUNROENGROM, the Royal Thai Police - General Adul SANGSINGKEO, the Royal Air Force - Chief Marshal
aviation
Prajin Dzhuntong familiarized with the production capabilities of Ukraine in the field of armored vehicles, shipbuilding and high-precision
weapons
.
During their stay at the Kiev armored plant, the military leadership of Thailand examined the production of the next batch of the BTR-3Е1, which should be transferred to the Thai side soon. Attention was drawn to the practical readiness of this batch in the number of 21 machines before the start of the inspection by the Thai commission.
The Chief of the General Staff of the Kingdom of Thailand gave a high assessment of the quality of Ukrainian military equipment, which is now being used in his country.
"We are very pleased with the quality of the supplied Ukrainian military equipment. And we will deepen our cooperation, "said Tanasak PATIMAPRAGORN.
During the negotiations, they discussed projects to deepen bilateral cooperation between Thailand and Ukroboronprom. In particular, on the organization in the territory of Thailand of the enterprise for the collection of armored vehicles of Ukrainian origin.
The military delegation of Thailand visited on this day the state enterprise "GKKB Luch", where it was shown industrial and advanced high-precision weapons. General PATIMAPRAGORN highly appreciated the products of the company, which is operated in Thailand, and expressed interest in continuing cooperation.
On this day, the Thai military delegation visited the office of Smart Holding Group, where they got acquainted with the capabilities of the Ukrainian shipbuilding industry, in particular, the enterprises of Kherson Shipbuilding Plant OJSC, ChSZ PJSC, as well as plants belonging to Ukroboronprom JSC FGC "More", Kherson State Enterprise "Pallada", SE "Experimental Design Center of Shipbuilding". Thailand has expressed interest in the Ukrainian projects of the corvette and anti-submarine ship.