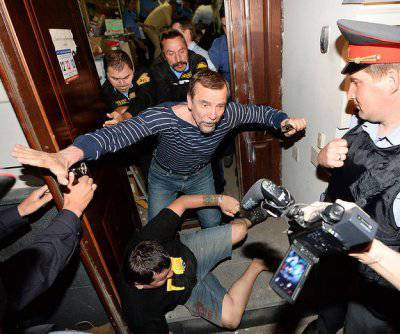 One of the main topics at the end of the working week was the issue of evicting employees of the organization For Human Rights from an office in Moscow. On Friday afternoon, the office in Maly Kislovsky Lane of the capital was blocked, and his employees were asked to leave the building, stating that the lease had expired. Negotiations with the office staff led the city authorities.
Human rights activists themselves say that some time ago they submitted all the necessary documents to extend the lease of the office, and refused to leave it. After the employees did not want to leave the building, the office was blocked by riot police. At that moment, there were quite a large number of so-called public figures in the building on Maly Kislovsky, including Yabloko's leader Mitrokhin, deputy Ilya Ponomarev (the same one about whom he is currently hearing about the price of lectures given by Skolkovo) , Lev Ponomarev, Alexander Muzykantsky (Commissioner for Human Rights in Moscow).
After the broken talks, riot police received an order to storm the office. The assault began immediately after the ombudsman in the Russian Federation, Mr. Lukin, left the office. At this time, in the microblogs of the activists of the organization, among which were human rights activists from Moscow,
lawyers in Tyumen
, St. Petersburg and other cities, began to appear records that the assault begins. As a result of the assault, as reported by those who occupied the defense in the office building, several dozen people were injured. For example, Mitrokhin, riot policemen, let him down the stairs at the moment when he tried to explain to the police that "they are wrong."
Tumakov from the police received and 72-year-old Lev Ponomarev, who has already stated that a real raider seizure took place in Maly Kislovsky Lane, during which the police used excessive force measures.
If we talk about the documentary side of the issue, then the rent of the office is valid expired at the end of May. At the same time, the office staff received a notice of the date of the move more than 3 months ago. During this time, Lev Ponomarev and his comrades could not collect things. It turns out that the conflict was provoked by the gentlemen themselves from the organization "For Human Rights". The result - bruises, abrasions and liberal hubbub.