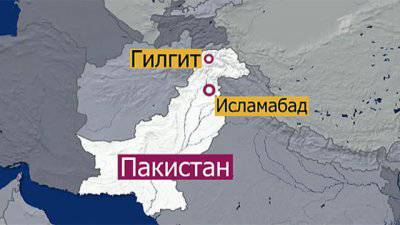 Another terrorist action took place in the Jammu-Kashmir region (the disputed zone between India and Pakistan, which is currently controlled by Islamabad). Militants broke into the hotel, which housed foreign climbers who arrived in Kashmir to conquer the mountain peaks. The attack killed ten people, among whom was one Russian and five citizens of Ukraine.
Videography
which terrorists usually use to witness their act, apparently, this time it was not conducted, or it has not yet been published on the Internet.
In general, Kashmir is a restless province, but the place where the bloody massacre (Gilgit-Baltistan) was arranged was always considered well controlled by Pakistani law enforcement officers, as tourists (most of all - climbers) from around the world constantly came here. However, this time Pakistani security ministers could not oppose anything to the daring outing of militants.
Rostourism press secretary, Mrs. Shchegolkova, first reported that the fact of the death of one Russian citizen in Pakistan has not yet been confirmed. However, Pakistani media say that one of the dead was found a Russian passport. Thus, the investigation needed to find out not only who is behind the rally of militants in Gilgit-Baltistan, but also the exact data on the victims. A few hours later, Pakistan received information that one of those killed was indeed a Russian citizen, and Rosturizm, in turn, in the person of the same Irina Shchegolkova, confirmed the death of a Russian who went to Pakistan to participate in the next conquest of the mountain peaks.
The details of the tragedy, according to Pakistani sources, are as follows: at about half past midnight the militants broke into the hotel, which is located in the immediate vicinity of Mount Nangaparbat, began to walk numbers and literally pull sleeping tourists from their beds. After 9 foreigners and one citizen of Pakistan (presumably the hotel's security guard) ended up on the streets, all ten were shot. In this case, the Pakistani authorities are not talking specifically about 10 dead, but do the following wording: "no less than ten". The bodies of the victims have already been delivered to Islamabad.